Linden Grove Has Funds Committed for New Cemetery Entryway but Needs More
Sat, 09/20/2014 - 20:17
RCN Newsdesk
Linden Grove Cemetery is now has 20% of the needed funds for a new entryway along 13th Street.
In late August, the Friends of Linden Grove, Inc. approved a motion to commit $5,000 towards the construction of the new cemetery entryway on West Thirteenth Street, opposite Lee Street. In June, the Board of Overseers decided to make a commitment of $15,000 towards the construction.
The overall price tag is $100,000.
"The new entryway is the most important and one of the most expensive capital improvements identified in the Historic Linden Grove Cemetery and Arboretum Master Plan," wrote John Dietz, a member of the Board of Overseers, in an email to supporters. "Making this new entryway a reality is a game changer for the cemetery. Although these commitments represent a significant portion of each organization's very limited resources, and are indicative of the high priority of this planned improvement, they represent only a portion of the funding needed to make this new entryway a reality. We are working hard to raise the balance of the estimated $100,000 cost for this new entryway."
Supporters of the cemetery gathered for a presentation by the Board of Overseers on Thursday afternoon at the cemetery where a lunch spread was cooked up and served by Barb Horsley.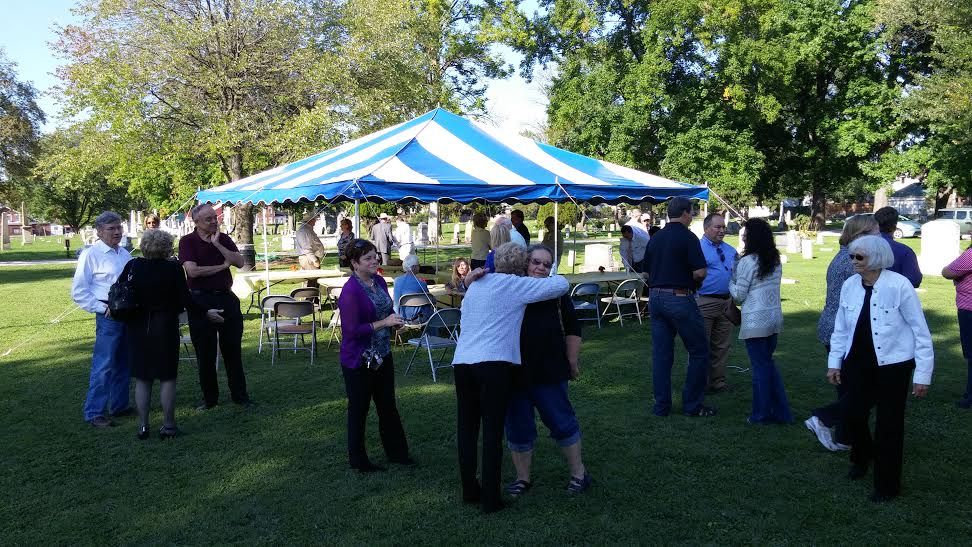 Mayor Sherry Carran hugs a visitor as Cemetery supporters gather on Thursday/RCN
Though the cemetery represents a large piece of green space in the city's urban core, its limited vehicle and pedestrian access make it a virtually unknown commodity for many local residents, Dietz wrote. "In order to generate greater public appreciation of the cemetery's natural beauty and historic significance, it is essential to improve the vehicular and pedestrian access to the site," Dietz said. "Enhanced public awareness of Linden Grove Cemetery is vital to its long term sustainability as a valuable historic and cultural asset to the Covington community."
The cemetery is identified as a strategic piece of green space in several planning documents, including the Building Covington's Future strategic plan from 2006, Vision 2015, and the Linden Gateway Small Area Study from 2008.
"Providing this site as a useful and usable green space for passive recreational activities consistent with the sacred and solemn character of this site addresses the critical shortage of parks and green space in the urban core of Covington," Dietz wrote. "
Re-purposing this site will sustain the Cemetery as a value-enhancing asset for the surrounding neighborhoods by helping to improve the quality of life for local residents. Thank you for continued support of this important effort."
Story & photos by Michael Monks, editor & publisher of The River City News