With Focus on Water, Northern Kentucky Artists at Center of New Cincinnati Exhibit
Tue, 03/24/2015 - 09:42
RCN Newsdesk
Northern Kentucky artists Brad McCombs and Numediacy play a vital role in a major regional exhibit about a vital topic: water.
Too Shallow for Diving: the weight of water at the Aronoff Center's Weston Art Gallery in downtown Cincinnati from March 27 to June 7 is a group exhibition of regional artists who examine the political, social, and environmental aspects of water, with a special focus on the Ohio River Basin.
Dennis Harrington, gallery director, notes while water is essential "we seemingly take (it) for granted without taking into account the long term consequences of pollution, industrialization and human demand from an ever increasing population."
Exhibit co-curator Christopher Hoeting suggested Too Shallow… and the timing couldn't be better. The Weston's first exhibit in 1995 was The River. Returning to the river for the gallery's 20th anniversary is a perfect salute. 
Too Shallow… mixes politics, humor, environmental discourse, and poetry with six individual installations. 
McCombs, who lives in Fort Thomas, is coordinator for New Media Art at Northern Kentucky University. Artist collaborative Numediacy (Jason Gray (JGray) and Caitlin Sparks) are his former students. Both their entries showcase new media.
McCombs' Adrift creates an organic environment that he hopes will "inspires contemplation of our watershed."
A rectangular gallery space will be made round and covered floor to ceiling in moss. In the center will be a shallow pool of water filled with floating bits of driftwood from the Licking and Ohio Rivers. And the driftwood will act as a video screen.
Visitors will hear the soft sounds of children playing in water, smell the moss and watch the best and worst of our region's river – images of those happy children, which McCombs hopes "create this dreamlike aesthetic to connect the viewer with their memories of playing in water."
The video will also show occasional reminders of maps of sewer overflows and release of waste directly into our rivers.   
Adrift, McCombs says, will subtly "address water quality issues…and how everyone one of us is connected literally and metaphorically with water. It is," he notes, "the flowing water over the land and the hidden water in sewers and supply lines that literally connects us to these bodies of water."
Adrift is a "conceptual manifestation" of McCombs' "socially engaged" public art project The Driftwood Institute that started in early 2013.  An ongoing NKU Ecological Stewardship Institute initiative "to help the community engage, understand and transform our riverbanks and watershed."   
SEE PREVIOUSLY: Driftwood Art project earns money to plant trees in Covington
McCombs' mission with The Driftwood Institute is "to transform the neglected banks of Covington, into an interactive art space that embraces cultural and environmental vibrancy with an economic model to empower artists to reuse driftwood debris, engage the public about ecology, and connect the Greater Cincinnati community to our watershed."
One of the institute projects is harvesting driftwood from "The Point," the large slow bend in the Ohio River and the confluence with the Licking River which has become a dumping ground.  
The driftwood is recreated as art, sculpture and furniture and sold. (The driftwood art has been available at Art on Pike.) McCombs likes the idea that people can "bring a piece of the river (home) with them and connect them to the watershed and ecology of the river."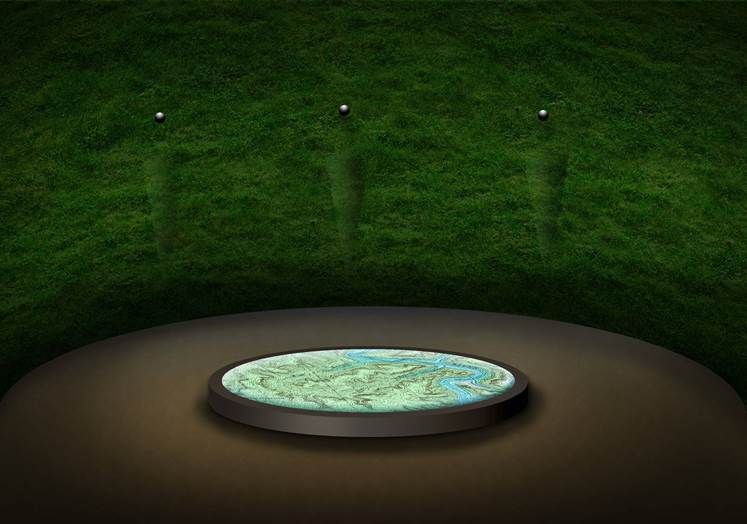 McCombs is an artist, a teacher and an activist -- he wants to "raise ecological and social consciousness" and move people to take action and he has urgent suggestions to improve our watershed:
"Plant a tree. Make your lawn low impact. Landscape with native plants. Create a rain garden. Conserve and reuse water. Join a local watershed group."
The Driftwood Institute will be planting trees on April 11, exact location to be announced. Information about the tree planting will be available at the exhibition.
Q & A WITH NUMEDIACY
In Too Shallow for Diving…, Covington arts collaborative Numediacy (Jason Gray and Caitlin Sparks) investigates the Lick Run Watershed project under development along the Queen City Avenue corridor in the Fairmont neighborhood of Cincinnati to daylight part of the underground storm water tunnel system.  
The watershed is years-in-the-making and will ultimately serve to further separate storm water from sewage and help eliminate the unnecessary dumping of raw sewage into the Ohio River during heavy rain periods.

Through a multichannel video and audio installation, Numediacy explores the positive and negative impact of the multi-million dollar environmental project on the surrounding neighborhood and its residents.
Gray answered questions about their installation.

RCN: What's going to surprise viewers about the theme of the entire exhibit?
GRAY: Viewers may be surprised how our society treated the environment in our growth and development. How great rivers and streams were made into sewers and highways. There is tremendous work to be done to save our environment and ourselves, and thus tremendous opportunities. If we can only seize upon the hearts and minds of our people.
RCN: How did you choose your subject?
GRAY: There are over 600 cities in the U.S. that were built with combined sewer overflows (CSO). The Lick Run Project is one of the first attempts to correct a more than 100 year-old design, and to separate rain water from our sewers. In order to save precious natural water from unnecessary contamination a neighborhood is being sacrificed. South Fairmount valley will be changed forever.
This American Foursquare house is in beautiful condition, inside and out. It is scheduled for 'deconstruction' this year. It's only hope is to be moved. There is dark and light sides to this project. (Provided)
RCN: What does new media bring to the conversation that 'traditional' art can't?
GRAY: My philosophy of 'new media' is to develop a concept or message first, then decide which medium would best represent it. Installation art attempts to create an environment and four-dimensional (4-D) experience for the viewer. Through 4-D experience, a message can have a stronger impact and lasting memory.
In our time, video and internet are of the best means to mass communicate. After the Weston Gallery exhibit is finished, the digital aspects of our work (video, audio, photo) will be on our website, numediacy.com.
Traditional arts were largely freed from their documentary function more than 100 years ago (thanks to photography and then video). People go to see movies today much more than paintings. Traditional arts have become wonderfully abstract and expressive, but have also diverged from our culture at large. Many people don't 'get' modern art. We hope through our work to create a connection.
RCN: Is this issue one of our priorities?
GRAY: Water is one of our top priorities. Clean and safe water is a major component of sustainable human existence. These components also include eliminating garbage, shifting to clean energy, reforestation, maturing culture, and not having so many kids and pets. It's what we call the Responsibility Movement.
Caitlin and I are active with the Licking River Watershed Watch (LRWW), the NKY Sierra Club, KySEA, NKY Forestry, and Green Umbrella, to name a few.
We are interested in creating a South Fairmount documentary after this project, as we've now collected a lot of fascinating history of that community.
Too Shallow for Diving: the weight of water, March 27-June 2. Alice F. and Harris K. Weston Art Gallery, Aronoff Center for the Arts, 650 Walnut St., Cincinnati. Opening reception: 6-9 p.m. March 27 (free). Gallery hours: 10 a.m.-5:30 p.m. Tuesday-Saturday, 12-5 p.m. Sunday. Open late on Procter & Gamble Hall performance nights. 513-977-4165 and www.westonartgallery.com.
Special events: Gallery Talk with the Artists and Curators: 7 p.m. April 28 * Families Create! Education Workshop with artist Roscoe Wilson: "Savor the Waves," 10 a.m.-12 p.m. May 16
Written by Jackie Demaline, RCN Arts