Premium Content
Confederates, Communists, & Candidates: Fancy Farm is Kentucky at Its Best & Worst
Sun, 08/02/2015 - 20:56
RCN Newsdesk
"Because they're not Democrats anymore," a man in a black leather vest said pointing his finger in the direction of another man, his other hand full of stickers supporting a Republican statewide candidate, his voice serious and intense. "They're Communists." The other man agreed with an mm-hmm and a disbelieving nod, and they both turned their attention towards the St. Jerome Parish picnic grounds where thousands crowded with political positions of their own.
Just a dozen or so feet away, a small group of men and women, some wearing sunglasses and hats, proudly waved Confederate battle flags, urging others to "Save Jeff Davis", a reference to a growing chorus calling for the removal of the statue in Frankfort's Capitol rotunda where the only president of the Confederate States of America, a Kentuckian, is honored. "It's Your Call Governor", one sign read. "We Have Rights And We Vote", read another. Some of the guys wore bandanas sporting the spirit of the Stars & Bars, and others wore leather biker vests featuring symbols cut from similar cloth.
"Matt Bevin is an East Coast Con Man", read a sign carried around by a young student, warning the crowd about the Republican nominee for governor. "Jack Conway Stands for Killing Innocent Babies", was the message on a sign hoisted above the crowd by a man taking a shot at the Democratic nominee for governor.
Signs, images, placards, stickers, buttons, and even a makeshift pedicure station (a dig at the Republican candidate for attorney general who is being criticized in Democratic ads for allegedly missing court as a prosecutor in favor of having his feet attended to), all trying to curry favor with the crowd for one candidate or one issue, or against another candidate or issue. Though it's a Catholic church picnic on the grounds shared by an old church and newer grade school, the messages are often hateful and deliberately mean-spirited.
But just don't cuss. 
Saying the word "bitch" six years ago, as in I'm one tough son of a bitch, is still a catalyst for verbal jabs towards Conway, who said that at the event in 2009.
This is Fancy Farm, the front porch at the center of the political universe for one day every year, in the farthest reach of western Kentucky, in the middle of seemingly endless farmland, just outside of Paducah. The annual event attracts statewide office holders and those challenging them for their jobs. 2015 is a constitutional office election year in the Commonwealth and both parties have fielded candidates who traded barbs in their quests to become governor and lieutenant governor, attorney general, secretary of state, auditor, commissioner of agriculture, and treasurer.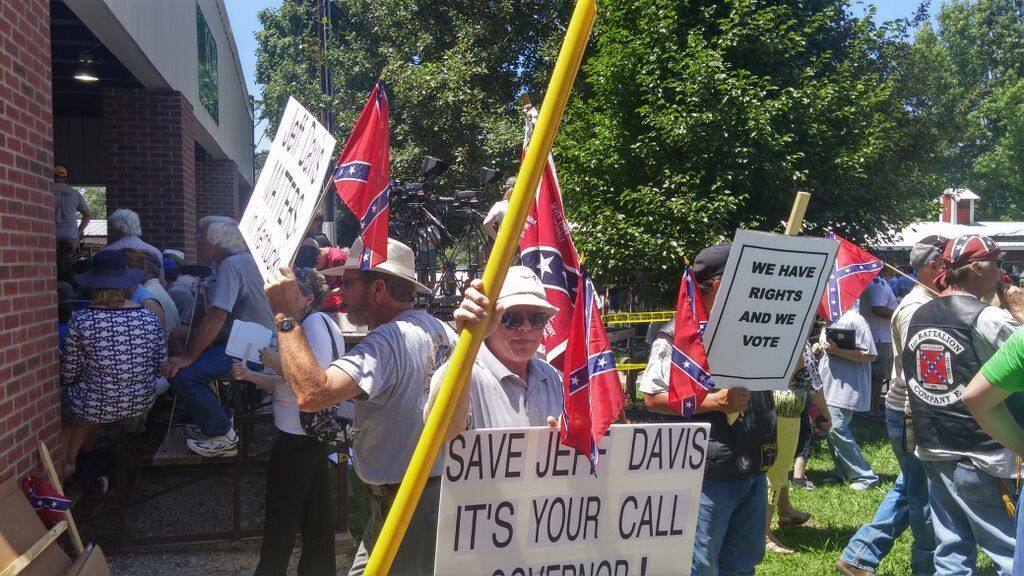 Fancy Farm is not a place where voters come to learn about candidates and decide how they will cast their ballots in November. Those who trek to Graves County from all corners of the Bluegrass already have their minds made up. Many come to shout down their political rivals, others come to take in the political theater that typically unfolds as candidates and office-holders trade humorous punches on a hot Saturday afternoon where bingo and BBQ (pork and mutton) are plentiful before, during, and after.
The crowd on Saturday was restless and filled with political bloodlust, with occasional shouts for early speakers to hurry along so that the main event could get going. How restless? Even a chant of "C-A-T-S Cats! Cats Cats!", commonly used by Kentucky Wildcat fans, was followed by a chorus of boos, maybe because there were Louisville Cardinals fans in the crowd, or maybe because it was so hot in the covered stands where folks sit in chairs they brought from home in front of a faux front porch where the political hot air is blown out into the audience and across statewide TV.
Or maybe the boos were in preparation of listening to the day's emcee, the combative Matt Jones of Kentucky Sports Radio, the online and on-air new media empire built around UK sports fandom. Jones's rise in sports media is an extraordinary study of the impact bloggers and new media entrepreneurs have had on sports and news coverage, but equally interesting his newer claim to fame as one of the top political interviewers in Kentucky. His intense discussions with Republican U.S. Senator Mitch McConnell and his Democratic challenger, Secretary of State Alison Lundergan Grimes in 2014 were instant classics. In the spring, he hosted the 4 GOP candidates caught up in a bitter primary for their party's nomination for governor. It was incredible radio.