Baker Hunt Will Not Appeal City's Rejection of Modern Structure
Mon, 10/26/2015 - 12:45
RCN Newsdesk
There will be no further discussion of a proposed modern structure on the campus of the Baker Hunt Art & Cultural Center in Covington.
Earlier this month, the Covington City Commission upheld a decision by the Urban Design Review Board (UDRB) rejecting the so-called garden pavilion as well as a large gap to be cut in the historic stone wall so that the campus could have a more visible entrance on Greenup Street.
Baker Hunt could have appealed to the Kenton County Circuit Court, but the center's board opted not to move forward.
"The majority of our master plan focused on preserving and upgrading the historic buildings on our campus which was approved unanimously by the Urban Design Review Board," said Dan Groneck, president of The Baker Hunt Foundation Board. "We will begin concentrating on those elements of the plan. Refurbishment of these historic buildings will go a long way to securing the future of a 93-year old community asset. Baker Hunt is also excited about the addition of a culinary teaching kitchen, on the east side of the Kate Scudder House. All of these upgrades are designed to enhance the current and future student experiences here on campus. A fund raising campaign will begin shortly to enable community members to participate in the preservation of Baker Hunt into the future."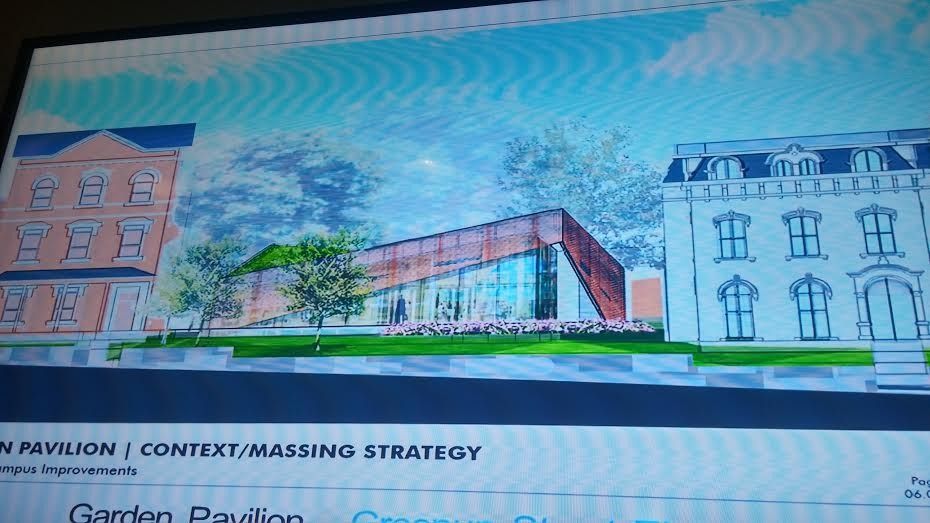 The campus project, with the garden pavilion, was expected to cost more than $3 million. Neighbors in the Licking Riverside Historic District spoke strongly against the plans, calling the structure too modern for the neighborhood. 
More than 3,000 students attend classes at Baker Hunt each year.
-Staff report