Premium Content
NKY Football: Beechwood, New Cath to Title Games; Simon Kenton, Highlands Fall
Sat, 11/28/2015 - 10:01
RCN Newsdesk
Northern Kentucky had four shots to send to teams to state football title games next week.
The region will settle for two.
After resuscitating a season that started on life support, Highlands played host to a Pulaski Co. team that ended the Bluebirds' run.
Simon Kenton had blown through the season, annihilating most opponents and entered Friday night's game against (Lexington) Lafayette undefeated. The Pioneers' record now has one blemish as the dream run in Independence came to a sudden end.
Not all is lost, however. Newport Central Catholic and Beechwood will carry the Northern Kentucky banner to Bowling Green as the Thoroughbreds and Tigers return to familiar championship territory.
Here is how it all went down:
Newport Central Catholic 15, Danville 7
Newport Catholic is headed back to the Class 2A State Finals after a hard-fought 15-7 victory vs. Danville Friday night at Newport Stadium. Each team slogged through a sluggish, penalty-laden first half in which New Cath did not cross the 50-yard line and Danville had two would-be touchdowns nullified by penalties.
On its second possession of the opening quarter, Admirals' junior quarterback Zach Dampier's 40-yard touchdown pass to sophomore D'mauriae Vancleave was wiped out because of an ineligible man downfield penalty. Two plays later, New Cath junior Trent Wrobleski recovered an Admirals' fumble. 
Following a Thoroughbreds punt, Danville drove deep into New Cath territory, keyed by runs from senior Stephen Ray but let another scoring opportunity by the wayside. On third-and-goal from the one-yard line, Ray slipped immediately to the turf after taking a pitch left side from Dampier. On the ensuing play, Admirals' kicker Corey Steber missed a 21-yard field goal off the left upright. After one quarter, it was 0-0.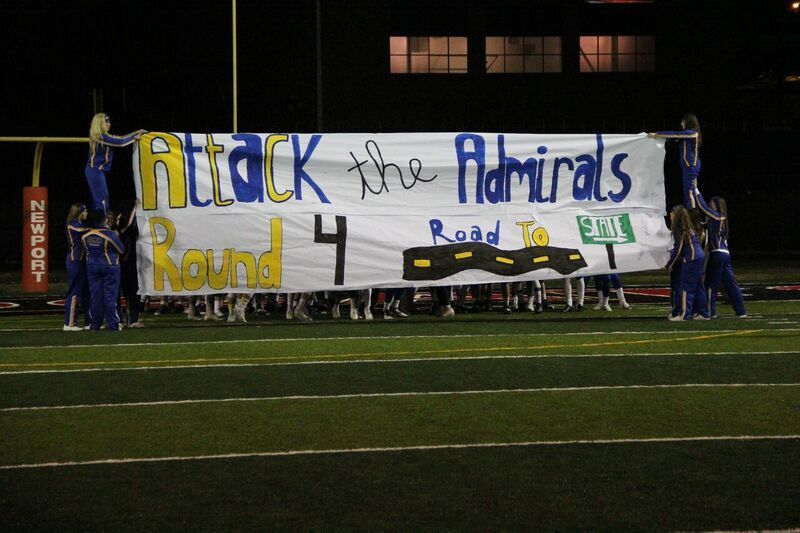 Each team traded punts to begin the second. After a New Cath punt gave Danville good field position at its own 46 to begin their next drive, Vancleave took a reverse 54 yards for a touchdown on the Admirals' first play from scrimmage, only to have it nullified again – this time because of holding. But despite the Admirals' misfortune in the first half, the Thoroughbreds were unable to capitalize on their opportunities, going into halftime with 33 rushing yards and 38 passing. 
Neither team was able to break the stalemate into the third. The Thoroughbreds opening drive of the quarter began with an eight-yard pass completion to Wrobleski, followed by a 10-yard Smith run. But, any momentum was stopped there, as the Admirals' defense tightened up and stopped Smith for a loss on second down and junior quarterback Pat Henschen's pass fell incomplete on third, forcing a punt. 
Danville was unable to take advantage of an unsportsmanlike penalty on New Cath junior Job Freppon on first down of its next drive, as Dampier was sacked by Thoroughbreds' senior linebacker Kobe Tallon, followed by a short pass completion that did not make up the lost yardage. Though it was forced to punt, the Admirals received the ball back immediately, as New Cath senior Josh Schneider fumbled with Danville players surrounding him and ultimately recovering at the Thoroughbreds' 20. Following Ray runs of eight and two yards each, senior Jakobi Turner took a handoff 10 yards around the right side, slipping through several New Cath tacklers on the way to the end zone, finally breaking the 0-0 tie with 6:08 left in the third quarter with a 7-0 lead, which it would hold on to until late in the fourth.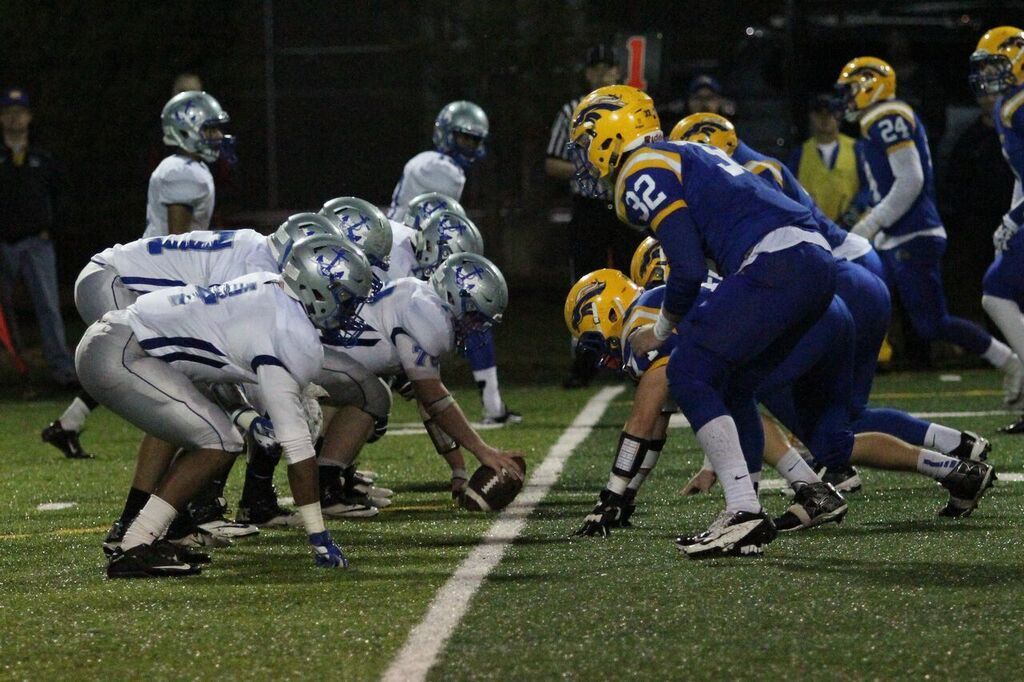 Nearly halfway through the fourth quarter, New Cath was unable to convert a fake punt on fourth-and-10 just inside its own territory but held Danville on their possession, opening up what turned out to be the 81-yard game-winning drive. Henschen kept the ball himself for 13, followed by a 15-yard catch by senior Erik Anderson and another first down. Henschen then made arguably the game's biggest play to that point: Scrambling left with a defender hanging on his leg, the junior lobbed the ball to a wide-open Smith for a 36-yard completion down the left side. Several plays later, Smith took a handoff five yards for a touchdown run with 2:52 remaining. Then on the ensuing play, seeing it was lined up to go for two, Danville called timeout. Out of the brief break, New Cath lined up for two yet again, a decision Thoroughbreds' Head Coach Dan Wagner said he did not second guess.
"No…nope. I figured if it got into a 10-yard game (overtime) we weren't moving the ball that well so we were going to take our shot at it and Pat made a hell of a play," he said. Smith received the initial handoff from Henschen, ran right, then threw the ball back left to a waiting Henschen on the left side of the developing play, who snatched the ball out of the air in the nick of time before Danville defenders closing in could knock it away, diving into the end zone for a one-point lead, 8-7 with just under three minutes to go in the game.
The Thoroughbreds' sealed their second consecutive trip to the State Finals on the first play of the Admirals' ensuing drive, as Wrobleski picked off Dampier's first down pass. Smith then crossed the goal line for the second time in less than 20 seconds, capping a wild 15-7 finish. 
Danville completes its season 12-2, while New Cath faces former Class 1A powerhouse, Mayfield, new class 2A participant this year. The title game will take place on Sunday, December 6 at 1:00 p.m. at Western Kentucky University's Houchen Industries L.T. Smith Stadium in Bowling Green.
-Story by Jason Finnell, Photos by Brian Frey
MORE STORIES ON NEXT PAGE