Premium Content
175 New Apartments, New Commercial Spaces Part of Massive Downtown Covington Project
Tue, 12/22/2015 - 12:07
RCN Newsdesk
For the first time since it was announced, in an exclusive report by The River City News more than a year ago, Duveneck Square was presented publicly.
Covington's urban design review board gave the OK to the massive project's developer to tear down surrounding buildings to make way for a new mix of commercial spaces and approximately 175 new residential units.
The development will occupy what is now a parking lot on the west side of Washington Street bordered by Pike & Eighth Streets, as well as the east side of Washington Street where a row of historic buildings currently stand. Those buildings will come down as part of the approval gained Monday night.
"In 2009, we identified this site as an important economic development opportunity because of its excellent location. It was underutilized and was a big, huge hole in Covington's urban fabric," said Jeanne Schroer, president of the Catalytic Fund, the organization responsible for putting together several important real estate deals in the Northern Kentucky River Cities.  When the site was first identified, the capital markets were not strong enough to support large capital development, Schroer said. Instead, the Catalytic Fund worked with developers to complete projects like the Market Lofts and the Mutual Building which each added 15 new residential units in downtown Covington.
Duveneck Square will be different as it brings an instant critical mass to the urban core
"We are seeing some new and unique retail businesses beginning to open but the area is somewhat fragile and at a tipping point. It is difficult for these businesses to survive without a critical mass of residents and office and commercial uses," Schroer said. "The Duveneck project will fill this critical gap."
Phase One of the project will being more than 100 market rate apartments, 5,000 sq. ft. of commercial space, and will represent a $17 million investment. It will be constructed on the east side of Washington.
Later, Phase Two, which will be constructed where the parking lot currently sits, will represent a $40-$50 million development with more retail, office, and residential units.
"This is an opportunity to provide 150-plus quality, new market rate apartments and what this will do to this area is increase Covington's downtown population and therefor appeal to new businesses," Schroer said. "It will create sustainability of new and existing businesses in the corridor and I think most importantly, some of the other historic buildings in need of renovation and adaptive use, this project will increase feasibility of investment in those buildings."
Biggest new development downtown yet
The Duveneck Square project, named for famed Covington artist Frank Duvebeck who is represented by a statue in the park at Pike & Washington, will be the largest development in a downtown renaissance that is quickly picking up its pace. As Schroer said, the Market Lofts added 15 new market rate apartments to the neighborhood just a block away, and rented out before the building's restoration was completed. The Mutual Building on Madison Avenue also saw its 15 residential units fill up swiftly, and three of its commercial spaces are occupied by flow - a shop for men/Cutman Barber Shop, The River City News, and soon, a new Jimmy John's.
The Hotel Covington, a $21.5 million project that will transform the old Coppin's department store/Covington City Hall building into a boutique hotel, is well underway. The Doctors Building is also well into its renovation that will add more market rate downtown apartments. Gateway Community & Technical College continues its mission to expand its urban metro campus across the downtown fabric, and already has four buildings to its credit with plans for more. In all, the college's total project represents roughly $80 million in investment.
But the Duveneck project is different in more ways than its price tag and size.
"This is also an opportunity to work with a quality new development team that has experience in urban revitalization projects," Schroer said. The team is comprised of NorthPointe Group and John Senhauser Architects. Most recently, the team worked on Seven at Broadway, the 111-unit luxury apartment tower in downtown Cincinnati. Other NorthPointe projects include (in part or in whole) Mercer Commons, Gateway Condominiums, and the Westfalen Lofts, all in Cincinnati.
A major player in downtown Cincinnati's and Over-the-Rhine's revitalization is now settings its sights on downtown Covington.
"The attempt here is to develop a critical mass of residential construction," said John Senhauser, the architect whose firm will design the project. "The majority of this is 4-story structures with primarily residences on Washington Street with commercial on the ground floor on Seventh Street. The desire is to develop a strong residential neighborhood that would have around 175 dwelling units, perhaps more. We feel that this is very much a keystone project."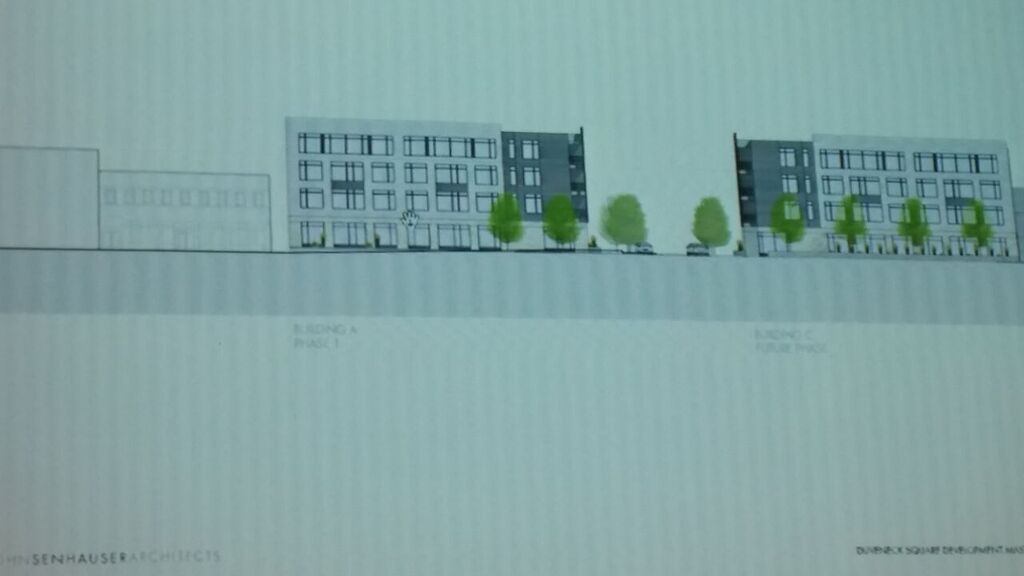 The residences along Seventh Street would feature small walk-up units, "that mimic some of the historic walk-up type of front doors in a lot of the historic buildings, and then returning to a building that holds a corner and steps back again," said Andreas Lange, an architect at Senhauser's firm. The units will range in size from studio to 2-bedroom.
STORY CONTINUES ON NEXT PAGE WITH DETAILS ABOUT BUILDINGS TO BE RAZED