Premium Content
Covington Chili Has a New Owner & a New Vision
Thu, 08/11/2016 - 15:15
RCN Newsdesk
It opened in 1936 and now, eighty years later, Covington Chili has its fourth owner.
Greg Harris, a recognizable name if you follow Cincinnati politics, is trying his hand at a family tradition: owning a restaurant.
"I'm just amazed by the area," Harris said of the resurgent downtown Covington where his new business has operated for the better part of a century. "When I would come to Covington, I would go to Mainstrasse and I never made it over to Madison and this is such a stunning area. I'm amazed by all the stuff that's going on around where the chili parlor is."
Within a block of Covington Chili, the Hotel Covington is nearing completion, the Madison Theater has expanded, Braxton Brewing Company is hopping, new residential units are full, and a brand new mixed-use development that will include commercial spaces and 175 residential units will break ground soon. Covington Chili has seen good days and bad days in downtown Covington, and its survival over the years places it in the center of the city's renaissance.
Harris served on Cincinnati City Council after being appointed in 2009 to fill the unexpired term of now-Mayor John Cranley who stepped down that year. He missed being elected to a full term by one spot in the 2009 council race. He also ran for Congress as the Democratic nominee against Republican Rep. Steve Chabot in 2002 and 2004. He has directed nonprofits professionally, and is now eager to embark upon his next challenge: the "time capsule" that is Covington Chili.
"I want to keep it a nice vintage diner," said the resident of Cincinnati's Madisonville neighborhood. "We're gonna make some upgrades, we're gonna simplify the menu to focus on our strengths: double-deckers, and of course the chili and the full breakfast."
Forthcoming changes include weekend hours, Sunday brunch, free WiFi, and the acceptance of credit cards, a departure from the hand-written "cash only" sign that has warned would-be customers for years.
"We will start taking credit cards within the next week," Harris told The River City News while he was out introducing himself to neighboring businesses. 
In a profile last year by The River City News, previous owner George Stamatakos said that he was not interested in selling the business or the building. While not much has changed about the business, that Stamatakos's position apparently did.
The chili parlor was founded by Christy and Mae Terzieff who ran the place until the 1950's when brothers Tim and Michael Stephans (derived from the Greek name Stephanopoulos), from Kastoria, Greece, purchased it.  Sometime in the 1990's, Stamatakos bought it and began to offer menu items outside of just chili, like burgers and sandwiches. 
Harris got his hands on the keys - and the sacred and secret chili recipe, a less sweet version of the Cincinnati-style staple. It is tradition at the shop to use whole hams and turkeys - cooked and sliced in-house. The breakfast sausage - yes, breakfast will still be available - is also very good, Harris said. But, he'll be expanding the fresh ingredients to the parlor's other items, like French toast.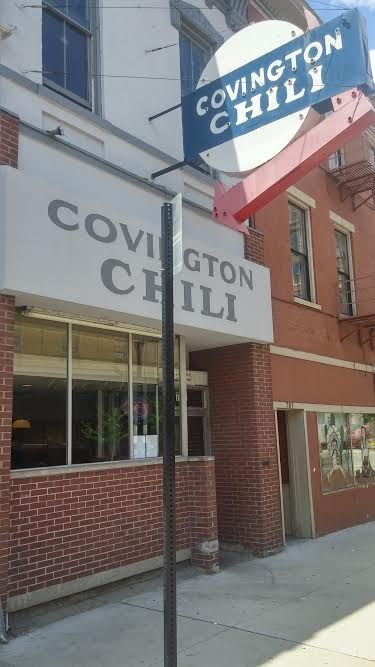 He hopes the changes will delight regular customers and new ones - including those who may have decided not to go back.
"I'm hearing amazing stories the customers, elderly women saying their grandmothers took them here when they were kids," Harris said. To get the new people, he'll offer delivery service soon, and will provide discounts to Gateway Community & Technical College students who attend the downtown Covington campus nearby.
To make the business work, Harris is giving it his all. There will be no more politics in his future, he said. "It's so much fundraising," he said. "It's not how I want to use my time."
Harris is already hard at work. A new paint job is planned, the classic sign out front will be restored,
a new webpage has launched
, and for the first time,
the parlor is on Facebook
. The previous owner didn't use a computer, Harris said. "I'm hopeful that people who stopped coming in for whatever reason will start coming back and I can engage people in the area and people who are moving in," he said.
The price can't be beat: most items are less expensive than the McDonald's value menu, Harris said, "and what we put into is much more substantial."
Covington Chili is located at 707 Madison Avenue in Covington.
Written by Michael Monks, editor & publisher