Premium Content
NKU Grads Team Up as Playwright & Director in World Premiere of Play
Fri, 09/23/2016 - 11:03
RCN Newsdesk
Northern Kentucky University grads Robert Macke (playwright) and Nate Netzley (director) are collaborating again for Clifton Players' season opener, the world premiere of The Road Through Damascus, continuing through Oct 1 at Clifton Performance Theatre.
Macke and Netzley, who've partnered at Know Theatre on Serials and for Cincinnati Fringe, sat down for coffee and a chat before a rehearsal on a recent Sunday, talking with an easy back-and-forth.
Damascus was originally written for an NKU playwriting class a few years ago. Netzley had graduated but came back to direct the workshop.
It was inspired by Thornton Wilder's Our Town, Macke says, and Miranda McGee, Cincinnati Shakespeare company member and stand-out indie theater actress, has a role reminiscent of that play's Stage Manager.
The action is set in imaginary Damascus, N.C., where folks have problems just like the rest of us -- jobs, health. Asking the big questions like, "Is there more to life than this?" "What happens when we die?", and, "Why is the mayor sobbing inconsolably?"
Unlike Grover's Corners, there are conspiracy theories. And strangers who pass through.
"It's a way station, along a highway," Macke expands. "The reason it's 'through' not 'to' is that townspeople stay and everyone else passes through. It's a loss of faith." (The 'to' would have been a problem, since there's already a well-regarded play with that title.)
"It's a tragedy you can laugh at," Netzley says. "Robby knows structure and he has such a unique voice that he can turn something seemingly simple and homespun into a unique piece of drama."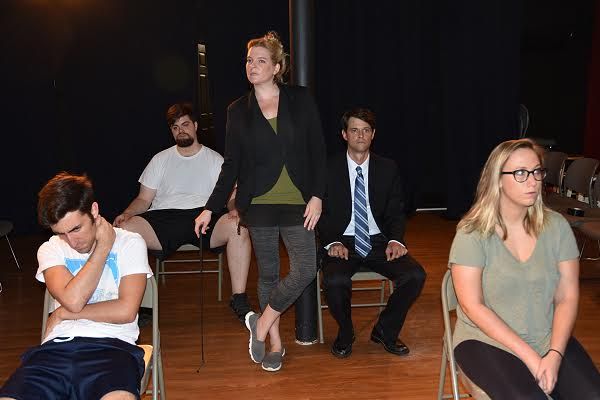 "We work incredibly well together," Macke notes. "He gets me out of the first draft to 3.5. He asks me questions, and keeps asking till I answer."
In the beginning, Netzley says, there were lots of long monologues. "One piece of dialogue was an entire scene."
Macke resisted. "I'm stubborn through most of (Netzley's nudging), but happier in the end. I finally found I wanted it to be a response to Our Town.
"A critique," Netzley suggests.
"Yeah, critique."
Netzley gave the 3.5 Damascus to Clifton to consider; Macke submitted it to the University of Idaho for a graduate playwriting "distance" program. (The "distance" means Macke doesn't have to be on campus.)
Clifton said yes and so did the University of Idaho. After last Thursday's opening, Macke immediately flew to Idaho for a weekend of readings – which had different notes and revisions than Clifton – working toward a production later this year.
"Robby is making work here, he has a chance to get work done here," Netzley explains.
"Where was I going with this?," Macke asks.
"You get class credit for anything you do in Cincinnati."
"I couldn't say no to that," Macke concludes.
Damascus, Netzley says, "Is about choice. Free will versus fate."
"Not fate or free will. Coincidence," Macke corrects. "Not choices but accidents. What matters more are accidents."
"One could argue that what are accidents but acts of fate?," Netzley ponders.
"Nate almost seems a little more passionate than I am, even though it's my play," Macke says.
Netzley points to his two-year history with Damascus, starting with the workshop. "It's the first script I got to develop from the ground up."
Several NKU alumni are in the Damascus cast. Matthew Krieg and Kyle Taylor were in the original workshop; Netzley had also worked with Emily Fry and Andy Simpson at NKU.
Netzley calls Clifton company member Carter Bratton the reason he became involved with Clifton Players.   
As for what's next for Damascus, "All I can hope for is another production." Macke looks at Netzley. "Is that fair?"
"Completely fair."
The Road through Damascus, through Oct. 1. Clifton Performance Theatre, 404 Ludlow Ave, Clifton. 8 p.m. Thursday-Saturday, 3 p.m. Sunday. Extra performance 8 p.m. Sept. 26. Tickets $25, seniors $20, students with ID $15. Available online here.
Written by Jackie Demaline, RCN Arts
Photos provided