Premium Content
Divers Investigate Possible Connection to Northern Kentucky History at Bottom of River
Sun, 01/08/2017 - 21:55
RCN Newsdesk
On a brisk morning at the Ohio River, members of the Boone County Water Rescue embarked on a day of training. The purpose: divers were going into the cold water to find out more about a wooden boat found at the river's bottom.\
"We sonar the bottom of the river on a regular basis," said Sergeant Mike Bean, who was in charge during this session. "We found this boat down there with our side sonar, which can go about 300 feet on either side of the boat. We find a lot of wrecks, but this boat seemed to be wooden, and that makes it different. Boats haven't been made of wood for a long time."
Three divers suited up to prepare to brave the cold waters of the Ohio River. Veteran diver Ken Purcell went down first.  
"He is going down to find anything loose that he can pull off the boat," said Bean. "We think the boat is about 200 feet long and about 35 feet wide. We haven't found anything like this, but again, we don't know exactly what it is."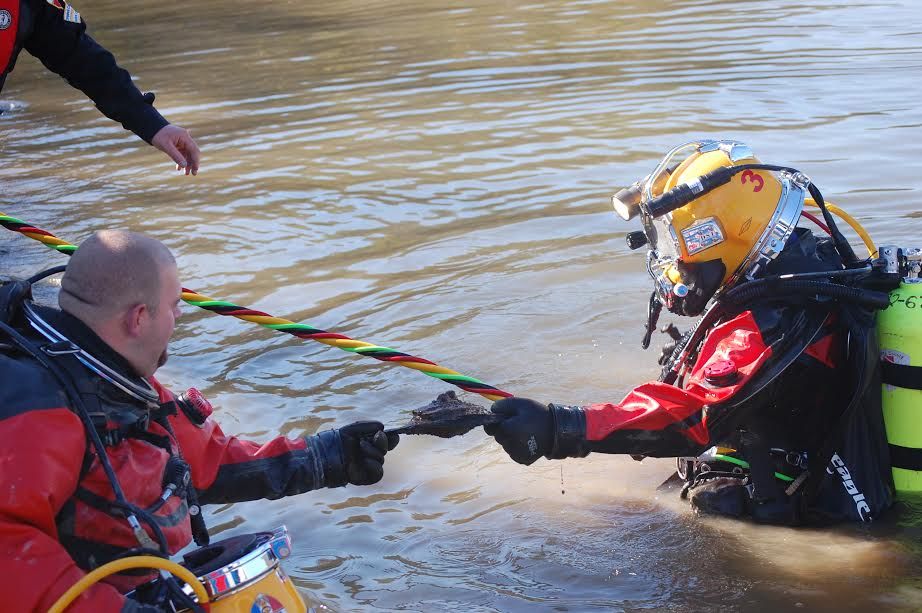 Purcell put on ankle weights and full diving gear, including a helmet, and then he literally crawled into the river, with second diver Andrew Work ready on the river bank. Visibility is so bad in the Ohio, even on a clear day, that a diver would have to feel his way along, losing any ability to travel in a straight line. Purcell is a 26-year veteran of diving, and he did well keeping the line straight, and in about 40 feet of water Purcell found the edge of the boat. Though Lieutenant Ezra Elmore and Lieutenant Tony Wilson were on the deck along with Bean listening and watching the screen showing scenes from the camera on the diver's helmet, Purcell's voice came through, but it was difficult to see anything on the screen. After being down for about 20 minutes, Purcell crawled out of the river with a couple of souvenirs, and the crew set about taking hoses and lines off one diver and affixing them on the second diver.
"There's not much you can actually get from the boat," Purcell said, when he could speak. "That side is kind of thick. I did get a piece with a bolt of some sort."
Bean speculated that the vessel down in the river could have been a wooden barge, and that possibly a company abandoned the barge or barges on the river bank before the dam was put in. Once the dam was installed, the river widened considerably, and then anything left on the bank would have been submerged. He acknowledged that it was speculation, but it was a theory. 
Since then, however, Captain Dale Appel has researched the pieces taken out of the river, and also confirmed that there are two boats, and speculated that they could be keel boats from the late 1800's or the early 1900's. He matched the nail bolts to pictures of others, and those in the keel boats from that era are identical to what was found.
"I sent the information to Frankfort, but they weren't in any position to do anything," said Appel. "However, the Behringer-Crawford Museum is interested. They have a replica of a keelboat from that time, and would like to have a piece of one of the boats, if that's what they are."
Back at the river, the second diver, Andrew Work, started to crawl into the water, and immediately started going off course. The current, at about one and a half miles per hour, was taking the diver, who could barely see his hand in front of his face, down river instead of straight. He finally had to hold onto the rope which held the marker in place to show approximately where the wreckage lay on the bottom. Work was able to locate the wooden boat, and secured a large piece from a different place on the boat, but struggled to bring it to shore, where the third diver, David Brankamp, was waiting to be hooked up to go down.
These recovered pieces will prove to be clues to exactly what these vessels are. Appel has been in conversations with Laurie Risch, executive director of the Behringer Crawford Museum, located at Devou Park in Covington.
"I am intrigued," said Risch. "We are going to meet in a couple of weeks to see everything they've got so far. The potential and possibilities of the historical artifacts are good, and if they should turn into an adventure we might be able to research some stories. We will have to see if we can place it in early time periods by seeing how they were built, and what materials were used. It could be an interesting find."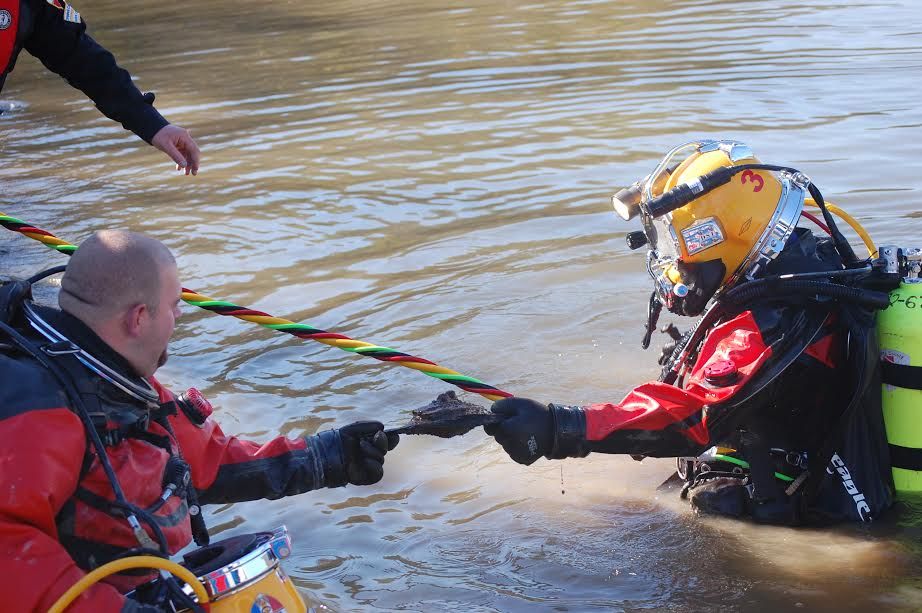 The Boone County Water Rescue began as an ultra sub group of the Boone County Civil Defense unit in 1967, but it was a poor shadow of what it is now. Dale Appel, who is the Captain of the group, belonged to the organization which used to be called a water recovery group, but they weren't equipped to make much happen. Not long after he joined the group, a very good friend of Appel's drowned in a terrible accident on the river on an outing, and there was no organization that could find his friend.
Knowing that his friend had drowned, Appel's grief was compounded by the fact that the friend couldn't be rescued, and then his body couldn't be found right away. Appel vowed that would never happen to another family. He took over the organization, and built it into what it is today, although he humbly says that he is a very small part of the story.
The Boone County Water Rescue patrols the Ohio every weekend in the summer, and on good weekends during the winter. The group has about 50 members now, all volunteer, who go through training on their own time, and usually have a full time job. There are approximately 15 divers, although Purcell is the most experienced. He was the one dispatched to retrieve the body of a man after a vehicle fell from the Combs-Hehl Bridge last year.
The divers are asked to recover many things: cars, houseboats, guns, and bodies. They regularly sonar the river to make sure a car or something didn't slip into the water unnoticed. They scan off boat ramps, since those are easy places to dump unwanted cars or boats. The crew does training exercises in places like Camp Ernst Lake, where they have sunk an airplane and a school bus to try and float them to the surface in a simulation of a disaster.
But Appel has a mission with this group. Even though he is retired, he will be the commander until he can't be anymore.  
"Part of my life's goal is to make things safe on the river," he said. "Everybody has a purpose. I made a promise to God that if we found Dave Davies, I would strive to make sure things were safe, and no one ever had to wonder what happened to their loved one. I have been working toward that goal ever since."
Story & photos by Patricia A. Scheyer, RCN contributor