WVXU: New Podcast Features Co-Host from Bellevue; Wilkinson Has New Column
Thu, 07/13/2017 - 10:49
RCN Newsdesk
For more than 43 years, Howard Wilkinson has been covering the campaigns, personalities, scandals, and business of politics on a local, state, and national level. He's covered every Ohio governor's race since 1974 as well as 16 presidential conventions. He's interviewed sitting presidents and presidential candidates, U.S. senators and representatives, governors, county commissioners, mayors, and city council members. 
He's won a myriad of awards including induction into the Cincinnati Society of Professional Journalists Hall of Fame in 2012.
With so many years covering so many campaigns and so many politicians, there must be stories to tell, right?
Starting Saturday, July 15, Wilkinson will begin telling those stories in a new column exclusively for WVXU.org. Tales from the Trail: Stores from a Lifetime of Covering Politics will take readers through more than four decades of covering the newsmakers and hand-shakers, the policy-makers, and world-changers that have kept the writer intrigued, befuddled, and bemused.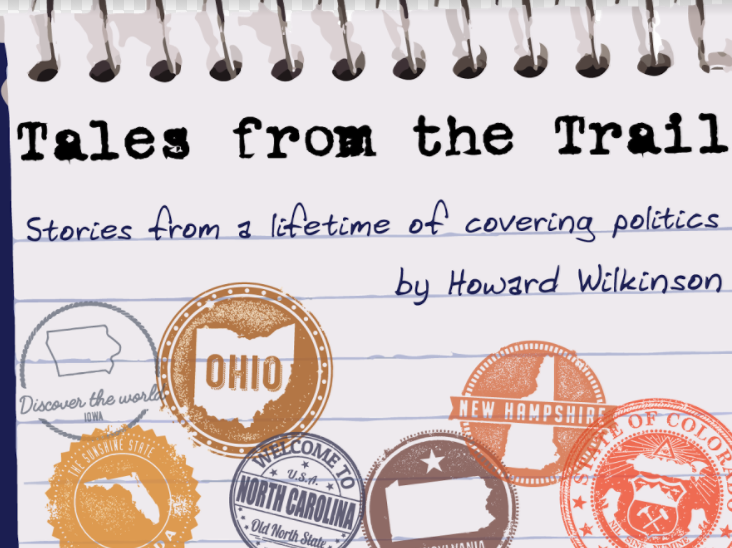 "Yes, covering politics is serious business, because there is so much at stake – for the people, more so than the candidates," Wilkinson said in a news release. "But I can't help but laugh sometimes at many of the behind-the-scenes things that happen along the campaign trail. It can be like watching sausage being made sometimes, but on many occasions, it's just plain funny. We don't laugh enough in our politics. I'm hoping this column with give you a reason to laugh along with me."
Tales from the Trail: Stories from a Lifetime of Covering Politics from Howard Wilkinson debuts on Saturday and is a service of Cincinnati Public Radio.
"Looking Up" is new podcast
For the first podcast created exclusively by Cincinnati Public Radio separate from its on-air programming, producers have reached for the stars and introduced Looking Up with Dean Regas and Anna Hehman this week.
"Looking Up will educate you, but you probably won't see it coming," according to Regas. "It's really a fun conversation about space, the planets, science, maybe some pop culture, that should be entertaining and leave you a bit smarter than before."
Dean Regas, of Cincinnati, is the outreach astronomer for the Cincinnati Observatory, co-host of the PBS series Star Gazers, and author of the book Facts from Space. Anna Hehman, of Bellevue, is the Observatory's Director of Development with an innate curiosity about the cosmos.
During each episode, there will be conversations about current astronomical happenings, a special guest, then either a Kid Question or a letter from the Observatory's Crank File – a collection of wild, unusual, far-fetched and conspiratorial correspondences collected through the decades.
Looking Up is produced by Kevin Reynolds and engineered by Josh Elstro, the tandem behind the StoryCorps in Cincinnati segments currently airing each Wednesday on 91.7 WVXU, 88.5 WMUB, online at wvxu.org, and on theWVXU mobile app.
Looking Up will release new episodes twice a month, on the 2nd and 4th Wednesdays. It's easy to subscribe – look for Looking Up on iTunes or wvxu.org. More details here.
WVXU wins 13 Ohio Society of Professional Journalists Awards
91.7 WVXU, the news and information station of Cincinnati Public Radio, has been honored by the Cincinnati, Cleveland, and Columbus Society of Professional Journalists (SPJ) chapters with thirteen awards in their Ohio's Best Journalism Contest. That number gives WVXU the most awards of all broadcasters, TV or radio, in the state. Awards are for work done in 2016 and entries were judged by The Long Island Press Club.
BEST OF SHOW
First Place – Best Public Affairs Program: Cincinnati Edition (Mark Heyne, host; Pete Rightmire, producer; Belinda Cai, assistant producer)
Second Place – Best Reporter: Tana Weingartner
FIRST PLACE
Best Documentary: Celebrating King Records Month – Lee Hay
Best Feature Reporting: 20 Women, 8 Summers, And The One And Only Silver Streak – Tana Weingartner
Best Criminal Justice Reporting: Former Officer Stands Trail For Murder – Tana Weingartner
Best Government Reporting: Cincinnati City Council – Jay Hanselman
Digital Media: 20 Women, 8 Summers, And The One And Only Silver Streak – Tana Weingartner
Best Website: wvxu.org
SECOND PLACE
Best Feature Reporting: Wish You Were Here: How Old Postcards Are Finding A New Audience – Tana Weingartner
Best Investigative Reporting: Cincinnati Left Out Of Longer Bar Hours Law – Bill Rinehart
Best Spot News: Trump In Sharonville: Hillary Clinton A "Dirty, Rotten Liar" – Tana Weingartner
Best General Assignment Reporting: Prosecutor: No Charges For Family In Zoo Gorilla Incident – Tana Weingartner
Best Enterprise Reporting: Monarchs And Milkweed – Bill Rinehart
-Staff report
Top photo: "Looking Up" hosts (provided)