Remembering Clay Eifert: Holy Cross Leader Dies at 55
Sun, 02/11/2018 - 09:26
RCN Newsdesk
Over the last few months, as it became clear that the cancer that would finally kill him Friday could not be beaten back any longer, Clay Eifert – the long-time former Holy Cross principal, teacher and coach – received a gift:
An outpouring of e-mails, letters, cards, texts, Facebook posts and messages – even tributes dropped off at his house – from former students and players around the country who wanted him to know the impact he'd had on them.
"A lot of times, teaching and coaching is a thankless job," said his wife of almost 32 years, Lori Mai Eifert. "But he got to know how he made a difference in their lives."
This weekend, as the Holy Cross community struggled to deal with the news of Eifert's death on Friday evening, the "Clay stories" continued, shared via social media posts, phone calls and sidewalk conversations.
​(Courtesy of Lori Eifert)
Katherine Frantz, class of 2018, recalled how Eifert, 55, used to calm her down when anxieties in the classroom made her break down in tears. "He had faith in me when I didn't have faith in myself," Frantz said. 
Mark Trenkamp, class of 1986, remembered how in a world where "star" athletes so often are catered to and almost worshipped from a young age, Eifert made every player on Holy Cross' baseball team feel important. "With 12 to 13 seniors, a lot of us sat the bench," Trenkamp said. "But he made all us feel like a part of the engine that made the whole thing move."
David Neff, class of 1987, described how Eifert used jelly beans as a reward to get him to focus in the classroom. 
And Ally Mayhaus and Abby Hassert, teammates on the Indians basketball team that won the state championship in 2015, shared personal notes that Eifert sent them after current HC coach Kes Murphy organized a letter-writing campaign. 
"I am the luckiest man alive," Eifert wrote in one of his replies. "I know that life will be good to you as you move forward. And thanks for all the great times and memories."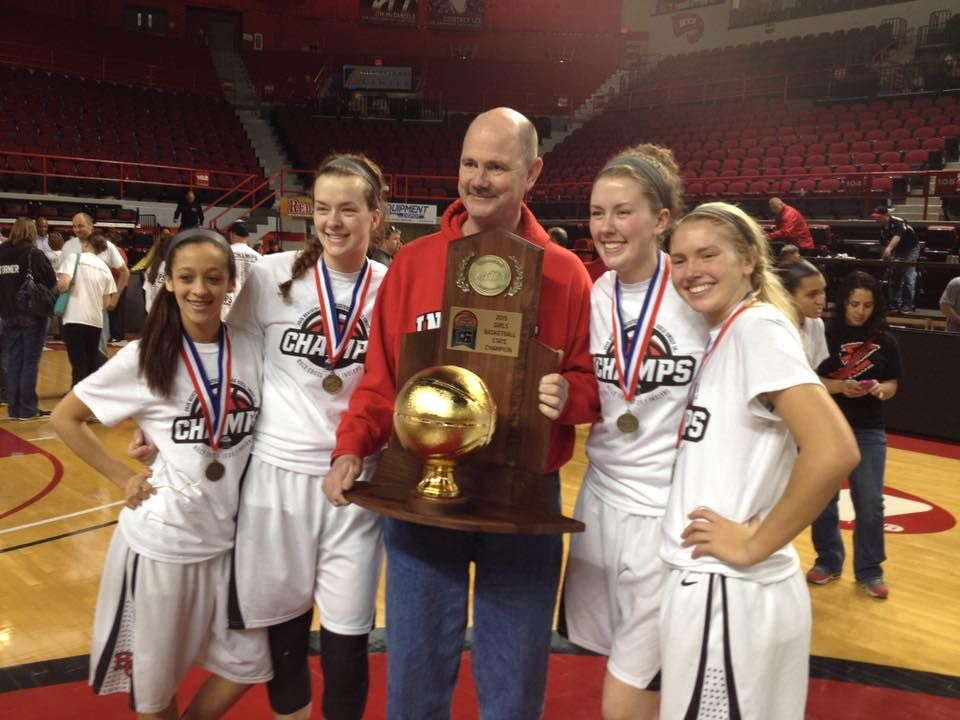 ​(Courtesy of Cyndi Reusch)
Meanwhile, former and current Holy Cross administrators, teachers and coaches had a broader mission: Trying to sum up the role Eifert played over decades of work in helping to transform the school from one that seemed on the brink of closing to the modern facility it is today.
Eifert began teaching at Holy Cross in 1986 (math, accounting and later computers) and became principal in 2001. He stepped down in 2013 after his health deteriorated. Along the way he coached basketball, for both the girls and boys teams, and baseball. And he continued teaching as principal.
Bill Goller, an adjunct professor at Thomas More College, knew Eifert better than almost anyone. He taught him in school, was a teaching colleague, supervised him as principal at Holy Cross, groomed Eifert as his replacement, and then stayed on at Holy Cross as a teacher working under Eifert. 
Under Goller and Eifert and now principal Mike Holtz, Holy Cross more than doubled its enrollment (from 180 students to about 450 at its high point); greatly expanded its curriculum and use of technology; expanded its campus to include a row of houses across Church Street; started a guidance program and its well-known Academic Enhancement Program for students with diagnosed learning disabilities, the first in the Diocese of Covington; remodeled the school top to bottom; and began aggressively and formally helping students on the lower end of the economic spectrum with tuition. 
What struck Goller (and almost everybody who talked about Eifert) was his "passion" for helping kids, a description that -- though an oft-used cliché – fails in their minds to convey the energy and persistence Eifert brought to the classroom and to improving Holy Cross. Eifert's enthusiasm – his belief -- was an infectious feeling that engaged students, fellow teachers, volunteers and donors to the school, Goller said. 
"Whether it was entry-level algebra or coaching baseball, he was just determined to have these kids succeed," Goller said. "I could give you hundreds of examples of kids he had such an effect on, to get them to believe more, to work harder. Whether they were an athlete or a student, none of that mattered. He got people to want to be the best – not just good but the best."
Some of the changes were easy to see: Goller said he and Eifert led groups of volunteers who worked every summer on the deteriorating buildings, doing everything from fixing leaks in the roof to rewiring to painting to laying new floors to replacing more than a hundred windows. They also helped convert the houses into classrooms and offices.
But other changes were more intangible.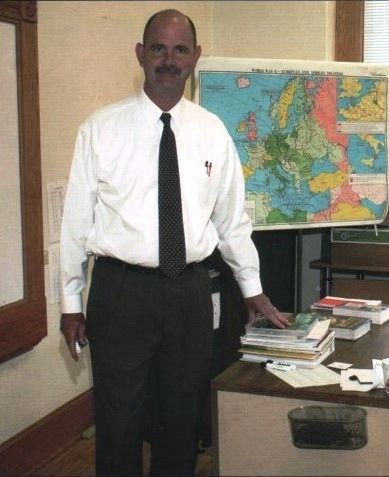 ​(Holy Cross yearbook photo)
For example, years ago the term "Crossback" was a pejorative word used outside the school to disparage its students. But it was under Eifert that the school decided to embrace the nickname, adopting it as an emblem that summarized the religious school's mission to nurture not just smart, successful people but "good people," Goller said. 
Even today, students and alumni identify themselves as "Crossbacks" and wear T-shirts and sweatshirts marked with, appropriately, a little cross on the back. "He turned it around and made it something proud … to carry the rest of your life," said Eifert's wife, Lori Mai Eifert.
Holtz is particularly proud of Holy Cross' tuition assistance program and its Academic Enhancement Program, both of which – in his mind – put into practice the school's philosophy of inclusion and diversity, critical given its widely disparate demographic base.
He told the story of one boy who came to Holy Cross as a freshman for the enhancement program, so shy and insecure he could barely speak to others. A year later, his mom stopped Holtz outside the school and started crying while relating the improvement in her son. "A year ago, he hated school," she said. "Now I get yelled at if we're late out the door."
Holtz also told the story of another student who – unbeknown to most if not all of her classmates – spent her four years at Holy Cross more or less homeless, living out of cars and temporary places with her mom. Eifert went out and quietly raised money to pay her tuition. Recently, Holtz said, the woman, now graduated, wrote to talk about her college degree, job, house and family. "Without your belief in me and support of me, I wouldn't be here," she wrote.
Eifert sought financial help for so many such students, Goller said, that he and others quietly and proudly took to calling them "Clay's Kids."
Stories like that, Holtz said, are part of Eifert's legacy.
Students also recalled Eifert's theatrical teaching methods that inspired – and often forced – them to participate in class. 
Holtz said he heard time and again Eifert exhort teachers to reach out to kids as individuals, and he watched the principal stop kids in the hallway or cafeteria to talk quietly with them. "They just can't be a butt in the seat," Holtz said the message was, "you have to get to know them."
​(Courtesy of Sara Bamberger Photography)
Dan Trame, a teacher at Walton-Verona High School who taught at Holy Cross with Eifert and coached basketball with and against him, said Eifert had a "unique charisma" that inspired students to study more diligently, athletes to practice harder and parents to – after seeing Eifert speak at open houses – send their kids to Holy Cross. 
"He had a way of making you know he cared about you," Trame said. 
One of Trame's sons, who now works for an engineering firm in Washington, D.C., was among the many former students who wrote Eifert recently. "You have a presence about you that makes those around you want to make you proud," the letter said. "That's why you were born to be principal of our school."
Many people outside Holy Cross remember him mostly as a basketball coach, Trame said. Eifert was an assistant on the Holy Cross team that made it to the state semifinals in 1991 and head coach of the 1994 squad that made it to the state quarter-finals. Trame, who coached against Eifert from Simon Kenton, said both championship teams personified their 6-foot-6 coach – tough physically and mentally, "demanding of each other but playing for each other."
He said Eifert was an animated coach. One year the KHSAA put in what was called "the seatbelt rule," forbidding coaches from standing up to yell, Trame said. He remembered watching Eifert so worked up one game that – holding on to the seat of his metal chair – he bounced it all down the sidelines until he ran into the wall. "But he stayed within the rules, because he never got up."
Small wonder, Trame said, that Eifert was inducted into the Northern Kentucky Sports Hall of Fame and the Northern Kentucky Athletic Directors Association Hall of Fame. But year in and year out, Trame said, Eifert himself has blocked his induction into the Holy Cross High School Hall of Fame. He says others deserve it more.
Eifert came from a family well-known in the Latonia area of Covington. In fact, two years ago the school renamed an alley behind the church and gym "Eifert Family Way" to recognize its contributions. One of Eifert's sisters is a principal at St. Anthony Elementary in Taylor Mill, the other was a long-time teacher at Holy Cross before being killed by a drunken driver. Another sister was a nurse at St. Elizabeth Medical Center in Covington for years. His grandfather was a Covington patrolman who was killed in the line of duty in 1946. And his father also served on the Covington police department for 30 years and rose to the level of captain.
Eifert and his wife have two children, Ashley and Robert, and are expecting their first grandchild. Arrangements are pending at Connley Bros. Funeral Home in Latonia, but Holy Cross has preliminary plans for a memorial celebration of Eifert's life Thursday at the gym. 
​Written by Dan Hassert for The River City News