Premium Content
Covington Board OKs New Office Building, Parking Garage
Tue, 04/24/2018 - 08:41
RCN Newsdesk
With the first phase of the massive project nearly complete, Duveneck Square prepares to move across the street to begin work on the next phase.
The City of Covington's urban design review board on Monday gave its blessing for Cincinnati-based NorthPointe Group (doing business as 730 Washington, LLC) to proceed with its plans to construct a new office building and a 700-space parking garage along Washington Street between Pike and Eighth Streets.
Architect's rendering of new office building with new parking garage in the background (RCN)
The same board had previously given the developers permission to raze an historic distillery building to make way for the parking garage, after previously granting an OK to tear down most of the historic block in favor of the new development.
The second phase will result in the demolition of part of another historic building which currently houses the Parish Kitchen. A rear portion of that building, owned by the Diocese of Covington, will be removed to make way for the garage. Once the distillery tower is brought down, the Parish Kitchen's building will be the last standing historic building after Duveneck Square nearly the entire block on the southern side of Pike Street, and all the buildings on the eastern side of Washington Street.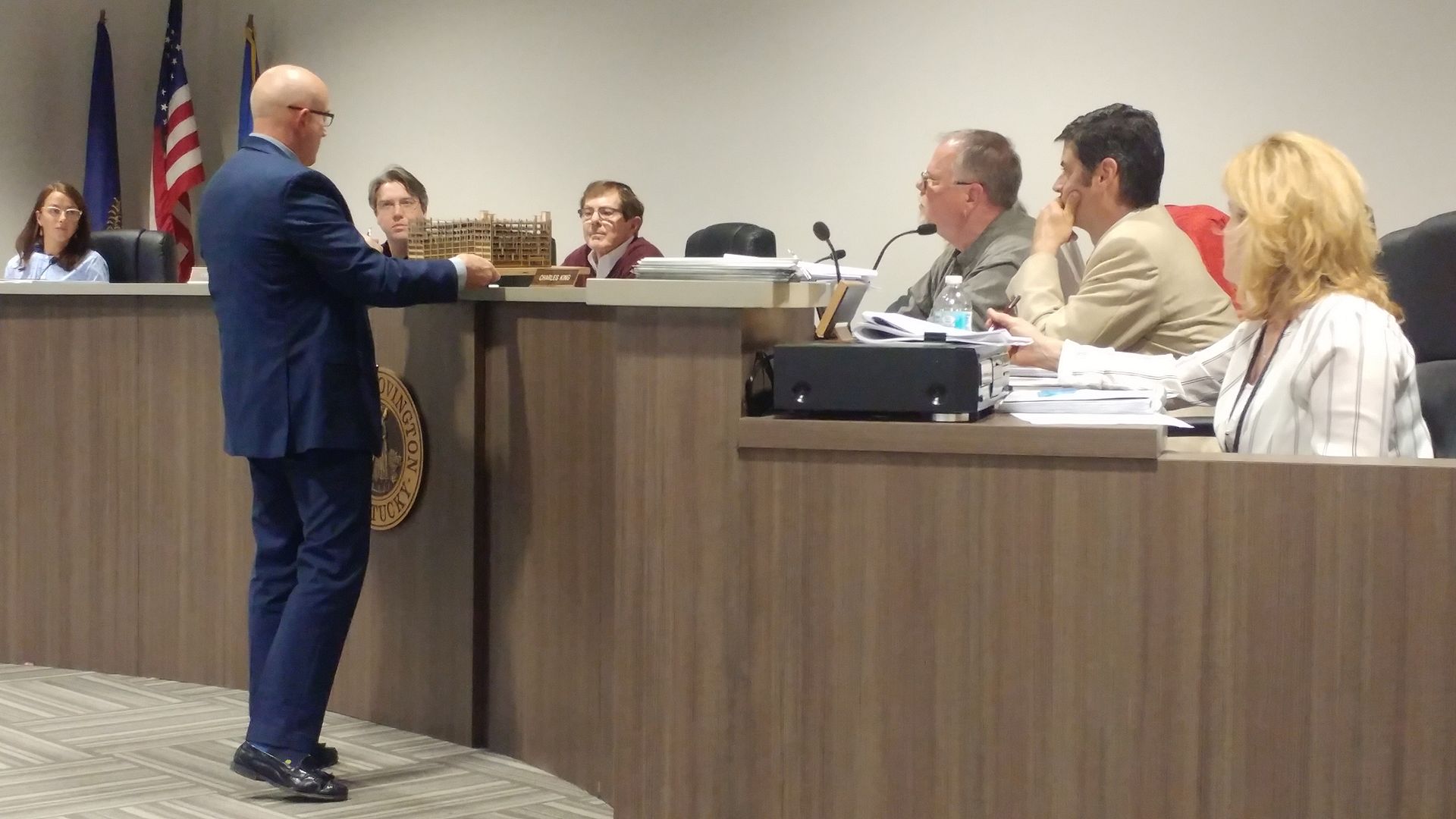 Architect shows UDRB members a model of forthcoming parking garage (RCN)
The new office building will be 84,000 square feet with first-floor commercial opportunities for retail or food businesses.
The first phase of the project is currently renting its market-rate apartment units. There are 110 units in the building with some retail opportunities on the first floor. A pizza restaurant, from the owners of the local Flip Daddy's hamburger and craft beer chain, is expected to open there.
Beyond the new office building and parking garage, a third phase is expected nearby but won't begin just yet.
-Michael Monks, editor & publisher