Week in Review: June 24 - 30
Sun, 06/30/2013 - 19:35
RCN Newsdesk
At The River City News you get More Covington News Than Any Other Source. Here's a look back at the week that was and all the headlines from our city:
SUNDAY
COVINGTON DOCTOR RETIRES AT 90 AFTER 55 YEARS OF PRACTICE
A 90-year old Covington doctor retired over the weekend with a celebration of his more than five decades of practice. Story & Video: Click Here
SEN. RAND PAUL COMPARES SAME-SEX MARRIAGE TO BESTIALITY
Sen. Rand Paul on gay marriage ruling this week: "It is difficult, because if we have no laws on this, people will take it to one extension further – does it have to be humans?"
Office calls it sarcasm while a columnist asks if the senator changes his position for each audience: Click Here
PHOTOS: CAR CRASH AT 3-L HIGHWAY & HANDS PIKE
Photos: Car crash slows traffic at busy South Covington intersection. Click Here
SUPPORT THE AWESOME COLLECTIVE OF COVINGTON
How can you help Covington become more awesome? Details at the link: Click Here
SATURDAY
COVINGTON AMONG 75 DISTRICTS IN KENTUCKY TO VOTE TO RAISE DROPOUT AGE
Covington Independent Public Schools is now one of 75 districts to approve Kentucky's effort to raise the dropout age to 18. Click Here
PUB THEATER THIS WEEKEND IN MAINSTRASSE
This weekend in Covington: Check out a neat play in the back of a Mainstrasse bar! (One more performance left on Monday!) Click Here
RIDE. RUN. CRAWL. GAY PRIDE FESTIVAL RETURNS TO COVINGTON
Gay pride events return to Covington for the fourth year. Details: Click Here
FOUR FROM NORTHERN KENTUCKY APPOINTED BY GOVERNOR TO STATE BOARDS
Four from Northern Kentucky (including one from Covington) are appointed by the Governor to serve on various state boards. Details: Click Here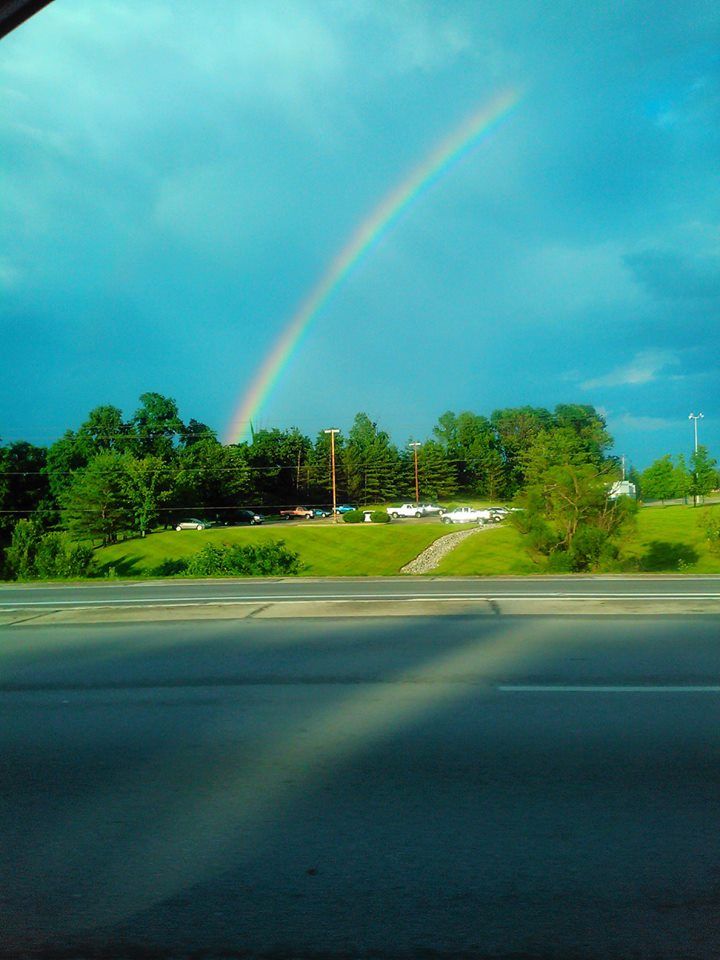 Rainbow visible along I-75 near Florence on Friday evening/RCN
FRIDAY
COLLEGIAL DAYS GONE AT COVINGTON CITY HALL: ENQUIRER REPORTS ON RCN EXCLUSIVE
"KY Enquirer could have at least acknowledged (The River City News) as a contributing author on their front page story today." 
-Kenton Co. Commonwealth's Attorney Rob Sanders via Twitter
The story: Click Here
COVINGTON MAN REPORTED MISSING
Police and family members are looking for this 62-year old man. Details: Click Here
This week marked the 2-year anniversary of The River City News which published its first post on June 28, 2011
POP-UP SHOPS: A SYMPOSIUM IN COVINGTON
Fan of the "Kentucky Kicks Ass" marketing campaign? One of the guys behind it will be in Covington for this event: Click Here
NOEL, GOODWIN DRAFTED IN NBA'S FIRST ROUND
Kentucky's Nerlens Noel and Archie Goodwin are taken in the first round of the NBA Draft. Details & notes on where two from Louisville and one from Murray State ended up -- at the link: Click Here
THURSDAY
NEW ECONOMIC DEVELOPMENT MECHANISM DIVIDES COVINGTON COMMISSION
Divided commission passes special fund to help boost economic development projects by a vote of -- wait for it -- 3 to 2.
"(But) isn't that paying off one credit card with another?," Rains asked.
"No," Due said, "because we're keeping that payment the same."
"Can't you just take the bond money and put it in the fund?," Williams asked.
"No," Due said. "It's illegal."
Full story: Click Here
CEREMONIAL GROUNDBRAKING FOR GATEWAY COLLEGE'S EXPANSION IN DOWNTOWN COVINGTON
"The timing is perfect, the stars are aligning, and we're excited," Mayor Sherry Carran said. Click Here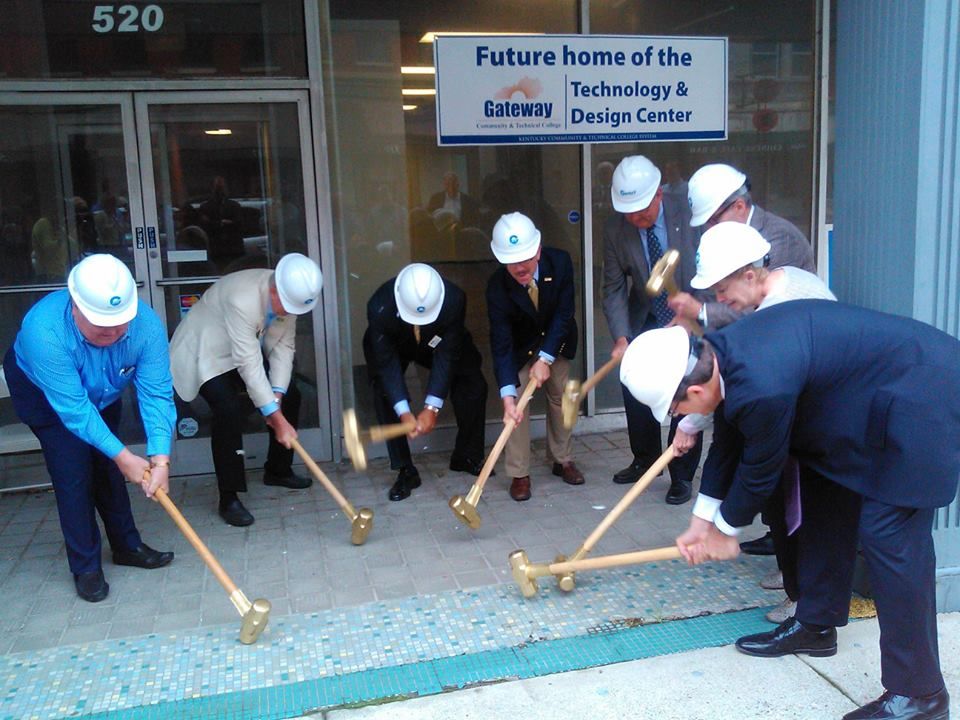 IT'S OFFICIAL: UPTECH IS MOVING ITS "BIG IDEAS" TO COVINGTON
What an amazing get for Downtown Covington! It's now official: UpTech is moving its operations to Pike Street. What this means and a break-down of the numbers -- at the link! #theCOV Click Here
SEVEN COVINGTON POLICE OFFICERS PROMOTED DURING SPECIAL COMMISSION MEETING
Seven members of the Covington Police Department were promoted during a special city commission meeting Thursday. Details at the link: Click Here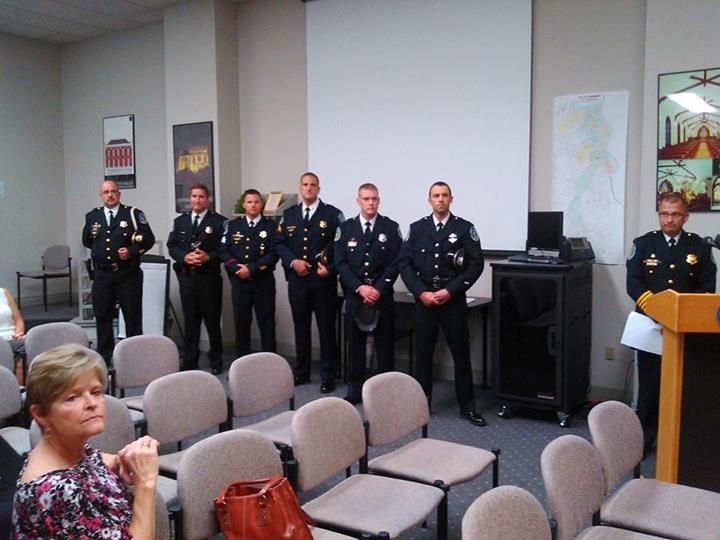 Officers promoted Thursday/RCN
WEDNESDAY
$71 MILLION INVESTMENT PLAN APPROVED BY COVINGTON COMMISSION
"In a few years we'll see a vastly transformed Covington." But the plan to get us to that "vastly transformed Covington" passed by a slim margin. STORY: Click Here
COVINGTON POLICE BUST UP MYSTERIOUS OUTDOOR PARTY WITH HUNDREDS OF GUESTS
A mysterious outdoor party busted up by Covington Police attracted upwards of 800 people near the floodwall. After publishing this story, RCN editor Michael Monks was featured in WLWT's follow-up report. See the story and the video report at the link: Click Here
KNOCHELMANN TO CHALLENGE ARLINGHAUS FOR KENTON JUDGE-EXEC JOB
Kenton Co. Judge-Executive Steve Arlinghaus will be challenged next year by County Commissioner Kris Knochelmann: Click Here
NKU NAMES NEW ATHLETIC DIRECTOR
New athletic director named at Northern Kentucky University. Get to know him at the link. #GoNorse Click Here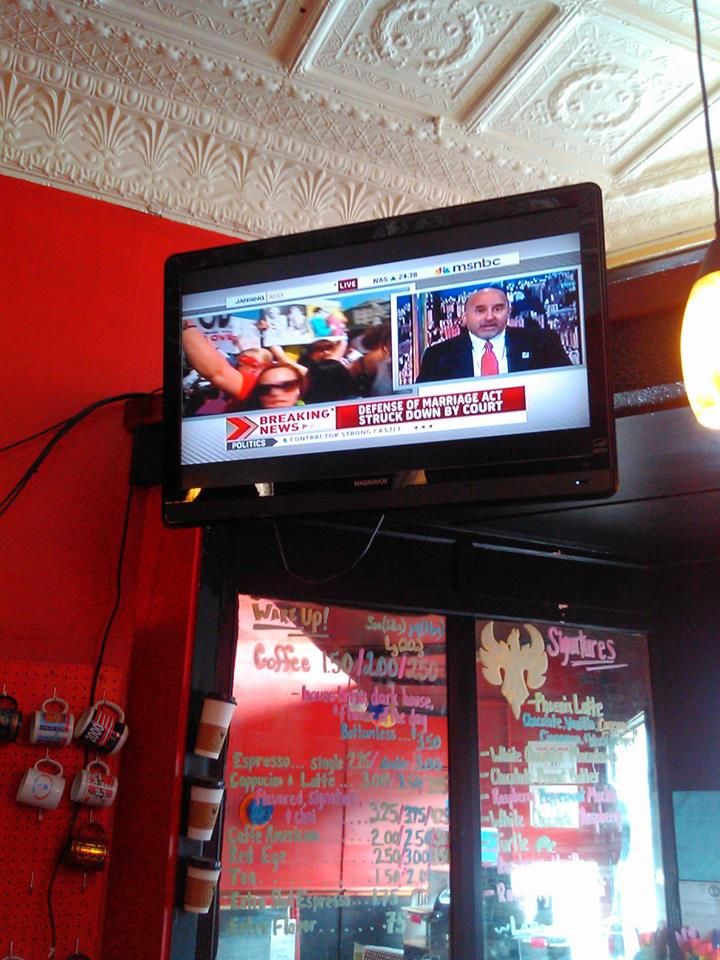 RCN joined supporters of same-sex marriage at Covington's Pike Street Lounge as the US Supreme Court struck down the federal Defense of Marriage Act
COVINGTON ARTIST BATTLES CANCER, PARTNERS CREATE VIDEO & POSTER
A young Covington artist is battling cancer so his Pike Street business partners created this poster and video in loving tribute to help raise funds: Click Here
TUESDAY
HEADED TO PRISON: MAN WHO BURGLARIZED COVINGTON HOME TWICE, MAN WHO ATTEMPTED SEX WITH TEEN
Man who burglarized Covington home twice is headed to prison (Why stealing an iPad turned out to be a really bad idea...): Click Here
AS COVINGTON AWAITS BOUTIQUE HOTEL, 3 QUESTIONS WITH LOUISVILLE'S 21c
As our city awaits The Hotel Covington, what kind of economic impact can we expect from having a boutique hotel Downtown? The River City News traveled to Louisville to visit the 21c Museum Hotel and got a few answers. Story & Photos: Click Here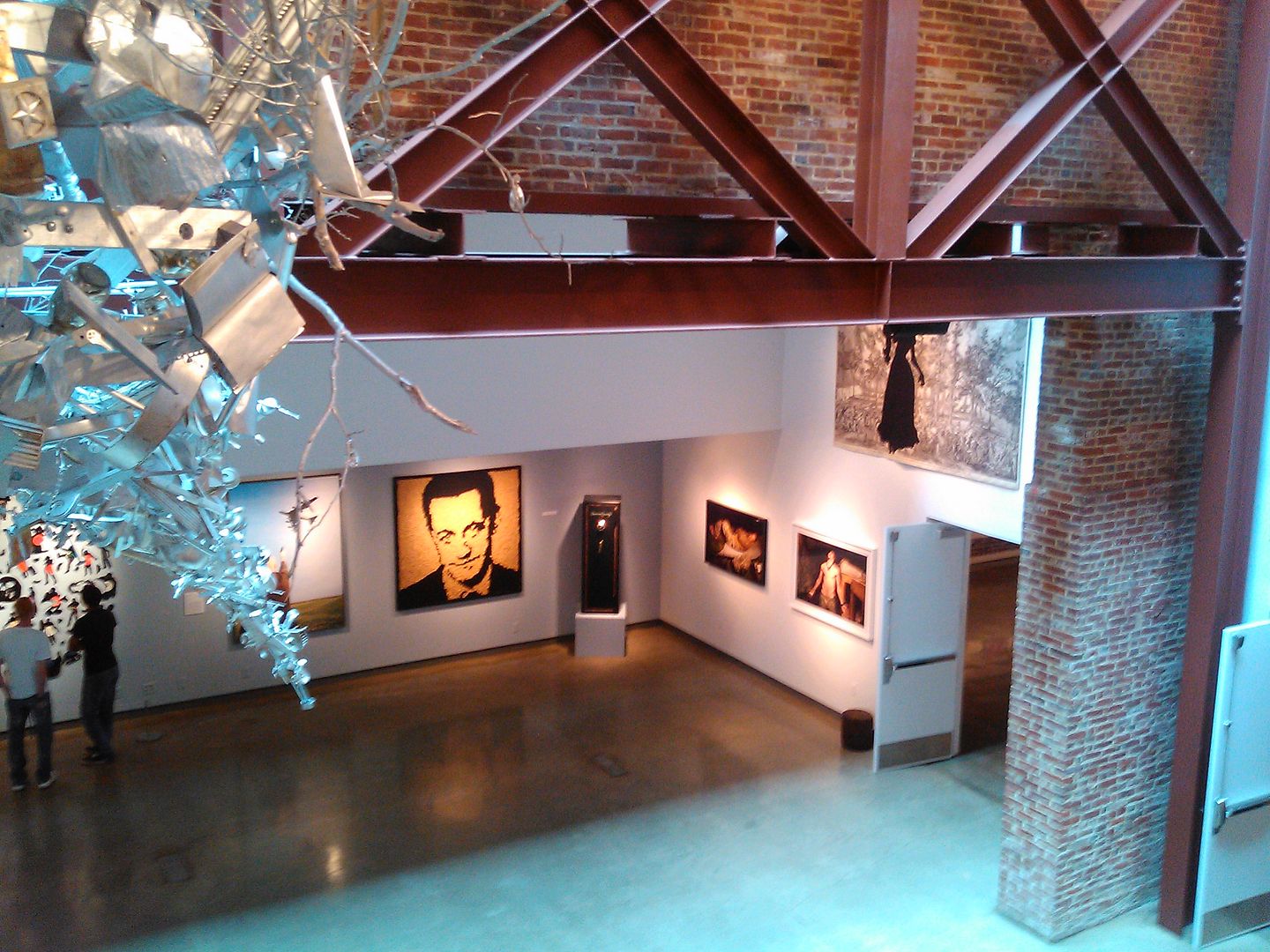 21c in Louisville/RCN
SHERIFF'S DEPUTY ATTACKED BY DOG IN COVINGTON
A Kenton Co. Sheriff's Deputy was attacked by a dog in Covington on Tuesday. Story & Photos: Click Here
FREE SNO CASTLE FOR LIFE IF YOU HELP RECOVER STOLEN PICNIC TABLE
Get FREE Sno Castle for LIFE if you help the Latonia business get its stolen picnic table back. Story: Click Here
WENDY'S SUES UDF OVER FROSTY TRADEMARK
Wendy's sues UDF over "Frostie" which is "a complete knock-off" of "Frosty". (Unusual amount of frozen dessert news today...) Click Here
WILTJER PREPARES TO LEAVE UK BASKETBALL TEAM
Hey, UK Basketball fans, what do you think about Kyle Wiltjer looking to leave the team? Click Here
MONDAY
COVINGTON COMMISSIONER RESPONDS TO ATTORNEY GENERAL'S REVIEW WHICH IS STILL ONGOING
City commissioner responds to Attorney General's review of her eligibility to continue to hold office, which is still ongoing; Plus, read the letter the Attorney General sent to the County Attorney regarding this matter -- at the link. Click Here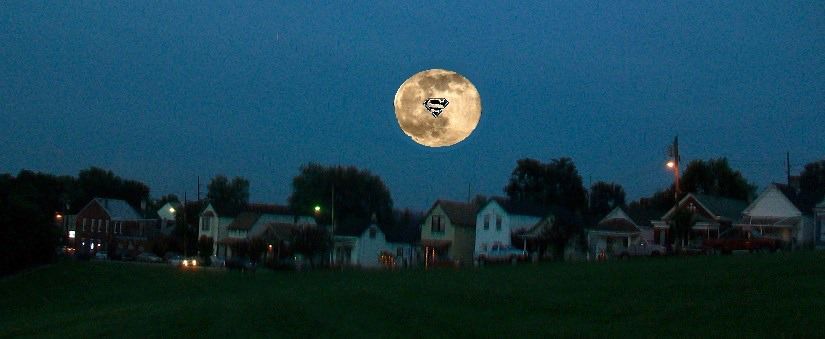 Parody photo of the "Supermoon" as it shined over Peaselburg this week/Submitted by RCN reader David Klein
CONVENTION CENTER TO BEGIN WORK ON SMALL EXPANSION AS IT WAITS FOR BIGGER FUNDS
While it waits for funding for a full expansion, the Northern Kentucky Convention Center is moving to renovate some unused space to increase sales -- but that required a boost from the City of Covington: Click Here
COVINGTON CHURCH ORDAINS ITS FIRST FEMALE MINISTER
A Covington church ordains its first female minister: Click Here
WHAT'S COVINGTON SELLING ON CRAIGSLIST? BEER PONG TABLE & MORE
It's time for our Monday morning treasure hunt! What's Covington selling on Craigslist? A Twister game, a professional beer pong table, and more: Click Here
Thanks for joining The River City News this week for More Covington News Than Any Other Source! Join us at Facebook, Twitter or email RCN!
Photo: Rainbow over the Ohio River on Friday/by Chuck Eilerman