859 Academy Benefits Area Youth Through Jiu-Jitsu
Thu, 07/18/2013 - 09:02
RCN Newsdesk
This article is written by RCN contributor Tristan Cook with photos by Keith Bowers.
EXCLUSIVE
In an empty basement in Covington two boys roll around on brightly colored mats, their limbs interlocking, hooking onto each other as they use their elbows, hips, and feet to jockey for a dominant position. The interlocked boys perform a coordinated somersault before one finds himself splayed out on the mat, his wrist gripped tightly as his opponent pivots his hips into the boy's outstretched elbow joint. The pained boy then taps gently three times with his exposed hand, a gesture indicating surrender, and they both untangle and rise to their feet smiling and shaking hands.
The two boys are being coached closely by Nick Dill and Matt Gross, practitioners of the martial art of Brazilian Jiu-jitsu, or BJJ, a martial art that came to prominence because of its effectiveness in the Ultimate Fighting Championship and other mixed martial arts venues, the fastest growing sport in the United States. But BJJ doesn't use punches or kicks or flashy knockouts that people associate with the UFC. Instead what BJJ uses is leverage and technique to implement a wide variety of joint locks and chokes that seek to end a fight bloodlessly regardless of the size of the combatants. 
This philosophy prompted Northern Kentucky natives Matt Gross and Nick Dill to start 859 Academy in March 2012, a nonprofit dedicated to teaching youth in the Northern Kentucky area Brazilian JiuJitsu. The idea was spawned while both were training with Sean Boland, a pro-am in the sport in California, and started to see positive effects in their lives, from health benefits to renewed positive attitudes.
Their mission statement is clear. They don't want to just teach BJJ and leave it at that. They want to benefit the area through Jiu-Jitsu. 
"859 Academy is focused on more than just jiu jitsu, it is focusing on the members behavior while in school and outside of class. Our goal is to better the community by helping kids in a positive, productive manner," says their mission statement on Facebook. 
"I was into some pretty bad things when I was 21," says co-founder Matt Gross. "I wish I had something like this growing up and I might have stayed on the right path. I want to 'nip it in the bud' for some these kids."
The kids he refers to, for the most part, are composed of kids from Dayton, Kentucky, Gross's hometown, and frequent the YMCA Teen Center. "Our headquarters is in Dayton because we can engage with the community so much better through the teen center," says co-founder Nick Dill. "More often than not, the kids that go to the Teen Center are the ones we're trying to reach."
While the problems faced by each teen that walks through the Teen Center's doors are unique, the age group that 859 Academy engages with see many of the same problems: bullying, intimidation, poor homelives, and low self-esteem. If these issues aren't addressed in a positive manner, they can lead to much bigger crises, crises both Gross and Dill have seen first hand.  
When Nick and Matt pitched their idea to teach Jiu-Jitsu to help alleviate these problems to the Teen Center coordinator, Justine Ryan, she was enthusiastic. Since they didn't have a space, they could use the Teen Center, and the Teen Center had what 859 needed: boys and girls willing to dedicate some of their time to learning BJJ two to three times a week. In exchange, students need to make good grades and keep their noses clean when not at the Teen Center.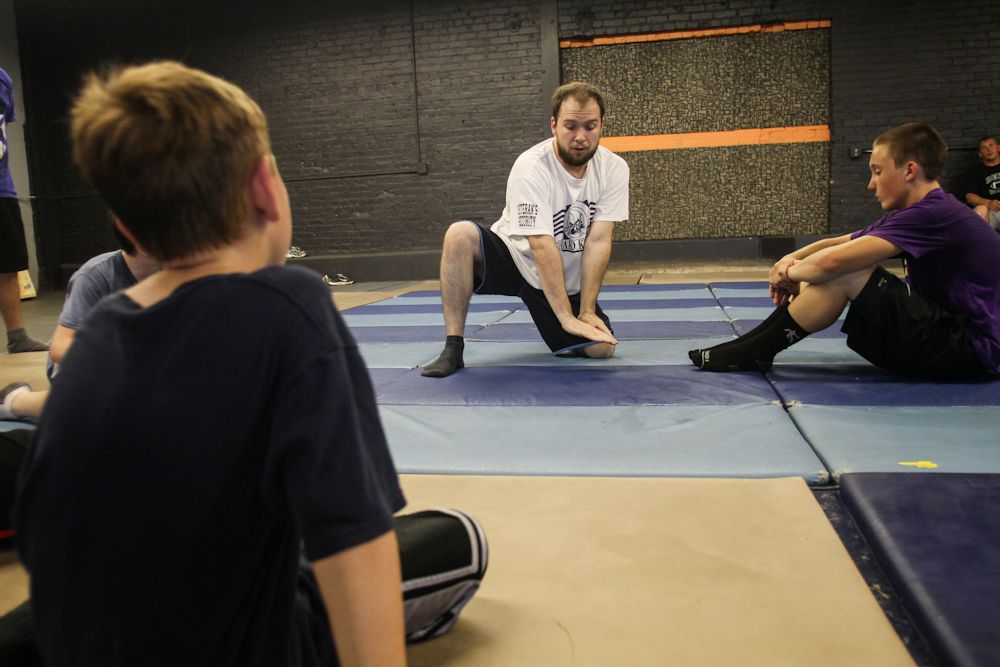 The results they got did not surprise them. "We had a kid come in here with a few assault convictions and he wanted to join the program. I told him that if he left here and tried to act like the toughest guy in Dayton, he wouldn't be allowed back, but if he dedicated himself to this he could be the toughest guy in the region. So far he hasn't been in any trouble since."
Both coaches are filled with anecdotes about the transformative effects of BJJ. But they insist that the confidence boost, the smiles, and the hightened self-worth isn't solely the result of Jiu-Jitsu but the community they have built up around it. 
So far since 859 Academy's founding in March of last year, they have only had to kick one student out, something that Nick and Matt remark they hate doing. 
"The rules are very clear: you don't want to learn in school, you can't learn from 859." 
Part of the reason they have been so successful, Gross and Dill remark is precisely because they can incentivize the best possible behaviors. And their successes vastly outweigh the setbacks. In September 2012, after 6 months of training, 859 Academy registered at a regional Brazilian Jiu-Jitsu tournament, American Grappling Challenge with groups that range from Michigan to Florida. They took 8 of their best and most dedicated. Six of them returned with medals, and the 859 Academy team went home in 2nd overall, an astonishing feat for such a young school. 
Several months later, 859 Academy received an Award of Excellence from the YMCA and coach and co-founder, Nick Dill received the Volunteer of the Year Award from the YMCA of Greater Cincinnati.
859 Academy has no desire to stop its upward trajectory, an arc that has been noticed by other philanthropic efforts like Kick 4 Kids, who gave 859 Academy a permanent practice space in their building on Russell Street in Covington, and Robert Beck of Beckfield College fame, who has given financial support to the program. Right now, the growth of the program is on their minds. As of June 2013, 859 Academy is an official nonprofit earning the coveted 501(c)(3) status, proving that the academy isn't temporary or a pet project but something here to stay. Nick and Matt, who were nothing but volunteers up until this point, intend to spread out and hopefully institute 859's ethos to local schools Holmes and Silver Grove High School. That way they can target the main riverside communities from Dayton to Covington.
Matt and Nick know that some people are on the fence about allowing their children learn something that could break limbs and even kill someone. 
"We monitor everything. If two kids are sparring, we're right there." Matt stresses, while Nick remarks that it is much safer than football, where the risk of concussion is high.
"We're teaching these kids hard work, dedication, patience, sportsmanship, confidence. One of our youngest recently stopped a fight using BJJ. If that doesn't take confidence, discipline, and control I don't know what will."
The way that Gross and Dill  passionately talk about what they do, the more Brazilian Jiu Jitsu drifts away, and seems to become a trivial aspect of the Academy.  Their real business is creating mentally and morally fit youth. And business, as they say, is booming.
Written by Tristan Cook for The River City News
Photos by Keith Bowers for The River City News