High Impact Developments Begin on Covington's Pike Street
Tue, 07/23/2013 - 15:13
RCN Newsdesk
Two development projects on Pike Street in Downtown Covington were the toast of the city during Tuesday's lunch hour.
The long vacant buildings will soon be home to several of the city's goals: new urban residents and bold entrepreneurs.
It took multiple entities with the goal of reviving Downtown Covington for the projects to come to fruition after years of effort but the Catalytic Development Funding Corp. of Northern Kentucky now had two feathers in cap which has room for many more.
"These developments represent our first two actual developments where we've committed funds," said Jeanne Schroer, The Catalytic Fund's president & CEO. The Fund is a collaborative effort of Corporex, Bank of Kentucky, Duke Energy, Central Bank, the Haile Foundation, PNC Bank, First Financial, US Bank, 5/3 Bank, and the Greater Cincinnati Foundation to leverage $10,000,000 for residential developments in the urban cities along Northern Kentucky's riverfront.
"They are putting capital at risk and agreeing to take a longer look at these projects. They see potential in these areas for those seeking an urban experience," Schroer said. "This location in Covington is a great place with exciting real estate and potential."
The Catalytic Fund evaluates three points when assessing possible developments: place, product, and people. Schroer said these two projects meet them.
The Market Lofts will soon house residents in new urban-style apartments at the corner of Pike & Eighth Streets. The Lofts are under construction now under the leadership of Tony Kreutzjans and Orleans Development (multiple units have already been rented). After the Catalytic Fund announced that it had acquired its desired funding, Kreutzjans immediately looked for a project to do with it.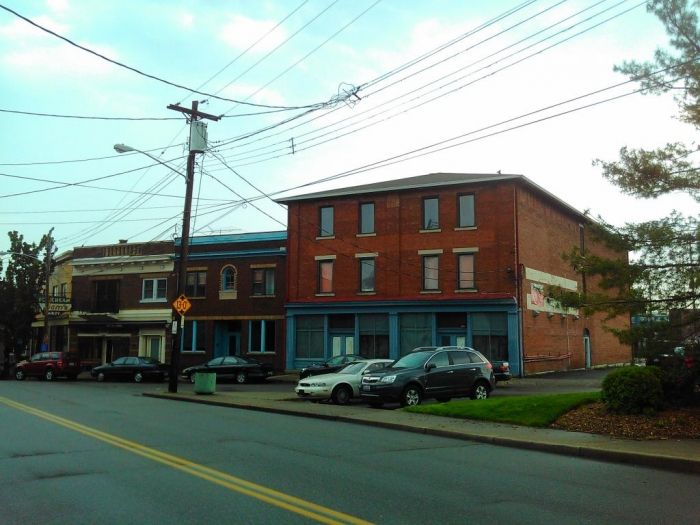 Market Lofts site/RCN
Kentucky Federal is the primary lender for the Market Lofts. "We can be kind of nimble and leaner than other companies," said Tim Cummings of Kentucky Federal which is handling the construction and permanent financing for Kreutzjans. "This is going to bring a lot of high quality residential units to Covington."
A block east of the lofts, it took even more hands on deck for the Pike Star Building. The Catalytic Fund tried for years to find financing for a project there, Schroer said, but found it difficult to get anyone to back the development of a building that included an unleased commercial space.
LISC of Greater Cincinnati stepped in with a loan worth more than $700,000 and that much feared commercial space could not have landed a more exciting tenant. UpTech, the technology start-up company incubator, will be moving in and bringing new companies and employees to the urban core. Upstairs, several apartments will be under construction with the Center for Great Neighborhoods partnering with Kreutzjans and Marc Tischbein Orleans.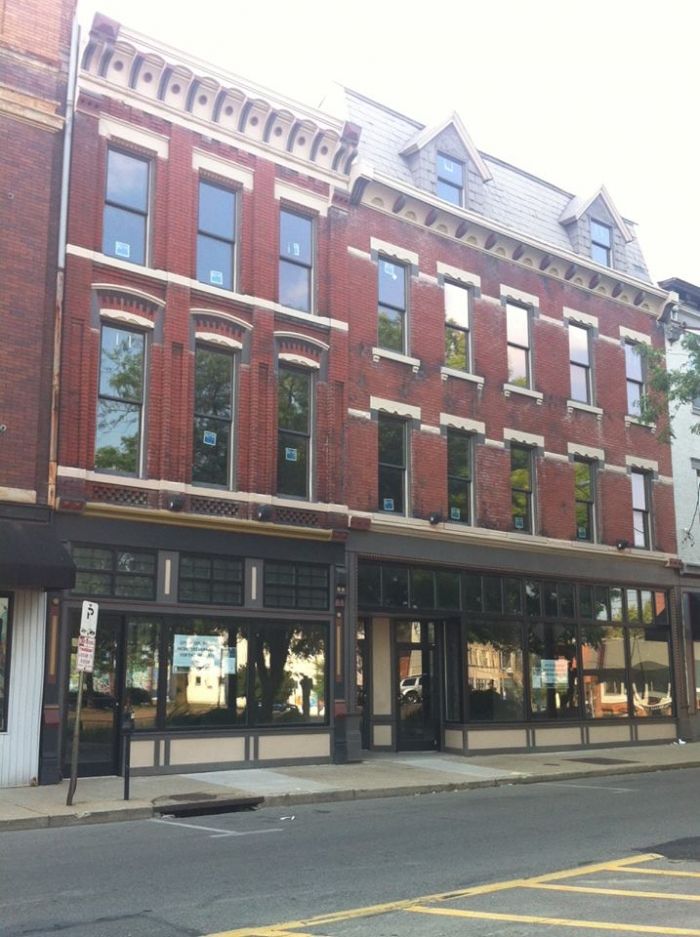 Pike Star Building/RCN
"Boy, this is a great day," Tischbein said. He and Kreutzjans purchased the building in 2007 just before the national economy collapsed. "We've been waiting for this day a long, long time."
"This is an exciting day and a good day in the neighborhood," said Mayor Sherry Carran. "Everybody here has a passion for the urban core and we knew it was only a matter of time. Everything is falling into place."
Carran also complimented the work of Kreutzjans and Tischbein. "Their design, the projects they have done have taken development in Covington a stage higher."
As for UpTech's move, Carran confessed that Covington was jealous when the incubator first opened in Newport and now that it's crossing the Licking River she said she had worries that Newport may be offended. She assured the crowd that she spoke with Newport Mayor Jerry Peluso. "He said, what happens in Covington is good for Newport and what happens in Newport is good for Covington," Carran said.
There were multiple hints that more developments are to come. Tischbein said there would be "more to come right after this" while Kathy Schwab, executive director of LISC, said more work with the Catalytic Fund is on the way.
"You have a valued asset in Jeanne (Schroer)," Schwab said. "She has not only the vision but the tenacity to follow it through. This is the first of many (projects) we're going to do with Jeanne."
Written by Michael Monks, editor & publisher of The River City News
Photo: Mayor Carran (center) leads Tuesday's ribbon cutting/RCN