What's Covington Selling in Craigslist? Everything in the Apartment & More!
Mon, 07/29/2013 - 08:08
RCN Newsdesk
Every Monday The River City News will take a look at some of the more unique items that Covington residents are selling on Craigslist. Here is this week's round-up:
EVERYTHING IN THE APARTMENT!
Everything must go from this Covington apartment (pictured at left):
Selling everything in apartment - make offer. Many items - let me know what you are looking for ...if I have, can send pics, just reply to this ad and I will contact you. Thanks
More photos here.
THE FAMOUS NUTRI-BULLET!
Did you know that the Nutri-Bullet is famous? ...Me neither, but someone is selling one at a steep discount. She'll meet you at the Frisch's parking lot:
You've seen it advertised on TV, and have always wanted one, but they're so expensive! Now you can have your NutriBullet, The SuperFood Nutrition Extractor, for less money, because mine is for sale, and it's only been used TWICE.

After purchasing it, and using it only twice, I found that I wasn't using it, so I need to get it out of my kitchen and into yours!

I have the original receipt showing that I paid $119.94 for it, and it's also selling in a store in Florence Mall for $99.99.

But mine will only cost $50. This is a FIRM price.

I live in Covington, KY, so my meeting place of choice to transact with a Cincinnati buyer is the 5th Street Frisch's parking lot in Covington, which is off the 1st exit over the expressway bridge.
More details here.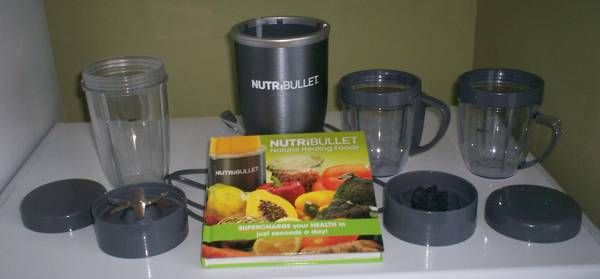 POP-UP CAMPER
Get out of the city and into the woods! Or, stay in the city and sleep outside by the curb.
1997 Jayco, 12 ft. Box Great condition! Sleeps 8-10, four burner stove top, refrigerator, air conditioner too! Absolutely no leaks, even through our recent monsoon season! Husband wants driveway back soon... $1700 or best offer, Please call 859-760-2626
Not sure if this man is included in the asking price, but he's probaby negotiable:
Some other items for sale from Covingtonians on Craigslist:
ELECTRIC HAND BUFFER "Powers up and works" ...Isn't that the point? Click Here
LARGE BOUNCE/RIDE HORSE Prepare your kids for life: Work really hard and get nowhere Click Here
FARMALL CUB A little bit of country in the city Click Here
ROYCE UNION CRUISER Join the bike revolution with this cheapie Click Here
Join The River City News at Facebook, Twitter or email RCN!