To Prison: Man Who Stole from Kenton Co. City, Man Who Hid Heroin in Rear-End
Wed, 07/31/2013 - 13:51
RCN Newsdesk
Each week The River City News talks with Kenton County Commonwealth's Attorney Rob Sanders about his weekly e-newsletter that highlights who was sent to prison or got probation in the previous week. At the bottom of this post you can find a link to that newsletter. Here are this week's questions and answers:
Follow The River City News at Facebook and Twitter!
RCN: Benjamin Perry faces five years for unlawful access to a computer as well as five more years for evading police and three counts of wanton endangerment. What did Perry do?
SANDERS: In the first case, Benjamin Perry (pictured at left) was charged with logging into the city of Ryland Heights' Quick Books program and printing off city checks in March, 2013.  The checks were made payable to Perry but he forged the signature of the mayor, who happened to also be Perry's grandfather.  Perry was familiar with the city building and computers because of his grandfather's position as mayor and the fact he'd previously been paid to do odd jobs for the small town.  Bank security video captured Perry cashing twelve unauthorized and forged checks resulting in a loss of $10,552.10.  The city clerk caught on to Perry's scam and called Kenton County Police who investigated the case.  It does not appear the mayor had any idea what his grandson was up to.
In the second case, Ft. Wright Police Sgt. Mark Schworer pulled Perry over for reckless driving after he cut off two vehicles while making a right turn across lanes of traffic onto I-75 from Kyles Lane.  Perry told Schworer he was trying to avoid being ticketed for not having his three kids in car seats.  Perry was driving a rental car with an expired rental agreement which effectively meant he had no insurance on the vehicle.  Schworer intended to cite Perry and tow the car so a tow truck was called.  When the wrecker pulled up, Perry sped off with his kids still unrestrained in the back seat.  Schworer and his back up, Specialist Andrew Vonderhaar, both gave chase.  Perry accelerated to speeds in excess of 95 MPH, exited i-75 at Dixie, ran the red light, and re-entered I-75.  Ft. Wright Police terminated the chase because of the danger to the unrestrained children.  Sgt. Schworer then obtained a warrant for Perry's arrest charging 1st Degree Fleeing Police and three counts of Wanton Endangerment for each child in the car.
Perry pled guilty as charged in both cases.  Asst.Commonwealth's Attorney Kate Bumgarner is recommending 5 years in each case, consecutive, for a total of 10 years in prison.  Perry will appear for formal final sentencing on each case in August.
RCN: Antoine Williams could be going away for twelve years after pleading guilty to trafficking in heroin. What's his story?
SANDERS: Covington Police Officer David Hoyle pulled Antoine Williams over for running a red light on West 9th Street at Pike.  Williams was driving on a suspended license, had numerous prior convictions for operating on a suspended license, and couldn't provide a verifiable address so he was arrested.  As every police officer does, Hoyle warned Williams that taking contraband into the jail will result in felony charges.  Williams claimed to have nothing illegal on his person.  While booking Williams into the Detention Center, however, jail deputies found a baggie containing 3.17g of heroin concealed in Williams' buttox.  3.17g is far more heroin than any one person would possess for personal consumption.  Hoyle also searched Williams' cell phone and located numerous text messages indicating Williams was selling the heroin and providing "rigs" to users in order to consume the heroin.  Hoyle then charged Williams with Trafficking in a Controlled Substance (heroin).
Williams has prior convictions for Trafficking in Drugs out of Hamilton County, OH.  On July 18th, Williams pled guilty to Trafficking in a Controlled Substance 1st Degree (>2g heroin), 2nd offense.  Asst. Commonwealth's Attorney Casey Burns is recommending a 12 year sentence.  Final sentencing is scheduled for August 27th before Kenton Circuit Judge Gregory Bartlett.
Antoine Williams
RCN: Patrick Watts is facing twelve years in prison after pleading guilty to assault (second degree), possession of a handgun by a convicted felon, and persistent felony offender. What went down with Watts?
SANDERS: On March 17, 2013 Patrick Watts was a passenger in a car with three other individuals on Garrard Street.  Kenneth Poetter was in the area looking to buy drugs.  Poetter approached the car Watts was in and attempted to purchase narcotics.  For some reason the deal went bad and Watts retrieved a gun from the car's driver and shot Poetter.  The bullet struck Poetter in the shoulder, causing non-life-threatening injuries.  The investigation was hampered by the fact Poetter was high on heroin and cocaine at the time of the incident.
On July 22, 2013 Watts pled guilty to 2nd Degree Assault, Possession of a Handgun by Convicted Felon, and 2nd Degree Persistent Felony Offender.  Watts has a prior felony conviction for Burglary.  1st Asst. Commonwealth's Attorney Jim Redwine is recommending a 12 year sentence.  Final sentencing is scheduled for August 19th before Kenton Circuit Judge Martin Sheehan.  This is a case we'd normally get a stiffer sentence out of but the victim's drug impairment and drug seeking behavior compromise our chances at trial just like they hampered the police investigation.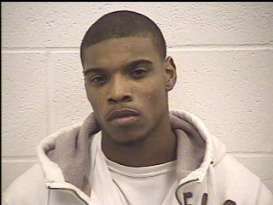 Patrick Watts
RCN: Michael Kenyon is looking at seventeen years in prison after pleading guilty to second degree robbery and persistent felony offender. What did he do?
SANDERS: On May 16, 2013 Lakeside Park-Crestview Hills Police were dispatched to the Crestview Hills Town Center shopping mall after numerous people called 911 to report a robbery.  Witnesses said the robber approached a woman who was sitting in her car, stuck a gun in her face, and stole her purse.  The robber ran to a waiting maroon SUV which drove the wrong-way through the mall's parking lot before speeding towards I-275.  One witness to the robbery followed the SUV while talking to 911 dispatchers.  The witness reported the SUV was stopped at a red light at the I-275 overpass, giving responding officers a chance to catch up.  LPCH Police Detective James Jackson was the first to reach the SUV and conducted a traffic stop.  Numerous other officers from several agencies arrived to assist.  Elsmere Police Detective Dennis McCarthy responded to the mall to speak with the victim and witnesses.  Mall security provided Detective McCarthy with a black bag that had been thrown from the maroon SUV as it fled.  Inside the black bag, McCarthy located the stolen purse and the gun that turned out to be a pellet gun, not a firearm.  McCarthy transported the victim to where Jackson had the occupants of the SUV detained.  The victim identified one of the SUV's passengers, Michael Kenyon, as the man who robbed her.  Kenyon, the SUV's driver, and another passenger were taken into custody and charged with Robbery.
On July 23, 2013, Kenyon pled guilty to 2nd Degree Robbery which was reduced from 1st Degree Robbery because the gun was not an actual firearm.  Kenyon also pled guilty to 2nd Degree Persistent Felony Offender.  Asst. Commonwealth's Attorney Katherine Bumgarner is recommending a 17 year prison sentence.  Kenyon will appear for final sentencing on August 27, 2013 before Kenton Circuit Judge Gregory Bartlett.  Charges against the other occupants of the SUV are still pending.  They have not been named because they are innocent until proven guilty.
Michael Kenyon
See the full list and mugshots of those who were convicted of felonies in Kenton County Circuit Court in addition to a full explanation of the Cline case ​at the link: This Week in Kenton Co. Circuit Court
Photos courtesy of the Kenton County Detention Center