Convicted: Man Who Stole Jewelry from Daughter, Covington Burglar
Tue, 08/06/2013 - 08:08
RCN Newsdesk
Each week The River City News talks with Kenton County Commonwealth's Attorney Rob Sanders about his weekly e-newsletter that highlights who was sent to prison or got probation in the previous week. At the bottom of this post you can find a link to that newsletter. Here are this week's questions and answers:
Follow The River City News at Facebook and Twitter!
RCN: Anthony Noe (pictured at left) faces ten years in prison after pleading guilty to second degree burglary and being a persistent felony offender. What did Noe do?
SANDERS: On March 4, 2013, a resident of the 800 block of Scott Blvd. came home to find a man known to him as "Gator" climbing out a window of the apartment, carrying a Playstation3, Playstation games, and a rainbow colored backpack.  The resident confronted Gator, who took off running. The resident gave chase but "Gator" got away. After calling police, the victim began calling friends and family who also knew Gator, asking if anyone had seen him. Luckily, the victim's mother had just seen Gator go into a house on Banklick so police responded there. Officers didn't find Gator but did find all the stolen property which the occupants had just purchased from Gator for $60. The property was recovered and officers were in the process of logging it into evidence when they got another call saying Gator was at a house on East 18th. As officers were speaking with the homeowner, their suspect came walking down the street. When Gator saw the police, he took off running but was captured after a two block chase. Officers identified Gator as Anthony Noe. Noe was arrested for burglary. An additional charge of Persistent Felony Offender was added by the Kenton County Grand Jury.  
On July 29, 2013, Noe pled guilty to 2nd Degree Burglary and 2nd Degree Persistent Felony Offender. Asst. Commonwealth's Attorney is recommending a 10 year sentence in this case, to be run consecutive to a 2 year sentence for Theft and Bailjumping cases. Noe was out on bond for the Theft case and should have been sentenced the morning this burglary was committed but did not show for court because he knew he was headed to prison.  Instead of going to court he apparently decided committing more crime would be a better idea. Now he's headed to prison for a total of 12 years. Final sentencing is schedule for September 10, 2013 before Kenton Circuit Judge Patricia Summe.
RCN: John Maurer could go away for seven years after pleading guilty to theft and being a persistent felony offender. What he do this time?
SANDERS: On March 31, 2013, while unpacking belongings at their new apartment, Amber Weil and her husband noticed their lock boxes had been forced open.  Collectible coins and various pieces of jewelry were missing.  As the Weils continued to unpack they found more items of value had been removed from their boxes of belongings.  The Weils called Erlanger Police to report the theft of over $5,000 worth of goods.  Amber Weil told police they couple had recently returned to the area and lived with her father on Hulbert Avenue until they could find an apartment.  Amber Weil said she suspected her father, John Maurer, may have stolen the property because she believed he was using drugs.  Erlanger Police Detective Duane Rolfsen ran Maurer's name through a computer program called "Leads OnLine" which tracks items sold to pawn shops.  Sure enough, Maurer's name popped up and the description of everything he pawned matched the items stolen from his daughter.  Rolfsen and Lt. Tony Wilson went to interview Maurer who initially denied any knowledge of the thefts.  After being confronted with the pawn slips, however, Maurer owned up to his crimes but blamed it on his daughter's failure to pay him rent.  As it turns out, the Weils were paying Maurer rent for their time in his home and he still stole their things.  Some of the Weils' property was recovered but just under $3,000 worth had already been sold from the pawn shops.
Maurer was arrested for Theft Over $500.  On July 29, 2013 he pled guilty to Theft Over $500 and 2nd Degree Persistent Felony Offender.  Asst. Commonwealth's Attorney Josh McIntosh is recommending a seven year prison sentence.  Final sentencing is set for August 26, 2013before Kenton Circuit Judge Martin Sheehan.
As an aside, this case is a great example of what a wonderful tool Leads OnLine is for law enforcement.  Kenton County has an ordinance requiring pawn shops to log their purchases into the database.  Police investigators can now log onto the website and check dozens of pawn shop inventories in a matter of minutes.  Before Leads OnLine, detectives would have to drive all over town, stopping at each pawn shop and sorting through paper records.  The same check could literally take days to complete.  Leads OnLine has solved hundreds, if not thousands, of property crimes in Kenton County alone and played a significant role in other kinds of cases as well.  It is easily one of the most important improvements in law enforcement technology I've ever seen.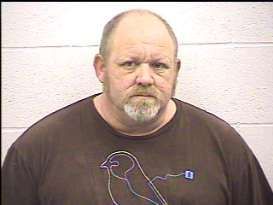 John Maurer
RCN: David Gross got five years in prison for receiving a stolen firearm. What's the story?
SANDERS: Over the course of several months in late 2011 and early 2012, David "Buck" Gross sold various quantities of Oxycodone to an informant working for the NKY Drug Strike Force.  After making buys from Gross on multiple occasions, NKDSF agents went to Gross' Taylor Mill home to speak with him about his drug dealing.  While there, agents obtained consent to search Gross' home and located a loaded .380 semi-automatic handgun.  Gross admitted the gun was his but after running the gun's serial number through NCIC, it turned out the gun was actually stolen.  Gross was arrested on charges related to both the trafficking in pain pills and possession of the stolen gun.  Gross was already a convicted felon so he was not allowed to have a gun, even if it wasn't stolen.
Gross was indicted in three separate cases because aspects of some charges are not admissible in the trial of other charges.  Gross ultimately pled guilty in all three cases.  Asst. Commonwealth's Attorney Casey Burns is recommending 5 years for Receiving Stolen Property, concurrent to 10 years for Possession of a Handgun by Convicted Felon, but those 10 years for the gun will run consecutive to another 10 years for Trafficking in a Controlled Substance 1st Degree, bringing Gross' total sentence to 20 years in prison.  Final sentencing for all three of Gross' cases are scheduled on various dates throughout August.
David Gross
See the full list and mugshots of those who were convicted of felonies in Kenton County Circuit Court in addition to a full explanation of the Cline case ​at the link: This Week in Kenton Co. Circuit Court