RCN Talks to Sen. McDaniel, Co. Clerk Summe About Redistricting
Sun, 08/18/2013 - 08:40
RCN Newsdesk
The Kentucky General Assembly convenes for a special session to tackle redistricting on Monday.
State legislative and federal Congressional districts are to be redrawn every ten years following shifts in populations reflected by the census. 
The Kentucky Supreme Court blocked a redistricting plan in 2012 that was signed into law by Governor Steve Beshear, arguing that it violated Section 33 of the state Constitution by not keeping certain districts within five percentage points larger or smaller than their ideal size. The state operated under the boundaries drawn in 2002 during the 2012 election.
Republicans control the State Senate and presented a proposal that only splits three counties: Jefferson, Fayette, and Kenton. Democrats control the State House and also presented their own plan.
State Senator Chris McDaniel, who represents northern Kenton County, is hopeful for a swift resolution during the special session that is expected to last no more than five days. 
"The most likely scenarios is that Kenton County will be represented by me in the north and (Sen. Damon) Thayer in the south," McDaniel told The River City News. "We have to split the minimum number of counties possible, so if I go into Campbell or Boone, we split another county that we don't need to split."
Currently, Sen. John Schickel of Boone County, represents nine precincts in Kenton County. That would change under the plan presented by Senate Republicans and McDaniel expects to pick those up in addition to a few more south of his current district.
McDaniel said that population gains in the Louisville, Lexington, and Northern Kentucky areas and losses in eastern Kentucky would be reflected in the district changes.
Twenty-four counties would be split in the map presented by House Democrats. Eight incumbents four Democrats and four Republicans, would be placed in four shared districts.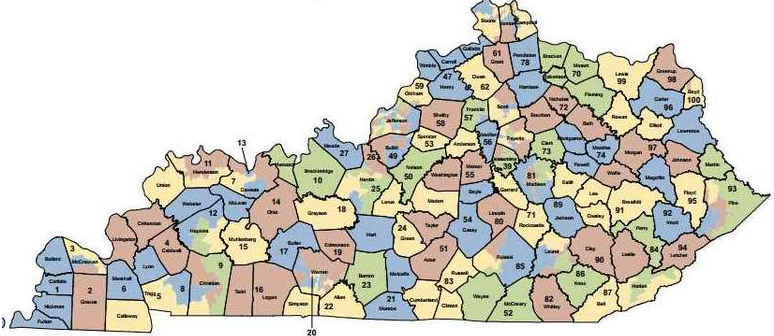 Kenton County Clerk Gabrielle Summe is keeping a close eye on the maps. Her office is charged with drawing out the precincts. "I want the time to do it right," she said. In 2012, the Clerk's office had just a week and a half to create the appropriate ballots after the Kentucky Supreme Court changed the districts back to their 2002 boundaries.
"The day we were going to put them in the mail we were told to stop," Summe said. Previous redistricting caused fifty-five changes to ballots and precincts in Kenton County.
Other notes: McDaniel also said that he expects the state budget to be tight in 2014. The General Assembly meets for its regular 60-day session early next year. "Tax revenues continue to decline and I think we'll have to deal with another tight budget year," the Taylor Mill Republican said. "I'm optimistic we'll find some way we can cut out waste and find some other opportunities for savings that we can apply more judiciously elsewhere."
Important issues he hopes to see tackled next year include infrastructure priorities like the Brent Spence Bridge project, answers to the region's heroin epidemic, and more money for education. McDaniel expects large construction projects like the planned Gateway Community & Technical College Urban Campus in Downtown Covington to be difficult. "I think new construction and new renovations will be difficult," he said. "I'll be gladly going to bat to help where I can but any new construction will probably be tough in this cycle."
Written by Michael Monks, editor & publisher of The River City News
Photos: Senate map proposal (top) and House map proposal (center)