Dirty Talk: NKU Grad Finds "Fifty Shades" of Fame with Audio Books
Mon, 09/09/2013 - 07:23
RCN Newsdesk
This article appears courtesy of KY Forward and is written by Ryan Clark.
Becca Battoe can't talk right now. No, really – she can't say anything. Doctor's orders. She's got to keep the pipes fresh.
It'll take about 72 ounces of water a day and countless cups of green tea with honey and lemon. Then there's the green apple slices she keeps in the studio to help lubricate the gums. And of course, there's the not talking to anyone. It's all texts and handwritten notes – even to family and friends.
But when she does talk – watch out. It's bound to get dirty.
Battoe, a graduate of Youth Performing Arts School in her hometown of Louisville and Northern Kentucky University's theater program, has become famous for narrating a book – actually a trilogy of books – the international phenomenon Fifty Shades of Grey.
The books are labeled erotica, and feature several scenes meant to make the average reader blush. They became transcendent bestsellers, and seemingly overnight, Battoe became a sensation in the audio book world.
"My agent told me this was going to be the next Twilight, so I thought I should do it," Battoe says via email.
Fans praised Battoe for her honest and graceful performance of the sexy material. Soon she had new agents, and the media started calling for interviews. She even met Barbara Walters and appeared on Walters' primetime show about fascinating people.
"I'd say all of the press that I have done has been exciting, but probably meeting Barbara Walters takes the cake for coolest thing I've gotten to do," she adds.
Before Fifty Shades
The diminutive Battoe has a voice that can change on demand to mimic a leading man's, or leading lady's, depending on the need. She has large, bright eyes, dark hair and a thousand-watt smile. She resembles a young Natalie Wood, and even as far back as age 3, most thought Battoe would become an actress.
"From (going to) the circus when I was 3, to seeing Cats for the first time when I was 8, I always knew I wanted to be a performer," she says.
That passion took her to the school for the arts in Louisville, and then to NKU, where she worked on her singing, acting and dancing. She was a triple threat, professors say, and she became a standout ballet dancer.
"Ms. Battoe was an outstanding student – not only physically beautiful and naturally talented but a gracious and charming person," says Sandra Forman, professor of theater at NKU. "She always took criticism and praise with equal understanding. Her big success doesn't surprise me since she was always dedicated to excellence in everything she did."
But that specific success – the audio performance of a book – took many by surprise.
"I directed her in the first show she did at NKU, and from the very start she was a powerful presence onstage," says Mike King, associate professor of performance and a director at NKU. "She was a gifted choreographer as well. It's ironic that Becca, who is such a supremely expressive dancer, has achieved such significant success in a work that relies solely on the spoken word."
King says he knew she would find success somehow.
"It's ironic, but not unexpected," he says. "Becca hasn't been sitting around waiting for a break. She has worked very hard. She has paid her dues, learned new skills, and grown as an actress and performer with every show."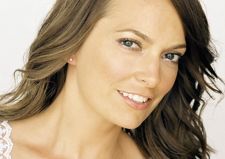 Becca Battoe
LA-Bound
It started 10 years ago with the decision to move to Los Angeles after graduating magna cum laude from NKU, Battoe waited to hear about an opportunity with a touring company. When the phone call never came, she overdrew her credit card, rented a truck, and she and her sister moved out to live with a friend in California.
"I was young and stupid," Battoe says. "But sometimes it takes being stupid to just be able to go and take a chance."
After a 29-hour drive, Battoe was in Los Angeles and living her new life. Her sister had gotten her settled before flying back to Cincinnati. It was time to work. Battoe would earn bit parts in television shows like Entourage, Scrubs, and Invasion, and she went on to star in both movie and theater productions.
In the raunchy musical comedy HEAD: The musical, Battoe earned raves from Los Angeles reviewers.
"Adorably sexy Becca Battoe is ready to star in romantic comedies," Laurel Belgreen of ScreenPicks wrote in 2010. "As audiences, we are always hungry for a new engagingly lovable, perky-quirky, cute-sexy girl-woman to steal our hearts along with that of the leading man, and Ms. Battoe can arabesque right into that role."
Then came a fateful trip to Random House Audio. A friend brought her by the Los Angeles studio and she dropped off a headshot. A few months later she got a phone call, which led to a new career: By 2011 she'd read 11 young adult audio books. She continued this career while acting, and in 2012 her life changed forever. Her agent called with a job offer. It was Fifty Shades of Grey– Battoe was asked to read the entire trilogy.
"I jumped in"
"My producer warned me that many YA narrators would generally turn this kind of thing down," Battoe continues via email. "The idea of saying something out loud considered to be erotica sort of made my skin crawl, I was so terrified. But as an actor, I'm always looking to take on the projects that absolutely frighten me. I feel like it's the only way you can grow. So I said yes, but then immediately called my mom, explained the opportunity to her, and she told me that I should definitely take it. So I jumped in with both feet."
Just like anything else, there is a process to the work, Battoe says. She creates a spreadsheet for all the characters in the book (there are about 60 in all inFifty Shades) and she assigns a person to the character. It could be someone she knows, or it could be an actor. (It was recently announced Dakota Johnson – daughter of Don Johnson and Melanie Griffith – will star as Anastasia Steele in the movie version of Fifty Shades of Grey, while Charlie Hunnam – star of television's Sons of Anarchy – will play Christian Grey.) This helps her get organized and keep the characters straight in her head.
"If the book is written in the first person, I write down what she or he thinks of each character," she says. "I'll write down how they are described in the book, or what other characters say about them. My process isn't a whole lot different than breaking down any character as an actor in any other script, you just have to do it for a lot more characters."
In those especially sexual scenes, Battoe says she drew on her own confidence and preparation.
"There were quite a few places in the book that were outside of my personal comfort zone, but luckily for me, I was able to prepare myself mentally while I was doing my prep work," she says. "That way, when I got into the studio I didn't have the opportunity to judge the material, I could just tell the story and be present as the characters as best I could. If I wasn't comfortable in my own skin or able to talk openly about some of the material, I'm not sure how I could bring truth to the life of the book and the characters. I think as an artist, any time you start judging the material you are working with, you are strangling yourself of any creativity to breathe life into it."
After recording for 19 consecutive 10-hour days (the first book takes 20 hours to listen to) while adhering to her strict voice regimen, Battoe finished all three books. But she had no idea where the ride would take her.
Now she's signed on with a top voice agency, Innovative Artists. She's produced two young adult audiobooks. She is pitching an animated adult comedy (like a superhero Sex in the City, Battoe says) and is close to signing a deal to develop an interactive lingerie line. "It's going to be lingerie that tells you stories through an app you download on your smartphone," she says. All the while, she's still auditioning for animation, commercial and film work.
"She's extremely intelligent, not just about her performing, but about the business side of things," King says. "She's very deserving and I couldn't be happier for her."
Battoe isn't sure what the future holds – she just wants to work as much as possible.
"I'd like to hope that I'm just beginning to scratch the surface of the level of fame I am capable of achieving," she says.
Follow Becca Battoe on Instagram and Twitter @BeccaBattoe and on her website BeccaBattoe.com.
Ryan Clark is the new media editor and an instructor at Northern Kentucky University.