Northern Kentucky Buildings Nominated Among State Favorites
Thu, 09/12/2013 - 05:29
RCN Newsdesk
The American Institute of Architects - Kentucky (AIA) and Kentucky Education Television (KET) have assembled a list of the top fifty favorite buildings in the Commonwealth.
Four Northern Kentucky locations are part of the survey.
Voters are asked to respond by selecting up to ten of their own personal favorites.
Earlier this year AIA Kentucky and KET invited Kentuckians to nominate their favorite buildings in the state. Nearly 180 buildings were identified through over three hundred nominations. A juried competition has selected "10 Buildings that Changed Louisville". In addition, a selection committee of distinguished Kentucky architects has chosen the fifty buildings selected for your consideration in the survey.
The top ten buildings as chosen by voters will be revealed in mid-November.
You can vote in the survey by clicking here.
Here are the local buildings on the list:
Newport Courthouse
(pictured above)
City:
Newport
Architect:
L.H. Wilson, A.C. Nash
Owner/Occupant:
Campbell County
Description:
In 1797 the Campbell County seat was moved to Newport. The land for the courthouse was given by Newport founder James Taylor and the courthouse was constructed in 1815. Citizens wanted the seat closer to the center of Campbell County, so the county seat was moved to a small community in the center of the county called Visalia. Visalia was too small and remote for the site of the county seat and it was moved back to Newport, where it remained until 1840. After the formation of Kenton County, the county seat was moved once again to Alexandria. The transition from Newport to Alexandria was not clean and it took a court order and visit from the sheriff to force the clerk of courts to make the move. In 1883, Newport lobbied for an exception to state law that required county business to be only conducted at the county seat. As result, a special law was drafted that allowed for county business to be conducted in Newport. Only recently, was it clarified that Newport is not a county seat, however county business is still conducted in the courthouse. 

"It is a beautiful building with so much history connected to it." -S.W., Latonia
Northern Kentucky University Student Union
City:
Highland Heights
Architect:
Omni Architects
Owner/Occupant:
Northern Kentucky University
Description:
This project is obviously well designed and executed throughout. The placement of the building on a major circulation path is used to great effect, both activating the building and giving form to the pedestrian's experience. The building looks beyond its own program and acts to shape and create new exterior spaces for the campus. Programmatic uses take advantage of the site's sloped topography. The building engages the site and activates campus spaces at multiple locations. Subtle shifts in massing, material articulation and sunlit circulation areas give the building interest and character. It is well organized without being static. The LED lit tower creates an interesting and interactive new icon for the campus.
St. Mary's Cathedral Basilica of the Assumption
City:
Covington
Architect:
Leon Coquard
Owner/Occupant:
Diocese of Covington
Description:
The building process began in 1894 and ended in 1915, even though the Cathedral was incomplete and remains largely unfinished still today. St. Mary's Cathedral Basilica is an art and architectural movement that will be treasured for centuries by people around the world. The building is made up of many arches, Gothic Architecture, and gargoyles; the Cathedral is watched over by a total of 26 gargoyles to be exact. In 1834, St. Mary's Cathedral was dedicated by Bishop Purell of the Diocese of Cincinnati and was the first Catholic church in Covington, Kentucky.

"The Cathedral's Gothic architecture with its soaring arches and one of the largest stained glass windows in the world inspires from both the exterior and particularly from the interior. It is one of only 35 Basilicas in the United States. The Cathedral also sits as a cornerstone of the Northern Kentucky area, with its large Catholic population it is a right of passage for many grade school children to go and have mass with the bishop." -B.E., Covington
The Ascent at Roebling's Bridge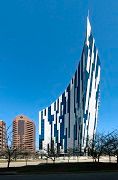 City:
Covington
Architect:
Daniel Libeskind and GBBN Architects
Owner/Occupant:
Corporex
Description:
The Ascent at Roebling's Bridge was designed by GBBN Architects and Daniel Libeskind. It offers people the ability to live in an original work of art, making those who do an exclusive community experiencing something that only happens once-in-a-lifetime. The Ascent towers over the city with its aesthetically pleasing, signature arcing profile. This building is more than a luxury condominium, it's an architectural achievement.

"This building is becoming an iconic landmark for its contemporary take on urban housing. Offering multiple views with an overall exterior design reaching to the sky." -T.D., Louisville

"This building makes such a dramatic statement for the Northern Kentucky skyline." -C.P., Ft. Mitchell

"It's one of the few examples of truly progressive architecture in Kentucky. Whether anybody agrees with its aesthetics or not, it's impossible to deny that it at least makes a statement. It is a building that takes a stance in a state full of neutral buildings." -D.L., Cincinnati, OH