Task Force Meeting Ends With Commissioner Shouting in Streets
Thu, 09/12/2013 - 07:18
RCN Newsdesk
Following the disappearance of approximately $600,000 in city funds, the Task Force to Restore Public Confidence in Covington Financial Operations, met for the first time on Wednesday night.
Former Finance Director Bob Due was arrested August 23 and is accused of stealing the money over a six year period. He is in the hospital currently following a self-inflicted stab wound in what appears to be a second attempt to harm himself.
Four days after Due's arrest, the city commission voted unanimously to fire him but at that same meeting, the governing body was divided on creating a task force to examine what led to the theft and how best to address it. Mayor Sherry Carran and City Commissioners Chuck Eilerman and Steve Frank voted in favor while Commissioners Mildred Rains and Michelle Williams opposed it.
Following Wednesday's meeting, Williams, with Rains, was seen shouting at Eilerman on Seventh Street as witnessed by The River City News. Williams and Rains were apparently upset over not being permitted to sit at the table with the task force members and were instead seated with the public, as was Eilerman.
Carran and Frank are members of the task force along with former Kenton County Judge Douglas Stephens, who is chairing the group, former Covington Finance Director Greg Engleman, Florence Finance Director Linda Chapman, resident Russ Horsley, and Audit Committee Chairman Shane Negangard. Former Covington City Commissioner Jerry Stricker was also seated with the task force, though he was not announced previously as a member. 
NOTE: City Commissioner Steve Frank reports at The River City News Facebook page, "Jerry Stricker was not a member and did not sit with the task force. He did scoot his chair a bit close, but then he suffers some hearing loss and we did not have microphones."
Support staff for the task force includes Klein, Assistant City Manager and City Solicitor Frank Warnock, and Police Chief Spike Jones.
Williams and Rains opposed the creation of the task force, arguing instead for an audit by Kentucky Auditor Adam Edelen who has since announced that his office would investigate the alleged theft but who also applauded the city's creation of the task force. Rains was listed as the contact person on a petition that tried to get Edelen to come to Covington and that implicated city employees and elected officials in Due's alleged crimes. Edelen had already been contacted by City Hall prior to the failed petition effort that only attracted less than a dozen people at a hastily thrown together rally at Goebel Park.
Wednesday's meeting began with a retelling of the chain of events that led to Due's arrest, ouster, and the city's response, as detailed by Frank Warnock.
City Manager Klein, referencing the large binders given to members of the task force, said that inside, members would find some of the recommendations by Management Partners, the Cincinnati-based consulting firm, that helped City Hall reorganize its departments last year. Some recommendations for the finance department had already been implemented, Klein said, while some are in progress and others involve the newly acquired New World software purchased this year.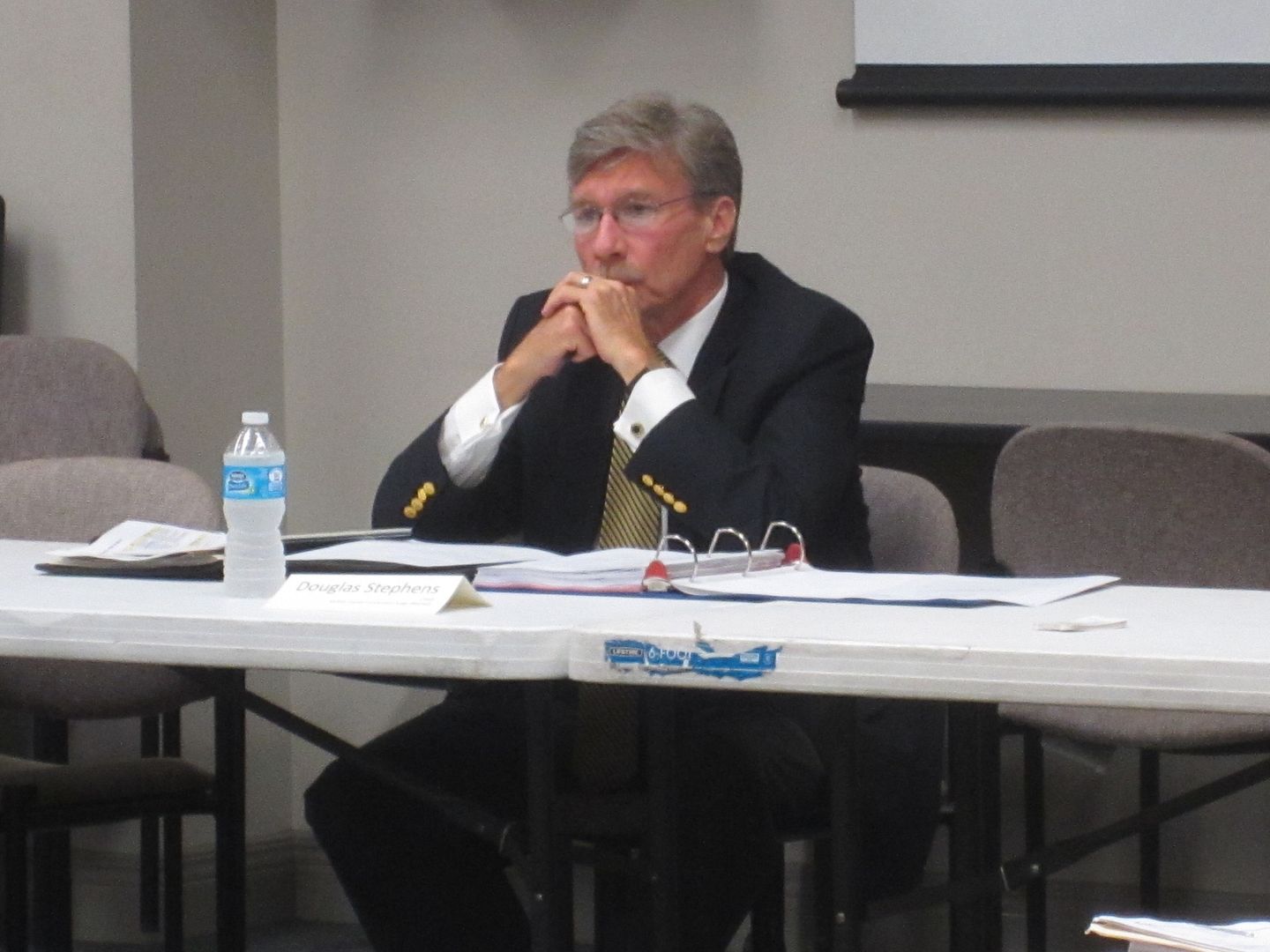 Judge Douglas Stephens listens at the first Task Force meeting on Wednesday
That software took up most of the conversation on Wednesday. Accounting & Operations Manager Jerome Heist, who served less than two weeks as interim finance director before being replaced by retired Kenton County Treasurer Ivan Frye on Tuesday, said that representatives from New World have been at City Hall multiple times and would be returning soon.
The immediate concern is over whether the new software will be customized to fit the city's forthcoming new policies and procedures for financial operations or if the city's forthcoming new policies and procedures for financial operations will be customized to fit the software.
That concern was not adequately answered and will be explored more by the task force.
The implementation of the new software is another heavy task on the shoulders of the rattled finance department that is working under an interim leader while also dealing with a criminal investigation, the task force, an investigation by the state, and the upcoming annual audit. Additionally, this is all happening as City Hall prepares to move from its current location at the corner of Seventh & Madison to Pike Street.
Despite that, Hesit explained some of the changes that have already been implemented in the department. The number of employees that can change the name of a vendor is now limited to two (Due is suspected of embezzling most of the funds through altered vendor lists). Previously, four or five employees could print city checks and now that number is also two. Even Heist has been removed from that process.
US Bank was contacted about beefing up security for the city's online banking activities and dual authorization will be required for anything transferred out of the account.
Negangard, of the audit committee, said that his group is working on drafts of job descriptions for the finance director position and the position of an internal auditor. Those would have to be adopted by the city commission before a hire is made. The audit committee is also working on a request for proposals for firms interested in conducting the annual audit. Six to eight firms would be directly solicited, Negangard said.
The city will also consider adding an assistant finance director, a vacant position that was eliminated during restructuring earlier this year. Mayor Carran said that she hopes to find a candidate for that position through the resumes received for the finance director job when it is posted.
Judge Stephens laid out what he views as the overall goals of the task force. "An overarching goal this task force should have are recommendations to assist in enhancing, restoring, and improving respect and regard for the system in this city," he said.
Stephens suggested that the task force review the aftermath of embezzlement cases in Florence and Bowling Green while working with whatever is to be reported by the state auditor's office and the forensic audit.
"I suspect this is not in our best interest to rush this along but this is an issue that needs to be dealt with expeditiously," Stephens said. The judge added that he views the need for transparency and accointability within the task force to be critical and the public should be regularly made aware of what is going on. "Having the community looking over our shoulder will hopefully strengthen what we are doing."
Written by Michael Monks
Photos: Task Force meets at City Hall on Wednesday/RCN