Documentary Highlights Riverbank Erosion Effort in Covington
Wed, 09/25/2013 - 09:27
RCN Newsdesk
This article appears courtesy of KY Forward and is written by Feoshia Davis.
We all know how tree branches, roots and other debris can gather in drains, gutters or rivers in times of heavy rain, especially in wet summers like this one.
Most of us have seen how these clogs, referred to as driftwood, can be transformed into works of art in the right loving hands.
 
But, did you know that this same driftwood can also be used to protect the banks of streams and rivers from erosion, thereby keeping things intact and our water sources clean at the same time?
 
That's exactly what The Driftwood Institute is attempting to do. Institute leaders are combining education, creativity and ecology to shore up a Northern Kentucky soil bank along the Ohio River waterfront in Covington.
 
Led by Northern Kentucky University New Media Art Professor Brad McCombs, the Driftwood Institute aims to naturally beautify and shore up a portion of the Covington riverbank at an area known as The Point.
 
The Driftwood Institute is planned as a public artwork and erosion prevention effort that will tap into biological engineering, an emerging design method that incorporates natural elements like native grasses, shrubs and trees to stabilize riverbanks and prevent riverbank destruction.
The project, to locate near the John A. Roebling Suspension Bridge, also has a higher goal: to connect the region's people to the Ohio River, which absorbs water waste while being the major source of Greater Cincinnati's drinking water.
 
"This project is about educating people, and using elements of the river to do that. A large part of the Driftwood Institute is bringing the community together around water issues," McCombs says.
 
The Driftwood Institute gets its name from the driftwood that clogs an area where the river bends, especially after a heavy rain.
 
"If you look across the river at what Cincinnati did to prevent riverbank erosion, you'll see it's covered in concrete. We want to demonstrate bioengineering techniques that work with the water," McCombs says.
 
The effort is being considered by Covington City officials. The Driftwood Institute could begin by summer of 2014 as the plans are underway to revitalize the Covington waterfront.
 
"Where now sits rubble and weeds, will emerge a poetic design of sculpture intertwined with native plants and interactive elements. This artwork will engage the public about ecology, our local watershed and the history that bind us together," McCombs writes in a project summary.
 
NKU students will help plant new grasses and shrubs along the riverbank, and help clear driftwood from the river. That driftwood will be used by artists who will turn the pieces into small sculptures for sale. NKU's Ecological Stewardship Institute and Covington's Artisan Enterprise Center are also partners.
 
Part of the DI message is that individual life changes can have a major impact on Ohio River quality.
The Driftwood Institute plan follows a short documentary McCombs produced called Covington Ohio River Erosion, which in 2012 highlighted the riverbank's gradual slide into the river. Erosion is leading to sidewalk and step degradation. It's also undermining the stability of a 30-foot historic retaining stone wall along a residential section of the bank.
 
To view the documentary, click below:
Now McCombs, along with NKU students and alumni, are working on another dramatized video that will capture the river and everyday human impact on water quality.
 
The video focuses on two characters "Dinosaur-Man," who represents the average homeowner, and "Driftwood," a mystical woman who emerges from the river to show Dinosaur-Man how his lifestyle choices affect the Ohio River's quality.
 
In the video, Driftwood will show Dinosaur-Man how his nicely manicured lawn, among other things, affects the water he drinks. A large source of river water pollution is synthetic fertilizers, which eventually make their way to sewers, and then to the river during downpours.
"The water that flows from our driveways, our parking lots and our roofs all end up in the river. So we really want to illustrate these ideas and connect people to the watershed," McCombs says.
 
The two main characters are played by NKU students Madeline Walker, a BFA New Media Art major, and Matthew Shackelford, a third-year New Media Art Major.
 
"I think the two different characters are about two different lifestyles, and the general middle class way of life," explains Shackelford.
 
Walker adds, "Driftwood's purpose essentially is to enlighten Dinosaur-Man. When he encounters Driftwood, he starts to see things differently. He wants to learn more about environmental issues."
 
As anyone who lives near a riverfront knows, heavy rains cause havoc on our sewer systems and, in turn, water quality. Both Northern Kentucky and Cincinnati are working to lessen the amount of sewage and other pollutants that flow into the river during heavy rains.
 
The region has many combined sewer overflow systems that collect rainwater domestic sewage and industrial wastewater in the same pipe. Generally, the system functions properly and all the wastewater makes it to sewage treatment plants. However, during heavy rains, sewers overflow and the excess goes straight into area waterways.
 
"The sewers can't contain all the water, so sewage discharges directly into the river. One simple example the public can do is add rain barrels or rain gardens to their property to help decrease the amount of storm water runoff," McCombs says.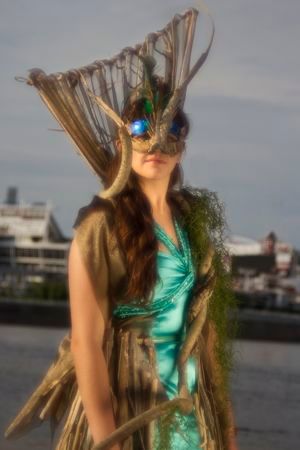 Madeline Walker, also a Northern Kentucky University student, plays 'Driftwood' in the institute's new film. (Photo provided)
Through video, art and ecological initiatives, McCombs and his partners are working to grow awareness of the river's importance to the health of Greater Cincinnati, and how residents' choices can protect the precious resource.
 
"What we want to do with the short video, the Driftwood Chronicles, is inform the public in a creative way about the small steps they can take that will make a large impact on improving water quality of our streams and rivers."
 
Feoshia Davis is a former reporter for The Cincinnati Enquirer and is now freelance writer living in the Northern Kentucky area.
Top photo: Matthew Shackleford, a Northern Kentucky University student, plays 'Dinosaur-Man' in The Driftwood Institute's new short film. (Photo provided)