Due Ordered Back to Jail, Speaks of "Denial, Black Pit"
Wed, 09/25/2013 - 15:20
RCN Newsdesk
Former Covington Finance Director Bob Due returned to the Kenton County Jail on Wednesday after having his bond revoked in Kenton Co. District Court on Wednesday. He will be held on $500,000 cash bond.
Due, 63, was just released from medical care following a second suicide attempt.
He is accused of stealing from City Hall what is now believed to be roughly $600,000 and is charged with official misconduct, theft by unlawful taking of more than $10,000, unlawful access to a computer, and criminal possession of a forged instrument.
The case is now in the hands of the Kenton County Grand Jury where Due awaits indictment on the charges. 
Kenton Co. Commonwealth's Attorney Rob Sanders told The River City News on Wednesday that an indictment would likely come around Thanksgiving, allowing enough time for Kentucky Auditor Adam Edelen to complete his investigation.
Wednesday marked the first appearance by Due in a courtroom since his preliminary hearing in early September, which followed his release from a hospital after his first apparent suicide attempt.
Judge Douglas Grothaus, at that hearing, allowed Due to return to home incarceration, a condition of his initial bond that was granted three days after Due was arrested on August 23.
Due expressed remorse for his most recent attempt to harm himself.
"I was still in that state of feeling I was in the bottom of a black hole," Due said, calling it "self-denial". "This most recent stay allowed me to shed that cloak of of denial."
"I've come to accept what I've done and who I am. All the secrets and lies are out and now I can look to the future."
Sanders argued that Due should be returned to jail, though Due may then be a liability to the county if he harms himself there, the prosecutor conceded.
"The defendant is an obvious threat to himself," Sanders argued, adding that Due may also be a threat to the community, emergency responders, or the court. "I think two suicide attempts definitely change the game of what he's willing to do to avoid prosecution."
Sanders added that Due may also be a flight risk.
Judge Grothaus shared Sanders' concern and argued that promises made by Due and his attorney, Tim Schneider, were similar to the case made after the first attempt: that Due's mental state had improved, that family members would monitor him, that no weapons would be available.
"We heard this the last time," Grothaus said. "I can't expect your family, I can't place the burden on them to keep you safe from yourself."
The judge noted that reports indicate that Due, after stabbing himself multiple times, called his wife while bleeding from his wounds. "What kind of psychological abuse do you think that caused?"
Grothaus also shared his personal story of his ex-wife's suicide and how he suffers from survivor guilt. "There's not a day that goes by that I don't think about what I could've done, should've done."
"On top of the legal burden you face, the financial burden you face,  these suicide attempts only add to your family's burden. I can only assume that there will be huge medical bills."
Shortly after, Due was handcuffed and taken into custody by sheriff deputies.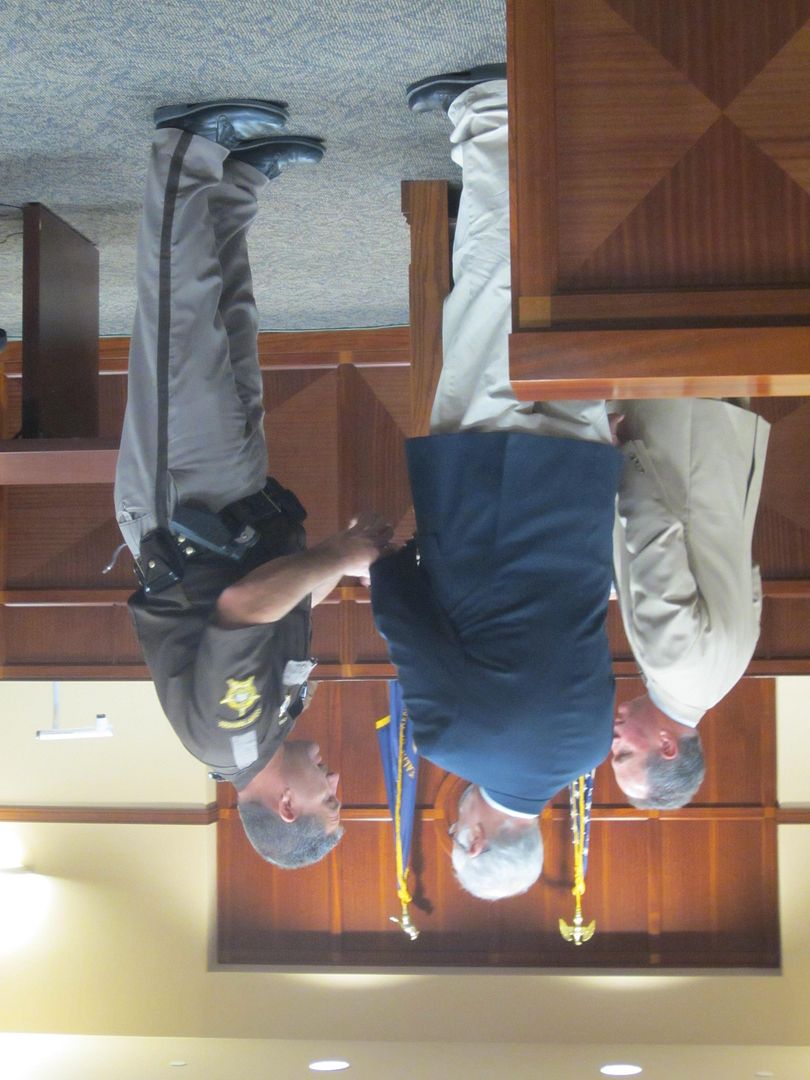 Story & photos by Michael Monks, editor & publisher of The River City News