Retired Thoroughbreds Find New Careers as Carriage Horses
Mon, 09/30/2013 - 05:13
RCN Newsdesk
This article appears courtesy of KY Forward and is written by Lianne Crossley.
When Jan Roehl sees a Thoroughbred, she sees more than a racehorse. Whether one is training at the track or lollygagging in a field, Roehl envisions the sleek athletes reaching their full potential in other equine disciplines.
Her latest endeavor is promoting Thoroughbreds as carriage horses. She and her husband, Al, will be on board when her two former racers cruise the Kentucky Horse Park during the National Carriage Drive Oct. 8-13.
 
The event, first held at the Kentucky Horse Park in 2005, is exclusively for recreational equine driving and is billed as the world's largest gathering of recreational equine drivers. After passing a safety check, participants are permitted to canvass the property from daylight to dark.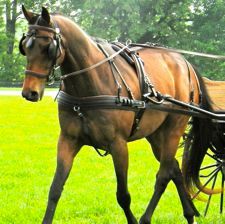 Prayer Service won five of 28 starts at the racetrack and will be among the participants at the National Carriage Drive at the Kentucky Horse Park Oct. 8-13. (Photo by Al and Jan Roehl)
Jan Roehl said that carriage driving is a good option for high mileage Thoroughbreds with lengthy racing records that might not be sound enough for jumping and other demanding sports.
 
"Carriage driving is also a good sport for older riders who don't necessarily want to be in the saddle any more," she said. "Alot of people are turning to carriage driving. It is a good way to spend time with your horse and not have to be on their backs."
 
Roehl has a matched pair of bay geldings — Prayer Service and Look Ah Yondah — for driving.
 
Raced by the Roehls and partners, Prayer Service won five of 28 starts and banked $162,961. When he closed his career in the summer of 2008, Jan Roehl repurposed him into a pleasure mount. She polished his jumping skills and took him foxhunting before tapping his talents in cart pulling.
 
She then began searching for a Prayer Service look alike so she could have an identical team. Roehl discovered Look Ah Yondah on CANTER, a website devoted to placing ex-race horses. A one-time winner in 10 starts, Look Ah Yondah had limited potential on the track, but Roehl recognized that his stride and easy-going nature made him a prime carriage candidate.
Prayer Service (right) and Look Ah Yondah get acquainted before their match as a pair of carriage drivers. (Photo by Al and Jan Roehl)
"He is a beautiful mover," she said. "He is kind, gentle and quiet and he loves carriage driving. The main thing you need for a carriage driving horse is that they stand still. Both horses are relaxed when they are standing still and they both enjoy training with the carriage."
 
Roehl has worked with Thoroughbreds and been involved in horse shows for most of her life.
 
She spent several years exercising racehorses at New York racetracks and also competed in jumping. Her passion for transitioning Thoroughbreds to off-track lives inspired her to launch the Lexington-based Thoroughbred Horse Show Association. The organization's primary goal is hosting low-level shows for ex-racers at the Kentucky Horse Park.
 
After deciding to use Prayer Service for cart pulling, she sent him to Stacey Giere at Maple Crest Farm in Brecksville, Ohio, just south of Cleveland for his lessons. Like Roehl, Giere recognizes that gifted Thoroughbreds readily adapt to pulling carriages and she has had success with her own off-track Thoroughbred Timeless Concorde, who won two of eight races.
 
Prayer Service continued his education with Roehl in the driver's seat under the guidance of Sterling Graburn at Sweet Dreams Farm in Cynthiana.
 
After the Roehls' journey in the carriage through the Kentucky Horse Park with Giere and Graburn at the controls, Jan Roehl plans to take the reins. Her ultimate goal is driving Prayer Service and Look Ah Yondah as a team during the event.
 
"I like carriage driving because it is a competition that is done just at the trot," Roehl said. "So, it is good for Thoroughbreds who might get too excited for jumping competitions."
 
Liane Crossley is a freelance writer based in Lexington and a lifelong lover of Thoroughbreds. She has held a variety of racing-related jobs in barns and offices. Her favorite part of the industry is being with the horses and the people who share her passion for them. She can be reached at [email protected]
Photo: Jan Roehl drives her former racehorse Prayer Service. She believes Thoroughbreds are well suited to carriage driving. (Photo by Al Roehl)