Newport Police Want Tommy Guns Back
Tue, 12/10/2013 - 08:39
RCN Newsdesk
With its once notorious and now celebrated history associated with organized criminal activity, it only makes sense that the Newport Police Department was once armed with that weapon of mafia choice, the Thompson Machine Gun.
Or, Tommy Gun, for short.
After all, it was mostly developed in Newport by US Army Brigadier General John T. Thompson.
In 1921/22, the Newport PD purchased two of the newly produced, expensive weapons (more than $2,000 each in today's dollars) when a large-scale steel union strike at Newport Rolling Mill sent 2,000 men to the picket line, objecting to the company's desire to hire non-union help.
The strike carried on for nearly five months and resulted in the National Guard occupying the city.
The police department held on to Newport's native guns until the 1980s when they were sold. Now Police Chief Thomas Collins wants them back.
"I think it means a lot," said Collins, a thirty-six year police veteran who served as Chief of Ludlow Police and Captain at Kenton County previously. "You can look at the (historic) badges and helmets, and it talks about Newport's history. I don't think any place in Northern Kentucky is so rich in history with the gambling and mob history and things that happened here. There's not anybody that doesn't have a story about Newport."
Collins highlighted other pieces of the police department's collection of its past mob-fighting history. They still have the arrest card on Albert "Red" Masterson, "the Enforcer", who controlled Newport on behalf of the Cleveland mob syndicate. They hold on to the handcuffs that once secured the hands of Frank Joseph "Screw" Andrews, a soldier for the Cleveland syndicate.
The department still has a real ball-and-chain from the nineteenth century, plenty of old copper badges, and Collins owns an old police cruiser from the 1960s that is currently on display inside Newport-on-the-Levee.
"I think Newport is moving back into being that entertainment district," said Collins. Only this time, it won't have the organized crime even if the city does hold on tightly to that history with gangster tours and a gambling museum.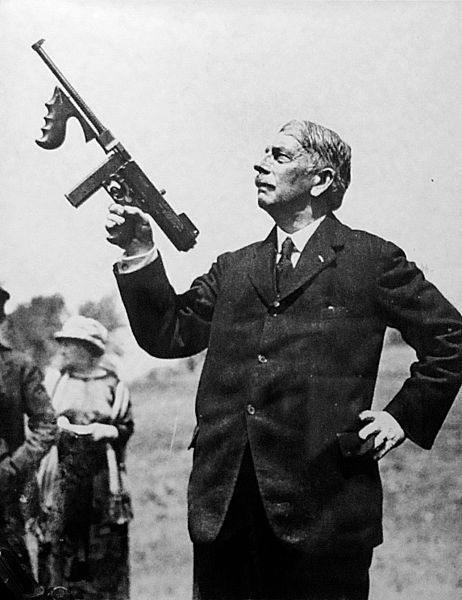 John T. Thompson with his "Tommy Gun" in 1921
And now the hunt for the Tommy Guns.
Collins said the department's search proved fruitful for one of the weapons. They located it in Pennsylvania where a man had acquired it. Between information at the department and the man in Pennsylvania, the police were able to confirm that it was one of their Tommy Guns.
One key piece to solving that puzzle was a Newport Police motorcycle to which the gun was once strapped. It is now on display at the Cincinnati Police Museum.
"The guy who owns the weapon verified the numbers and he was dying to find the motorcycle, and when he found out we knew where the motorcycle was, he almost died," Chief Collins said. The man came to Cincinnati and toured the museum.
He also talked price with Collins.
The chief couldn't say what the man's asking price was but would say that he believes the Tommy Gun is worth $25,000. "We would have to get some outside assistance from people with donations," Collins said.
Free is a much more attractive price for the Newport Police Department. That was the sticker on a pair of humvees now decked out in Newport PD decals that Collins showed off after Tuesday night's city commission meeting. He also acquired a pair of pick-up trucks, vehicular donations from the military or the US Department of Homeland Security. He said departments ask to be placed on a list to receive the surplus property based on need and Newport lucked out recently. For the most part, the vehicles won't be used outside of ceremonial displays.
Though, one humvee recently got taken for a spin during a heavy snowstorm last week.
With a collection of old and new vehicles, Collins looks forward to seeing the Tommy Gun returned to its homeland and original owners. 
"You go to London and you want to see history. I think people come here to want to see those kinds of things," the chief said. He points toward Monmouth Street, the historic Downtown shopping district. "There's been so many changes, and then again, there hasn't."
Written by Michael Monks, editor & publisher of The River City News
Photo: Newport Police Chief Thomas Collins shows off the new humvee/RCN