Ludlow Business Owners Warn of Cuts as City Prepares to Implement Receipts Tax
Sun, 12/15/2013 - 08:59
RCN Newsdesk
Ludlow is the only city in Northern Kentucky not to collect a gross receipts tax, a percentage taken from the total gross revenues of a business.
That would change in 2014 as the city council considers implementing a tax of .075% on gross receipts. The city passed the measure over the summer without much attention but on Thursday had to revisit the issue because the actual wording of the ordinance was inconsistent with the intent.
The ordinance, a model one provided to the city, included text that the tax would be .075 of 1%. In Ludlow, there would be no cap on the amount of gross revenues taxed.
That news troubled three business owners that spoke at Thursday's meeting with two of them warning that their companies would be laying off employees, one directly related to the tax.
"You're taking one-twelfth of the profit from my business," said Vick Dawn, owner of the Riverside Marketplace grocery store that opened in February 2012.
Dawn was particularly concerned that there would be no exception for his fuel sales (he's the only option in Ludlow for gas) because he claims that his grocery and others make a very small margin on it.
By his math, Dawn's fees to the City of Ludlow would go from a $100 occupational license to somewhere between $7,500 and $10,000. "I don't think that's fair, especially when I compare it to cities that are similar to Ludlow in their economic structure," said Dawn, who also operates groceries in Dayton and southern Campbell County. "What you're proposing is, in my opinion, not one bit fair."
City Administrator Brian Richmond said the move is necessary because Ludlow's infrastructure is in need of attention and the funds aren't there to make improvements. He said Thursday that many businesses bring in large vehicles and tractor-trailers that use the roads in need of repair.
"This will put money back into our infrastructure," Richmond said, specifically pointing to Hazen Street, which he said "sat decimated for years". "We can't fix Hazen Street by ourselves, if the state didn't give money for it."
Ludlow also can't ask the citizens to pay more in property taxes, Richmond said. By taking the full 4% increase permitted by state law on the value of every home in Ludlow, the city would only collect an additional $20,000. That's not enough, Richmond said.
Dawn countered that the gross receipts tax is still a tax on citizens. He said if the tax is adopted, he would have to lay off one part-time worker, make one full-time worker part-time, eliminate their benefits, and then raise prices. "This is a tax on citizens," Dawn said. He promised city council that he would place a sign next to the more expensive milk that will explain that it is to pay for the new tax.
"All the independent groceries are gone from Cincinnati. We have a very tough time competing," Dawn said. "It's not just groceries but all independent businesses and that's who this ordinance hurts."
Dawn said he felt that the city isn't living up to its end of a bargain that brought him there to open his third location. Ludlow's not having a gross receipts tax was attractive to him.
However, tax dollars were invested in Dawn's business. Governor Steve Beshear allocated $500,000 in community development block grant funds to make the store a reality by helping with equipment purchases.
Mayor Ken Wynn said the city council was all in favor of the gross receipts tax prior to Thursday's meeting where, by a vote of 3-2, the issue was tabled (or postponed) forcing the need for at least one special meeting prior to the end of 2013. That meeting has not yet been scheduled.
"I feel for these individuals but I'm saying you have to look at the overall picture and what's going to benefit the city as a whole," Wynn said.
"I wasn't aware of the repercussions it would have on some of the mainstays of Ludlow," said Councilman Tom Amann, who pushed to table the ordinance. "I think we need to take some time and come up with a fair and equitable solution."
Amann suggested that a solution could include a cap on the gross receipts taxed and also a possible exemption for gas profits as they relate to Dawn.
Amann and Council Members Josh Boone and Amy Clary voted in favor of postponing the vote while Councilmembers Joyce McMullin and Bill Mullins opposed. Councilman Randy Wofford was not present.
Mullins said the council discussed caps previously.
"I don't think we really understood the amount of of gross receipts to the full extent," Clary said.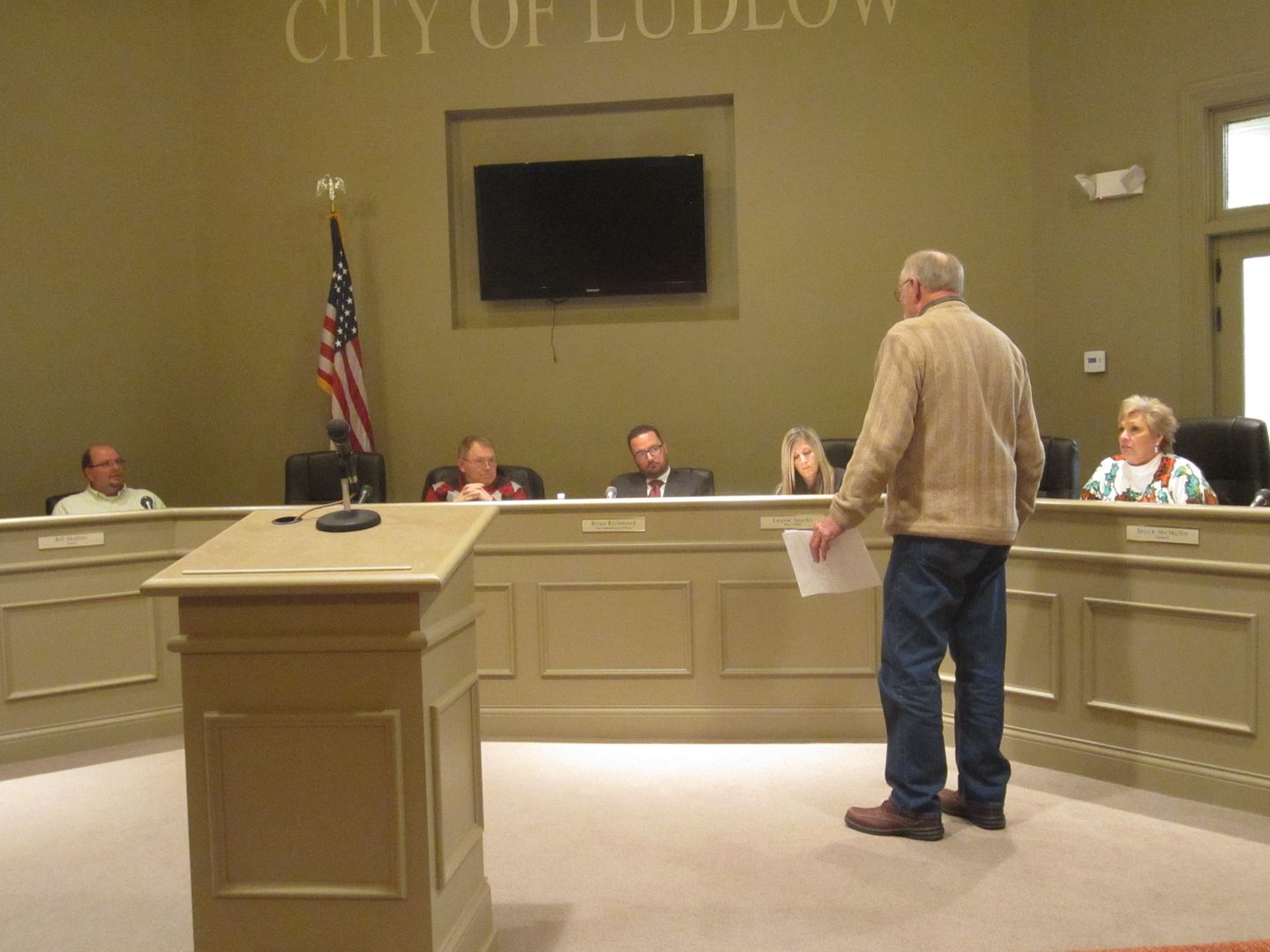 Owner of Ideal Solutions addresses Ludlow City Council/RCN
At the rate of .075, a business that has gross receipts of $100,000 would pay $75 annually. A business that pulls in $10,000,000 would pay $7,500.
Ron "Lefty" Pegg, owner of T&L Rental and President of the Ludlow Business Association, spoke in opposition of the planned tax because, "some of the businesses might gross quite a bit of money," he said.
The owner of Ideal Supplies, John (last name was missed by reporter but will be added to this story), spoke passionately against the tax, too, approaching the council dais and moving around the room as he decried its possible adverse impact.
"I'm not opposed to paying taxes... but this tax here with no ceiling on it is very unfair," John said. He said he would be laying off an employee on Friday as the company dips into its savings to stay afloat. "We have been scraping."
A special meeting to discuss and possibly vote on the matter has not yet been scheduled.
Richmond countered the claims that larger businesses were being targeted and said much research and analysis went into the ordinance. He studied the taxes in Independence, Fort Wright, Wilder, Fort Mitchell, Florence, Erlanger, Crescent Springs, and sought advice from the Northern Kentucky Area Development District.
"We did exhaustive research," Richmond said. "It's not that we're trying to harm businesses. We want to stay competitive by staying on the lower end."
Written by Michael Monks, editor & publisher of The River City News
Photo: Vick Dawn talks to Ludlow City Council/RCN