Attorney: City Ignoring Residents Near Caroline Underpass
Mon, 12/23/2013 - 17:33
RCN Newsdesk
They watched their front yards slide away when a retaining wall collapsed at the Caroline Underpass ten days ago, and while residents in four homes were evacuated and helped by the Red Cross in the hours immediately after, some of them said Monday that they haven't heard a peep from Covington City Hall since.
Attorney Gailen Bridges, representing one of the property owners, said that he has reached out to city officials to no avail.
The wall collapsed either before or after a water main broke on Caroline Avenue on Friday, December 13. A gas leak followed. Four homes were directly impacted and eight residents were forced to leave the area where the road was being repaired after years of trouble. The road, which had been closed to through traffic for month, was just days away from reopening. It will now be longer before traffic flows again through the underpass, an important artery when railroad traffic stymies commuters on busy Decoursey Avenue.
The inconvenience to motorists aside, Bridges said the residents have not been addressed by City Hall. "There has been no communication, concern expressed, checking on well-bring, providing for out-of-pocket expenses, or alternate lodging offers by any entity associated with this disaster," Bridges said.
Assistant City Manager and City Solicitor Frank Warnock said last week that the issue of who's responsible for the damages could be headed to court, but that the City would be moving forward anyway on repairs, likely sharing the costs with the Northern Kentucky Water District.
City officials also said Monday that the residents have been contacted.
City Engineer Mike Yeager, who has been the public face on the issue of Caroline Avenue, said Warnock has been in regular contact with the residents for the past two weeks and that he doesn't know why Bridges or the residents would say otherwise.
Yeager said work is already underway on repairs and that a geotechnical engineer is analyzing data collected from far beneath the surface of the road. Utility plans are scheduled for Friday in anticipation of those services being ready for when the wall is rebuilt.
"We're trying to get them back in their houses as soon as possible," Yeager said. "We're hoping in January."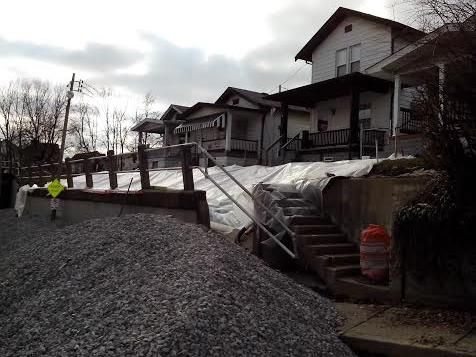 "It is time for someone to step up and be the adult in this situation and stop pointing fingers and take control and remedy this situation and sort out the blame at a later time," Bridges said. "Peoples' lives and safety are involved here. People join together into cities and pay taxes so that there can be a safety net if a disaster strikes."
Meanwhile, some emotional residents stood by Bridges, demanding answers. "I'm a very unhappy person," said Margaret "Peggy" Owings, 80, who owns two of the affected properties and has lived in one of them since 1942. "Here we stand out here freezing, asking for help."
She's living with a nephew but would rather be home. "Let me back in this damn place or tear it down and let me rebuild," she said. Neighbors Judy Hite and Mary Turner also asked for help as they are forced to live elsewhere. Turner is off work from Thomas More College due to the holiday but returns in January and is concerned about how to get there from her temporary residence in Independence.
Loretta Burress, whose son lives in a house adjacent to the four affected, said her son's property is also starting to slide.
As of Monday, there were no announced plans of legal action against the City or any other entity, Bridges said.
"We're trying it in the court of public opinion," Bridges said. "If that doesn't work, we'll try it in a court of law."
Story & photos by Michael Monks, editor & publisher of The River City News