2013 in Covington: The Year in Preservation & Demolition
Tue, 12/31/2013 - 08:33
RCN Newsdesk
2013 was a memorable year for Covington as many historic properties met new life and others met the wrecking ball.
Multiple battles ensued over some of the properties: were they worth saving?
In one high profile debate, the answer was, no, and a nineteenth century mansion came crumbling down in a matter of hours. In another, a mid-nineteenth century pair of townhomes slated to become a parking lot for a neighboring business was not only spared but proved a perfect rehab job for a law firm.
A handful of Downtown buildings that once bustled with the hustle of a vibrant urban center but sat vacant and neglected in recent decades are at the beginning or ending stages of their second lives, with new mixed-use developments returning to the city with new skin and old bones.
Here are some of the highlights from 2013 in preservation and demolition:
Bishop's Mansion Razed, Replaced by new Walgreens
A debate that started in 2012 ended in a pile of rubble as a prominent mansion came crumbling down before being swept aside to make way for a slick new Walgreens.
The property at the southeast corner of Martin Luther King Boulevard and Madison Avenue, owned by the Diocese of Covington, was sold to Covington-based Anchor Properties which developed the new Walgreens, a store expected to serve as a model for the national chain.
In February, preparations began for demolishing the structure when fencing and a construction sign were put up.
Days later, the wrecking began and within hours, what stood for more than 120 years laid in a pile of trash behind its steps.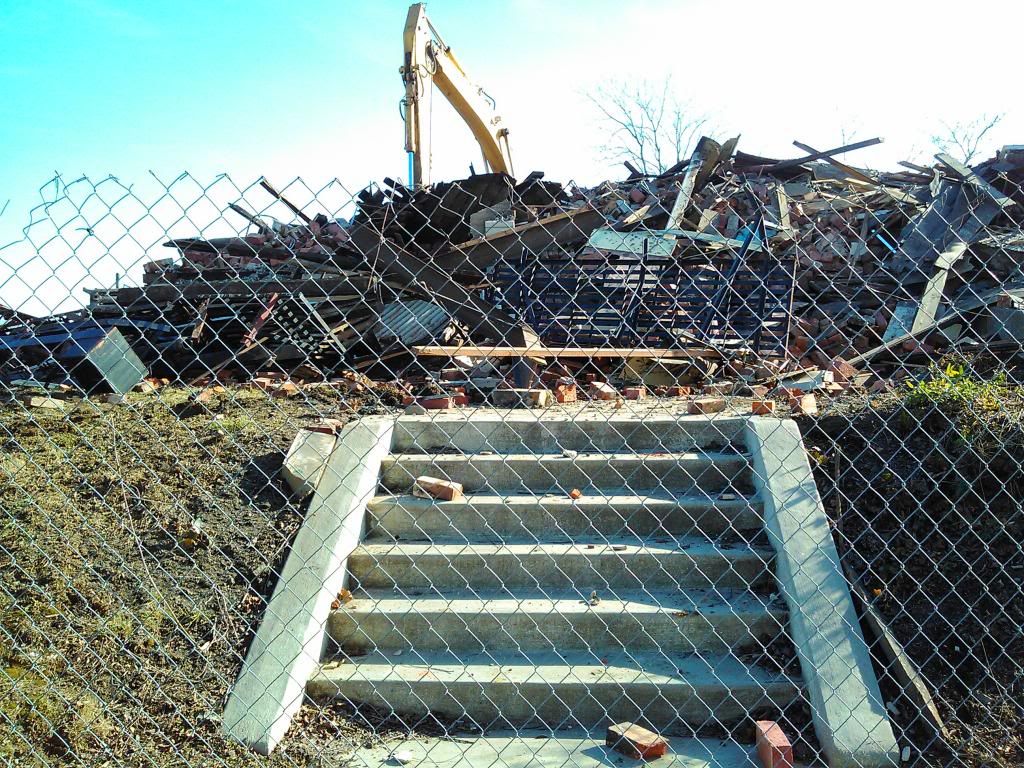 Weeks later, construction began on the new Walgreens. After it was nearly finished, the new store was tagged with graffiti but shortly thereafter it was cleaned up and opened with a ribbon-cutting ceremony attended by local business leaders.
The new store with its concrete floors, industrial-style ceiling, updated technology, and grocery selection is expected to be a standard for Walgreens' national plans.
The River City News Facebook page did have a little fun with the controversy, however:
Though the Bishop's Mansion was torn down, the Covington ReUse Center was able to salvage many historic trinkets from inside and placed them up for sale.
ENDANGERED HISTORIC TOWNHOMES BECOME NEW HOME FOR LAW FIRM
In a stark contrast to the saga of the Bishop's Mansion, a pair of nineteenth century townhomes on Fourth Street found themselves on their death bed.
The city gave approval to neighboring Legacy Financial Services, which won an award for preserving its own building, to tear down the townhomes to make way for new parking.
And then suddenly, without explanation, those plans disappeared and local attorney Christopher Jackson got his hands on the decaying property and decided he would take a plunge into preservation by renovating the townhomes and turning them into his law office's new home, which would relocate from Scott Boulevard.
Jackson gave The River City News a tour of the property at the early stages of the renovation. It was in terrible shape.
But the end result was nothing short of a preservation miracle.
Being so close to the wrecking ball, 121 East Fourth Street now has new life and seven employees working throughout it with spacious offices, two conference rooms, two kitchens, several bathrooms (two of which feature antique dressers that Jackson salvaged and restored), and a full gym in the basement.
"We're very happy," Jackson said. "It was a lot of work but well worth it and we're ready to get back to work. We're happy to have such a historic place and we did our best to keep the historic features."
In May, the renovated law office was one of several properties in the Northern Kentucky River Cities to be honored with Excellence in Preservation Awards.
A RENEWED FOCUS ON PRESERVATION
In 2014, The River City News will dedicate more space to stories about preservation and the people who restore (or want to learn how to restore) the historic treasures that fill up the cities of Northern Kentucky's urban core.
There will be more information on that effort forthcoming.
But one thing is for sure: If 2014 is anything like 2013, we'll have our hands full!
Here are some more stories from the year in preservation:
A sprawling mansion that once belonged to a significan figure in Kentucky Derby history hit the market and RCN got a tour before it sold months later.
Presenters from Philadelphia spoke in Covington about the hidden value in a city's sacred places.
Covington became the epicenter of preservation in Kentucky when it hosted an annual statewide historic preservation awards program & street party where two folks from the city and an event in the city were honored.
Madison Avenue Christian Church restored and re-dedicated its stained glass windows.
Work began on a long-neglected Downtown Covington building that will soon be home to the Covington Police Bike Patrol.
The Lincoln Grant School Building had a very busy year. It was approved by the Commonwealth of Kentucky to be recommended for the National Register of Historic Places. A photo tour inside the building by The River City News showed the shoddy condition the former African-American high school was in, but that did not stop ambitious developers from announcing plans to transform the property into a Scholar House.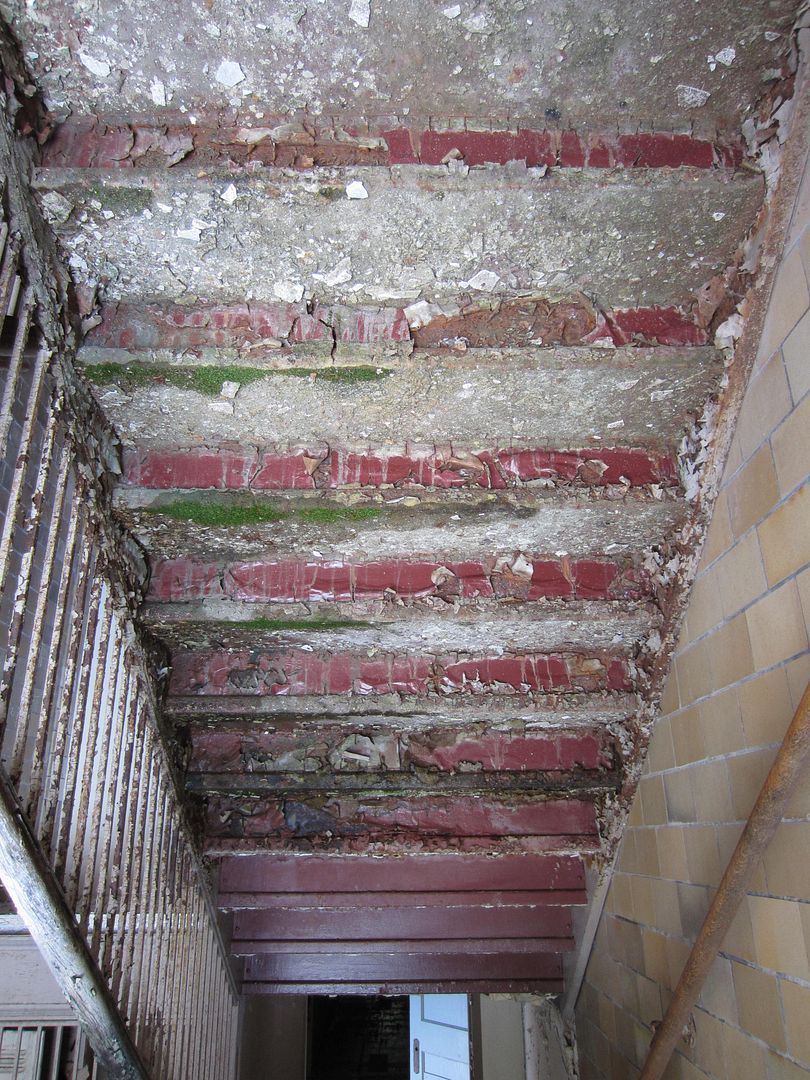 Inside Lincoln Grant See More
It was also a busy year for the Mutual Insurance Building at the corner of Pike Street & Madison Avenue. The River City News got a rare look inside the property in May. Then in June came the welcome news that a developer would purchase the property from the City of Covington and turn the upper two floors in luxury apartment dwellings and restore the first floor's commercial retail potential. In November, it got its first taste of new life when three pop-up shops opened in the first floor spaces and sold their wares throughout the holiday shopping season.
Inside the Mutual Building See More
A troubled Downtown Covington building was torn down
In June, RCN gave its readers a tour of an old Greenliner Bus that was on display at RoeblingFest
A pair of weathered buildings at Ritte's Corner in Latonia got themselves a facelift over the summer
Housing Opportunities of Northern Kentucky salvaged two Bellevue houses, one previously destroyed in a fire, and turned them into new homes
In August, one of Covington's most blighted properties met its demise when it was torn down
Jaws dropped and mouths watered when the posh Laidley Mansion in Historic Licking Riverside hit the market
In August, a new report showed that historic preservation has a big economic impact on Kentucky
A September walking tour of the stunning Kenton Hills neighborhood showed off how well preserved some of the city's modern architecture is
The long-shuttered Barton's on Park Place was torn down to make way for more parking in Roebling Point
There is a huge urban renaissance going on in Louisville's historic Downtown buildings and in September, The River City News took its readers on a photo tour
The beautifully restored Covington Station is now home to an architecture firm and other offices and RCN got a photo tour in September
It was announced in September that five vacant shotgun houses in Covington's Westside would be turned into homes that target artist residents. And then earlier in December, the first one was unveiled.
Will the long-vacant and neglected Bradford Building soon be poised for development? A Covington-based architect thinks it's ripe.
The renovation and restoration were pricey but a pair of City-owned (and controversial) townhomes hit the market this year
The former Helman Lumber Building on Martin Luther King Blvd will soon be transformed by the Center for Great Neighborhoods
Covington's treasure chest for historic preservation, the Licking Riverside Historic District, was named among the top ten best neighborhoods in the whole USA
Have you ever been up close to this abadnoned, dilapidated structure in Devou Park? Take a look
Another Downtown Covington building was razed to make way for parking, only the good news is that it's parking for future tenants in a soon-to-be-renovated building next door
A beautiful documentary about NKY River City preservation was released online and Covington's Historic Preservation Officer Beth Johnson was honored Click Here
In October, we took a photo tour of Lexington's Kentucky Theater Click Here
When Kentuckians were asked to vote on the best buildings in the Commonwealth, Covington structures scored the top two spots
The stunning home of a 19th century Covington leader was put on the market
Mainstrasse property owner wanted to tear down part of it, but the city's urban design review board said no way
Have you ever been inside the historic Methodist Church in Licking Riverside? Take a look!
Historic Covington structures were topic of special NKU class at Baker Hunt
THANK YOU FOR A MEMORABLE 2013 IN PRESERVATION!