Car Crashes Through Storefront at Latonia Plaza
Sat, 01/11/2014 - 14:02
RCN Newsdesk
UPDATE: An arrest has been made in connection to this crash.
Casey Behrens, 29, is in the Kenton County Detention Center where she faces charges of operating a motor vehicle under the influence of alcohol or drugs, endangering the welfare of a minor, operating on a suspended or revoked license, failure to maintain required insurance, and having no registration.
Booked Saturday afternoon, Behrens is being held on $500 bond. She is expected to appear in court on Monday at 8:30 a.m.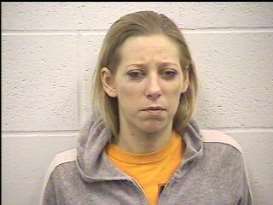 Casey Behrens/Kenton Co. Detention Center
ORIGINAL POST:
A car smashed through the Aaron's store at Latonia Plaza on Saturday afternoon.
The crash happened in the 12 o'clock hour and involved one car with two passengers, a woman and a child.
The woman was transported from the scene to be evaluated while the child was said to be OK. No one inside the store was hurt.
The front window was busted up at Aaron's and part of the facade of the shopping plaza also suffered significant damage but a building inspector on the scene said the pillar was not structural and was not of any concern to the stability of the building.
The car was towed from the scene.
Covington firefighters were cleaning up the scene after the car was removed.
There was no information immediately available as to what may have caused the woman to run her car from the parking lot, on to the sidewalk, and through the front of Aaron's. The original dispatch for firefighters indicated a possible heart attack and one emergency responder on the scene did say a medical condition may have preceded the crash, but that was unconfirmed.
This story may be updated if more details are gathered.
Story & photos by Michael Monks, editor & publisher of The River City News