Next Several Years in Northern Kentucky: What Do You Want to See?
Tue, 01/14/2014 - 09:23
RCN Newsdesk
As the year 2015 approaches, it's time to start thinking about Northern Kentucky's next strategic plan. That's why Vision 2015, the organization behind implementing the community's current plan, is inviting community members to interact with myNKY, a six-month campaign launching Jan. 16 designed to engage the community in determining the priorities for Northern Kentucky's next five-year strategic plan.
"Great communities don't happen by accident. They need a plan and a vision," explains Kara Williams, Vice President of Vision 2015. "Northern Kentucky has a long history of community visioning, and as we approach 2015, it's time to begin focusing on developing the vision that will guide Northern Kentucky through 2020."
Northern Kentucky's residents are invited to help kick off the myNKY campaign at the Bank of Kentucky Center during the NKU men's basketball game Jan. 16 (7pm). The celebration will include a special message from NKU President Geoff Mearns as well as a Tweet to Compete contest, in which community members can share their input about Northern Kentucky's future via Twitter using the hashtag #mynky for a chance at winning at $250 Visa gift card.
"For Northern Kentucky to be successful, we must all work toward a common vision,' Williams said. "Vision 2015 encourages the community to join us at NKU on Jan. 16, and to share their voice throughout the campaign and be a part of crafting Northern Kentucky's future."
Vision 2015 is Northern Kentucky's 10-year strategic plan for growth designed to support economic competitiveness and regional prosperity.  It is a list of goals created by the people of Northern Kentucky in 2005 based on their collective vision for Northern Kentucky in the year 2015.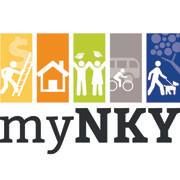 Over the next six months, www.mynky.org, which launches January 16, will act as the hub collecting community input for the next five-year strategic plan. The site will feature an interactive prioritization game and a variety of polls and challenge questions on topics such as education, transportation, workforce and green space.
"We really want to know what the community's priorities are," adds Williams. "In addition to providing input through interactive polls and challenge questions, through the prioritization game people will have the opportunity to invest $1,000,000 virtual dollars towards their vision for Northern Kentucky. We think it will be a great way to not only see what's important to them, but for them to see the impact those dollars can have, depending on how they are allocated."
In an effort to collect as much feedback possible, residents are encouraged to check www.mynky.org often over the course of the six month campaign for updates as well as to participate in poll and challenge questions which will change regularly. Vision 2015 representatives will also be out in the region collecting community feedback at a variety of events over the course of the campaign.
For more information about myNKY prior to January 16, visit www.mynky.org.
From Vision 2015
Photo: Covington skyline/RCN file