Longtime Covington Employees Recognized, New Officer Hired
Wed, 01/22/2014 - 08:38
RCN Newsdesk
"Thank you very much. I appreciate it."
Those were the simple words offered by retired Covington Department of Public Improvements employee Charlie Menke (pictured above) at Tuesday night's city commission meeting.
He worked for the city from the early 1970s to 2011 and his former coworkers moved to have the road encircling the Latonia DPI facility named for him. The commissioners unanimously approved the idea.
A ceremony is scheduled for Monday to do just that.
"I think it says a lot about Charlie and says even more about our employees in public improvements that they think so highly of him and want to single him out for this honor," said City Manager Larry Klein.
Assistant City Manager and City Solicitor Frank Warnock read a letter signed by DPI employees. "Some streets are named after famous individuals, sometimes after death," Warnock read, noting the significance of renaming a street for someone still with us. Mayor Sherry Carran noted that Menke is battling cancer.
"Charlie gave selflessly of his time," Warnock continued with the letter. "Many of us valued the opportunity to work with Charlie." The letter included some of the many things coworkers learned from Menke, including how to knock a computer back into working order should it short out.
That drew a big smile from Menke.
Carran noted that Menke was "one of the guys who had firsthand knowledge about how to close the floodgates". "Before he left he had to do training for folks who took over that role," the mayor said.
The city commission also unanimously accepted the resignation for retirement of Darryl Strong who worked in the finance department since 1972.
"That's a long time to serve the city and he has served the citizens well," Klein said of Strong. "It will be difficult to replace him but we are beginning to work on that right now."
"There is a lot of experience going out the door tonight."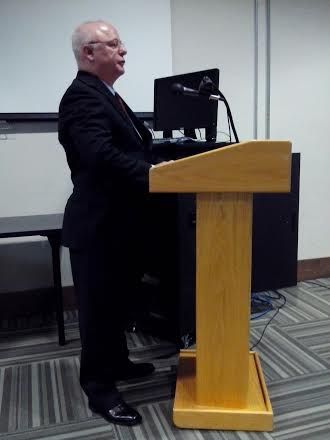 Officer David Boggs
Officer David Boggs also retired Tuesday night after more than twenty years with the Covington Police Department.
"One of the proudest moments of my life is the day I became a Covington Police officer," Boggs said. He started in 1990 and has a resume that includes an honorable discharge from the US Army, three letters of commendation from three different Covington Police chiefs, and an award from the Covington Rotary Club.
That award was given to Boggs after he successfully talked down a suicidal man wielding a shotgun. "(Boggs) was able to negotiate with this gentleman and essentially wrestle a shotgun from him when he was moments away from pulling the trigger," said Chief Spike Jones.
Boggs had kind words for his fellow officers at the department. "They have been more than colleagues to me," he said. "They have been family members. Whenever I was down, they were there to pick me up and I will never forget them for that. I miss them already. I'm not gone yet but I miss them already."
He called the Covington Police Department the greatest in the state.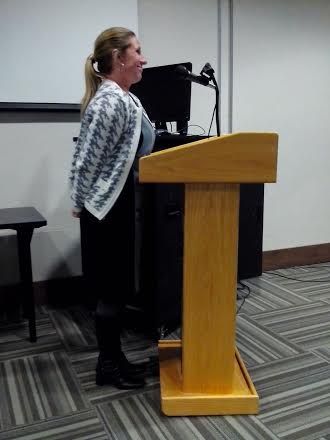 Michele Carter
It wasn't all retirements on Tuesday night.
Chief Jones presented Michele Carter for hire as the newest police officer in the city. The commission unanimously approved.
She holds an associate's degree from American University and received police academy training at Great Oaks in Ohio, Jones said.
"This is the start of a new beginning," Carter said. "This is great."
Story & photos by Michael Monks, editor & publisher of The River City News