Kentucky Shooters Heat Up in 79-54 Win Over Georgia, Polson's Jersey Retired at High Schools
Sun, 01/26/2014 - 08:03
RCN Newsdesk
This story appears courtesy of KY Forward and is written by James Pennington. KY Forward's coverage of UK Athletics is sponsored by Republic Bank.
No. 14 Kentucky wasn't perfect Saturday, but it didn't need to be against a Georgia team playing without one of its leading scorers for a team that doesn't score much to begin.
James Young and Aaron Harrison flashed their shooting strokes Saturday, putting on a display from mid-range during a dominating first-half run that ultimately propelled the Wildcats to a 79-54 win Saturday.
(SEE ALSO: Northern Kentucky UK Fans Angry as Star 64 Loses Game, Replaces With Wrestling)
Kentucky's 21-5 run in the first featured a bevy of scorers, but Aaron Harrison and Young's jumpers were featured, hitting consistently from 17 feet. The moment during the run that really set off the 23,267 at Rupp Arena, though, was from freshman reserve Derek Willis. Willis grabbed a defensive board and went coast-to-coast on his own, laying it in from the left side on the other end.
Willie Cauley-Stein bounced back after three poor games in a row. He finished with eight points, three rebounds, six blocks and six steals in 26 minutes.
Aaron Harrison led Kentucky with 15 points, and Young had 13. Andrew Harrison finished with seven points and five assists.
Jarrod Polson Honored at High School by Wayne Stace, KY Forward
The gymnasium at West Jessamine High School in Nicholasville was packed Friday night as the Colts welcomed home favorite son, Jarrod Polson for a special honor — the "retirement" of his Colt jersey #5 and star treatment by hometown fans.
 
Jarrod drew some other special fans, University of Kentucky basketball coach, John Calipari, and current 'Cats basketball teammates.
 
"COLT Crazies" and former COLT players David Elliot, Austin Dunn, and Nicholas Ziemann, former COLT coach Robert Hammonds, assistant coach Kevin Sisler, and volunteer assistant Ken Lawson were in the house too.
 
Today the NCAA Division One college basketball world knows Jarrod Polson as a Kentucky Wildcat, a 2012 National Championship ring holder, and a walk-on player at the University of Kentucky, who earned a scholarship by impressing UK Coach John Calipari in the preseason of his freshman year with his work ethic and determination.
 
But Jessamine County, Wilmore, Nicholasville, and West High know Jarrod for much, much more.
 
Last night before the start of the Mercer High vs West High varsity basketball game, this crowd gathered to honor Jarrod Polson as a member of the community. He was honored for his Christian faith, his moral character, his dedication to the youth of Jessamine County, and for his missionary work in Ethiopia, just to name a few of his humanitarian efforts at the ripe old age of 22.
 
Jarrod was given the key to the city by Nicholasville Mayor Russell Meyer, for being an outstanding citizen and representative of Jessamine County.
 
As his sisters, his mother Chrisi, and his father George looked on from center court, where Jarrod played so many games, a litany of his young life's accomplishments were announced over the PA system by John Daugherty, the classic voice of the COLTS who called so many of Jarrod's games.
 
And, yes, there was some mention of basketball.
 
There is a reason to mention basketball; after all people see Jarrod Polson at UK, and they see a role player, someone who comes in to give a break or a coaching moment breather. Many do not know Polson had Division One offers from several programs, including other SEC schools, where he would have been a starter, and focal point of a program. But he turned them all down to follow a dream, a dream shared by nearly every boy and girl basketball fan in the state of Kentucky….to wear a UK Wildcat jersey.
 
Jarrod Polson earned some of the highest honors the Kentucky High School Athletic Association (KHSAA) has to offer; and there have been a few scoring titles and game titles along the way.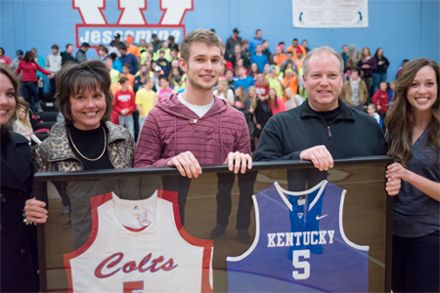 Along with his COLT teammates, and under the tutelage of Robert Hammonds, and later Damon Kelly, he won the 46th District title four years in a row (a record), won the 12th Region title two years in a row, along with back-to-back KHSAA "Final Four" appearances.
 
He holds the state record for free throws attempted and free throws made; he earned that record in a game where he also scored 51 points. He was named 1st Team, All State by the KSWA. His high school career finished with 482 assists, 429 rebounds, and a COLT record 1,884 points scored.
 
At the University of Kentucky, Jarrod as a senior, along with John Hood are the longest tenured players on the UK roster. While others have come and gone, the "one and done" players, who have
made the program the talk of basketball and sports all over again, Jarrod stayed.
 
Jarrod and Hood are the only players on the current roster who can claim 2 Final Fours, 2 Elite Eights, and a National Champion on their resume.
 
Jarrod might have an even heftier resume from high school, but that wasn't what he was about, then or now. He has always been about winning, in life and on the court. He accomplished that task by playing to his own strengths but also the strengths of his teammates. He never wanted to be the "star," he wanted the win. He passed the ball, he grabbed the rebound, he took the charge, he did whatever it took to win. If winning meant not shooting, then that is what he did. If winning meant another player was better that night, then Jarrod made sure to get the ball in that player's hands.
 
His unselfish play on the court didn't make him better off the court; it was his life off the court that made him so unselfish on the court.
 
Even though he knew before hand this moment was coming, there was nothing jaded about his appearance at center court last night when his jersey and the number 5 were permanently retired by West Jessamine High School. As the banner with his name and number was uncovered, he was humbled. As his West Jessamine and University of Kentucky number 5 jerseys held together in a shadow box were presented to his family for inspection before they were to be hung in the foyer of the West Jessamine High School main lobby, he was gracious. As the numerous family, teammates, friends, and fans clapped and cheered and chanted his name, he grabbed for words. "I just want to praise my lord and savior Jesus Christ, and to say thank you to everyone in the community who invested in me, who looked out for me, who helped me get where I am…"
 
As he tried to get through a laundry list ofpeople to remember and thank, looking back at his dad on occasion to make sure he hadn't forgotten anyone, you could see that preparation couldn't overcome emotion. The COLT gymnasium wasn't filled with nameless faces of fans who were cheering him on because he was a Wildcat. He knew most of, if not all of these people; when you look through a crowd seeing face after face of people who have known, been friends with, loved as your family, or sweated with as a teammate, the words do not come as easy.
 
In a room with his family, and former coaches later, we were able to spend a few moments talking about "what's next?" It wasn't about more basketball, or championships, it was about life:
 
WS: Let's talk about after — after school, after the season, after UK. What is next? Where are you going from here?"
JP: (light laugh) You tell me, I am open to all options.
WS: More school? Do you plan on a graduate degree?
JP: No, I think I am finished with school. I picked up another undergraduate major, and I finish that in May, and I think that is going to be it.
WS: Missionary work? You made huge impact on the trip to Africa. Did that affect
your choices?
JP: I have considered it, it was deeply satisfying.
WS: What about basketball after UK? Have you thought about that? (George Polson perks up in the background, a voice in the room says "Europe," Jarrod is smiling). We talked years ago, and I remind him again of Theresa Witherspoon and our friendship, about how she finished her Olympic career and went to play in Europe before there was a WNBA. So is there going to be more basketball?
JP: (still grinning) I really don't know, I do think about it, we will see.
WS: So like any other 22-year-old who has this high profile life, or no life at all….you are still just as conflicted about what path to take, you are still normal? (The room
erupts in laughter, and Jarrod gets a little flushed; and I know he is still the kid I
watched growing from 16, when I was still taller than he was, to the young man who is 5 inches taller than me at 22 years old…and I hope I am not shrinking).
 
I was fortunate to be one of those volunteer assistants for three years at West Jessamine High School. I was even more fortunate to be able to see Jarrod Polson before the limelight of UK basketball. As the team photographer and videographer for the West High COLTS, I saw those moments when nobody was looking. I saw the laughs, and the tears that come with winning and losing. I was there the night in Dayton, Ohio, when a child that had no clue where West Jessamine High School was, walked up and asked Jarrod for his autograph, his first autograph from a fan who had no connection to the basketball world Jarrod Polson was accustomed to playing in. I was with him the very first time he ever set foot on the court at Memorial Coliseum, at the Joe Craft Center. The first time he played in Rupp arena; he wasn't a Wildcat then, he was a COLT. I was honored to be asked by his father to return to help document this great moment in his life; because I know firsthand, nothing about Jarrod Polson has been manufactured; there is no alter ego once he walks away from a camera or a reporter. He is as humble in his defeats, as he has been gracious in his victories. He was and still is a fine young man, and he deserved all the honor and accolade given to him last night.
Wayne Stacy is the "consummate vagabond," which may be what makes him a great photographer. A former military man himself, he is third-generation child of a family dedicated to military service. He has traveled the world as a military dependent and in his own service to his country. While Stacy has always been an artisan, it wasn't until he was injured on his job as a Master Electrician in 2002 and could not use his hand for more than three years that he rediscovered his love for photography. He is an on-call photographer for KyForward, is helping build KyForward's photo archives as well as writes travel pieces. Email him at [email protected] and see his website here.