Newport Celebrates Wildly Successful 2013, Prepares for More in 2014
Wed, 01/29/2014 - 15:50
RCN Newsdesk
"Newport is where it's happening. Everything is happening in Newport."
When City Manager Tom Fromme said that Monday night he wasn't kidding. 
This wasn't spin from a city administration urging people just to believe that the fabric of a city was changing for the better. In his 2013 year in review presentation, Fromme had proof on his side just outside the windows of the city building.
Monmouth Street is alive and well and getting better with every passing day.
In the coming months, Monmouth Row, a sprawling $10 million development by Towne Properties and Carlisle Development, will welcome tenants to its 100-plus units, an immediate boost of foot traffic to the growing number of businesses on the historic Downtown street, and mere steps from the city's landmark Newport on the Levee.
"They're going to town there," Fromme said of the pace of the development's construction. An entire block was razed to make way for Monmouth Row on the 400 block, a new project designed to blend in with this old-style architecture of the city's urban core. "It's a great addition. You're going to get a significant ripple effect if businesses take advantage of that."
The development features on-site parking and 2,200 square feet of retail space.
New enterprises will open in the new retail space if recent history is any indication.
In the year in review presentation, Fromme rattled off feather after feather plucked from Newport's cap.
One is another big-time residential development, the new Vue 180 luxury apartments on the city's riverfront. "Those are really nice apartments down on the river," Fromme said. "Our druthers is to have condos, but the way financing goes on condos, that's not going to be a viable development for at least the next couple of years. That is our long-term plan. We would rather get into ownership than the apartments."
But the new apartment developments will more than do for now. They are expected to bring hundreds of new residents to a city ready to welcome them for living, working, and playing.
Even when a stroke of bad luck hit Newport, the city responded aggressively. One of its signature businesses, Trauth Dairy, was purchased by a larger company and then the Downtown plant closed. 
"That was a major hit," Fromme said of Trauth, one of Newport's top five payroll revenue sources. "We were almost in panic mode."
But then Nexigen, a computer services firm, moved its headquarters there. It started with fifteen employees and is prepped for growth, Fromme said. "Those are the kind of businesses we want."
And here they come.
Ethos Laboratories got its hands on a former beer warehouse at Sixth & Monmouth Streets and turned a 1970s building that was somewhat out of place in a historic district into a more inviting workspace to host its new home. "It never fit Newport's Downtown corridor," Fromme said. "It was a 1970s warehouse plucked in the middle of the street. Of course, at the time it was an improvement to what was there."
Ethos installed windows and now natural light flows into the research facility. "I hope they will do some public tours because they really made some investments down there." There will be eighty employees on site eventually, Fromme said.
Another vacant, unattractive building got new life in 2013, too, when Baynum Painting renovated and occupied the former auto body shop at Tenth & Saratoga Streets.
Other new attractions in Newport include Little Nashville, a music bar that can host up to four hundred guests and that expects to attract talent from Music City. Ei8ht Ball Brewery will open next to the Party Source in Bellevue. Saint Elizabeth is expanding into Newport, and PL Marketing, which counts Kroger among its top clients, now occupies space in Riverfront Place. "They have grown much faster than we anticipated," Fromme said of PL. "They are way over our projections when we first brought them in."
The Newport Pavilion, a suburban-style shopping destination in the middle of an urban area, is 95-percent leased, Fromme said. To accompany Kroger and Target, new destinations like Dick's Sporting Goods, BW3, Chipotle, Panera, and Chick-fil-A, are open for business. A TJ Maxx will soon follow.
All in all, seventy-two new businesses opened in Newport in 2013 and the city saw a net gain of six hundred jobs.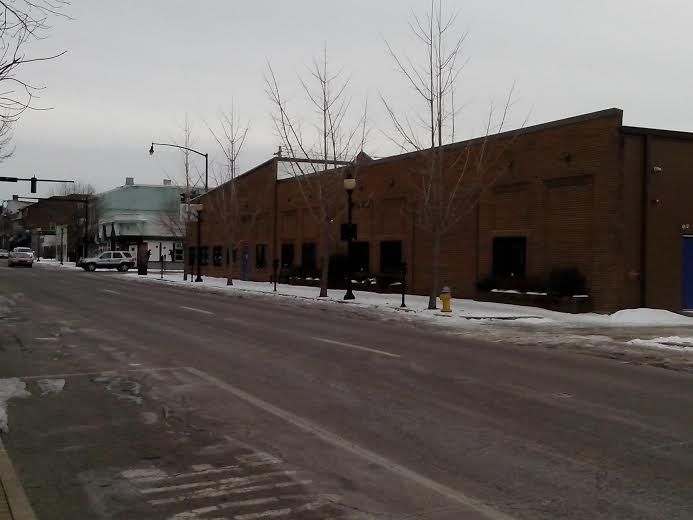 New home of Ethos Laboratories
As 2014 gets underway, the city's momentum is expected to continue.
A $40 million hotel, residential, and commercial development will commence adjacent to the Levee. New Riff Distillery will open in April near the flood gates on Cowans Drive.
A state project will see the expansion of the Route 9 corridor, a job that could finally jumpstart the long-hoped-for Ovation mixed-use development on the riverfront. "I meet on a regular basis with representatives from Corporex (Ovation's developers) and they are actively marketing the site," Fromme said. "They feel the economy is turning out. Once the state decides what it will acquire on that corridor I think we're going to see some things moving on that site down there without a doubt."
"I think that's going to be a major advancement for the city as a whole."
"We've been fortunate enough to recruit some new businesses into the city that should be announced soon," Fromme added, noting that the total would be more than two hundred "nice jobs, not minimum wage jobs". Fromme couldn't be more specific but, "I think they are exactly what Newport needs," he said. Newport will continue to seek tech industry businesses. "It fits our geographic limitations. We're not a big city. We don't have large swaths of land like Boone County. Most of our building in the future is going to have to be up."
A related goal is to rid the city of many of its surface parking lots.
Mayor Jerry Peluso called 2013 one of the most successful in Newport's past ten. "Hopefully those things will come to fruition and the momentum will continue," the mayor said.
The city commission took a step toward maintaining momentum on Monday when they hosted a public hearing on a possible tax increment finance (TIF) district.
"This is the beginning of a culmination of many years of looking into the viability of a TIF district," Fromme said. Newport's comprehensive plan and the city's vision has always included the development of a welcoming corridor from Covington into the city, the city manager said.
Now an "information corridor" is envisioned, which lines up with Newport's desire to attract more technology-oriented companies.
Fromme said he is advocating for more underground utilities and fiberoptics.
A TIF district involves a designated area of a city where a percentage of property tax collected from the increase in value of those properties is reinvested in that specific area. The possible TIF in Newport would run along Fifth Street from the Veterans Bridge to the first block of Central Avenue over to Columbia Street and then drop over to Fourth Street next to the Ovation site. The properties in that area will be assessed based on their 2012 value and eighty percent of any increase in that taxable value, and only the increase, would be reinvested for economic development purposes.
"Since there is significant construction mainly due to Route 9 work, here is our opportunity to make serious improvements to this whole area," Fromme said. New sidewalks, street lighting, underground utilities would all be on the menu.
"It gives us a remarkable once-in-a-career opportunity to make major improvements," Fromme said.
Revenue from a TIF could also increase the amount of incentives available to possible new businesses.
"The way I look at the creation of the TIF is it's another tool in our economic development toolbox," Fromme said. "We're in competition and I don't personally care for incentives from a personal point of view, but it's a way of life, considering we are in the center of the Greater Cincinnati region and every community around us is offering incentives for businesses.
Newport has a budget of about $15 million and roughly eighty percent of the city's revenue is gained through commercial businesses, Fromme said. 
"If we're not competitive then we are going to be out of business. That's why I believe in having potential incentives we could offer," Fromme said. "Nobody's been beating down the door to buy in this corridor at Fifth Street. There are vacant lots there. How long have they been vacant? I can't remember when they tore down the building across from White Castle. Twenty-five years ago? That property's been sitting empty for twenty-five years and I'll be honest with you, I don't remember anyone coming to my office proposing to do anything with that property."
"This area will not develop without public assistance," Parsons said.
"This is not a giveaway to large businesses," City Commissioner John Hayden assured those in attendance. "Everything the City makes today that comes from this area, we will continue to get those funds and they will be used for your police and fire."
"This will get a lot of projects going. ... We're looking to improve things all over town. We're going to see substantial benefit all over town as a whole."
With Covington losing Omnicare and The Nielsen Company and Newport losing Humana to Cincinnati, Fromme estimated that the two cities lost a combined $2 million in payroll tax revenue.
"We need as much help as we can get and hopefully we move forward on this."
Discussions on this topic and the planned developments all over town will continue at the city building, a place that Fromme said played a physical part in jumpstarting Newport's renaissance.
The City moved its operations from Fourth & York Streets and constructed a new building at the southern end of Monmouth Street. The Campbell County Fiscal Court later followed with a new building of its own. Now the street is a regional attraction.
"If City Hall hadn't made this jump you wouldn't see the Monmouth Street we have today," Fromme said.