Xavier Production Explores Anti-Gay Bullying
Mon, 02/10/2014 - 07:47
RCN Newsdesk
Written by Jackie Demaline, RCN contributor
Two thirtysomething buddies, Ethan and John, are watching the Academy Awards.
The Oscar for Best Screenplay goes to a drama about a gay teen who is bullied and commits suicide. In 
his acceptance speech the screenwriter calls out the bully by name – it's Ethan.
The play is Michael Perlman's "From White Plains," which gets its Cincinnati debut this weekend and 
next at Xavier University, playing Feb. 14-22 in the Gallagher Student Center. 
As part of Xavier's new theater degree program, guest director Craig Wesley Divino, co-artistic director 
of New York's Fault Line Theatre, is resident artist. Fault Line Theatre developed the play and premiered 
it off-off-off-Broadway – so successfully that it was quickly presented off-Broadway.
"From White Plains" is currently playing in Chicago after Boston and Ithaca with more theaters across 
the U.S. showing interest.
Why the wide interest? "From White Plains," is topical, but it's more than that, Divino believes. "It's 
about taking responsibility for who you were and moving forward to who you want to be."
The play follows four men, straight and gay, as it examines how male relationships change as boys grow 
into men and asks who speaks for a victim of bullying when he is no longer here to speak for himself. 
Divino quoted the play's tagline -- "Just because it gets better doesn't mean it didn't happen."
All the while, their attempts to confront past actions and move beyond them are aided and frustrated by 
social media and viral videos.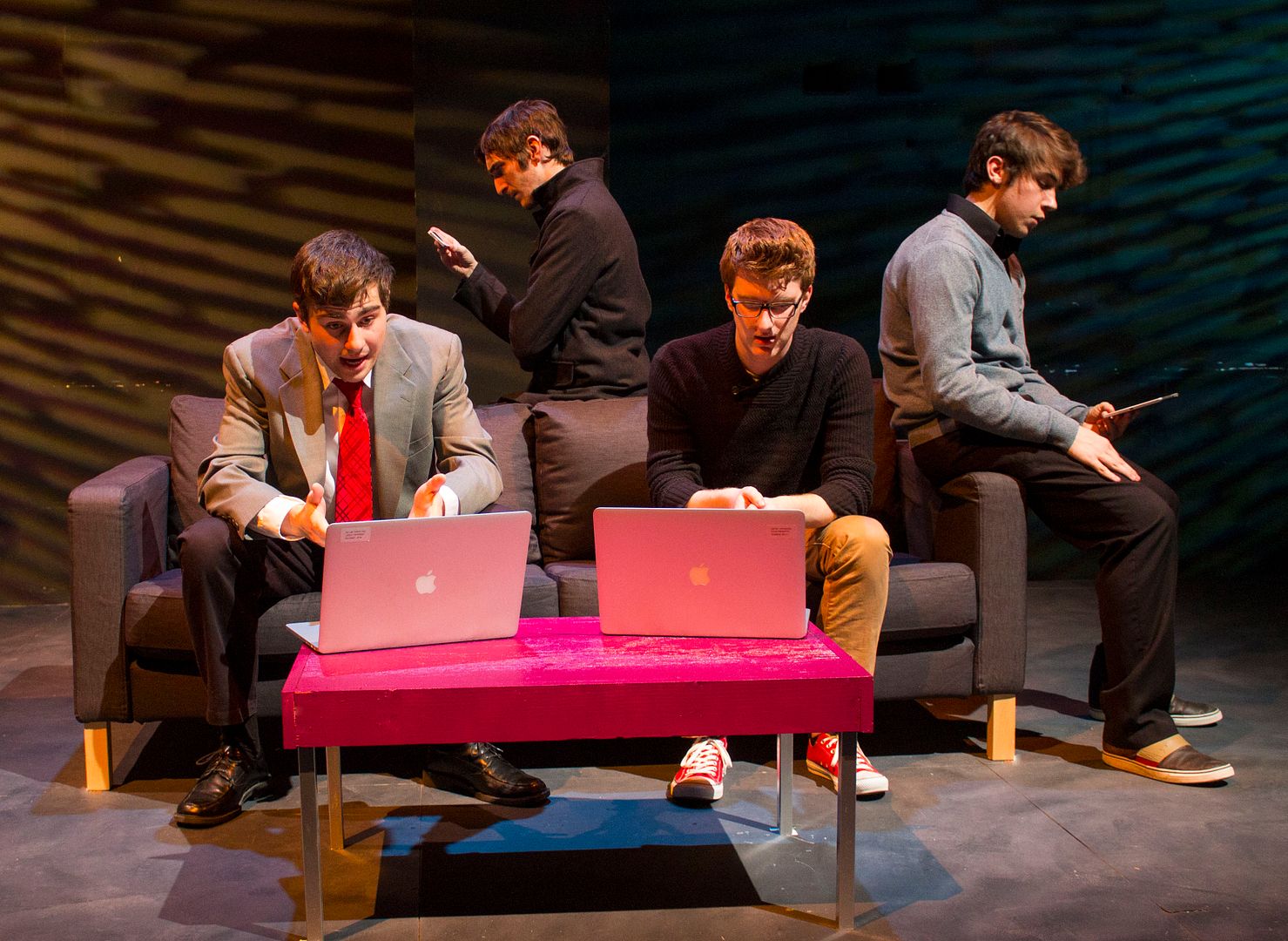 It's purposely set just outside New York City – "suburban, middle-class, both universal and specific," 
Divino said. The location anchors the play, which unfolds in a series of two-actor scenes, to the reality 
that what happened here could happen anywhere. 
All those things are what made Stephen Skiles, Xavier's Director of Theatre, want to do the play. "It's so 
intimate in the way it deals with the subject matter."
The performance is intimate, too, with the actors and audience together on Xavier's main stage in the 
Gallagher Student Center. (The theater's auditorium is hidden on the other side of the stage curtain.)
The commitment for Xavier to produce "From White Plains" this season was actually made before the 
other beyond-New York theaters signed on. 
Divino and Skiles were appearing together in Cincinnati Playhouse in the Park's "A Christmas Carol" in 
2012. When Divino mentioned the play, Skiles asked to read it. 
When he did, he immediately wanted to produce it at Xavier and give students not just the challenge of 
the material but the opportunity to work with a New York professional actor/director. 
Divino is enjoying re-investigating "White Plains" with a cast much closer to the age of the characters 
as teens. And, he noted, as part of the learning experience, while the performers and designers are 
students, "We're running it like a professional production."
Single ticket prices are $15 for adults, $10 for seniors and all students. Tickets are available at the Xavier 
University box office website:
www.xaviertheatre.ticketleap.com/whiteplains
or by calling the Xavier 
box office at 513-745-3939. Box office hours are Monday-Friday from 1-6 p.m.
Photos: (Top) Sean Burlingame and Patrick Phillips; (Center) Patrick McWilliams, Patrick Phillips, Sean Burlingame, and Mac Blais