City Leaders, Employee Unions React to Auditor's Exam of Covington Finances
Thu, 02/13/2014 - 16:00
RCN Newsdesk
"I felt personally betrayed, the same way you'd feel if it was a spouse or close relative. You feel betrayed that they are in no way the person you worked with every day."
Covington City Manager Larry Klein described Thursday what he felt the moment he learned that his colleague, former finance director Bob Due with whom he had worked closely and publicly on budget proposals and other initiatives, had apparently been stealing from the city.
The findings from an examination conducted by the Kentucky Auditor of Public Records discovered that Due allegedly pocketed $793,000 over twelve of his fourteen years at City Hall.
After Auditor Adam Edelen announced those findings, Klein took to the podium and multiple city staffers got up from their seats and positioned themselves behind him.
"My mistake might have been trust," said Klein, the chief executive of a city's staff that, according to Edelen, did not have proper accounting procedures in place, allowing Due to make off with hundreds of thousands of dollars without being questioned for a dozen years.
"Every person up here that works for the City has an amount of the public trust invested in them," Klein said. Due has that trust and more. "Mr. Due was something of an institution."
Edelen referred to Due as an institution, too.
"He was not the person that we believed him to be," Klein said.
Since the revelation of Due's prolific transgressions last August, Klein has directed the City in an aggressive effort to install new safeguards, to go after all the missing funds, and to fill positions that Due had opposed for years.
"This is the end of a thirteen year debacle, a game of musical chairs," Klein said. "The music stopped on our watch. We accept that the buck stops here. It happened on our watch. It was discovered on our watch and we will fix it on our watch."
Klein's watch may not be long for this world, according to City Commissioner Steve Frank. "Larry is on a slippery slope," Frank said after the news conference.
Frank said that while basic procedures were not in place he has been impressed with Klein's reaction to the events of last August. He also applauds the city manager for carrying forward former Mayor Chuck Scheper's vision for the city.
But, "That may not be enough for me to retain faith in our city manager."
No one other than Due has been fired since the alleged theft was uncovered and Kenton County Commonwealth's Attorney Rob Sanders said Thursday that he does not expect anyone else to be charged criminally.
Sanders has a unique perspective in this case as he was a Covington city commissioner prior to being elected as the county's prosecutor. His time at City Hall was concurrent with some of Due's alleged illegal activities.
"It's very tough for any commissioner to have caught this," Sanders said. "I don't know if I ever set foot in the finance office (while on commission)."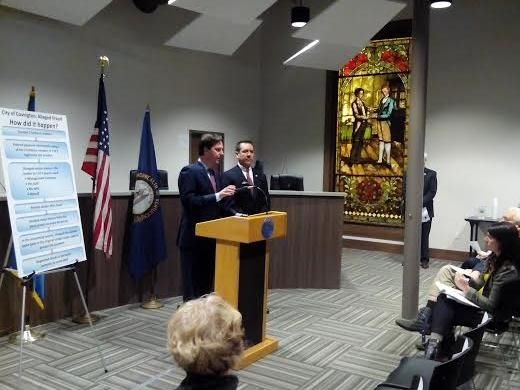 He said the finance director's primary job would involve dealings with the city manager. "It's very difficult I think, to expect a commissioner to be that involved with a particular department."
Sanders said that had he known two live signatures were not required for authorization of checks, he would have worked to change that. Covington's system allowed for automated signatures in Bob Due's scheme that was mostly conducted after hours in a process that involved fake vendors, deleted financial history, and Due's own bank accounts.
"City commissioners are not and should not be that hands-on that they would ever see the checks," Sanders continued. "I think it comes down to who actually had the hands-on, who was actually working with Mr. Due day in and day out."
Meanwhile, both the police and fire unions in the city commented publicly Thursday. Both were long at odds with Due and Klein during intense contract negotiations in 2011 that required health care concessions from their members. In 2012, the departments were asked to cut $500,000 from each of their budgets.
"This theft resulted in the reduction of services to the citizens of Covington," the Covington Fraternal Order of Police (FOP) said in a statement. "Although short-staffed, because of this, every member of the police department stepped up to the challenge to ensure that the safety and quality of life was maintained for our citizens. The Fraternal Order of Police wishes to that the services robbed from this city are restored. Our officers have fought hard to keep this city together and we will continue to fight to keep the streets safe. However, our staffing levels are near those of the 1980s and with the officers trying to battle the current heroin epidemic, it is essential that the services be restored so the citizens of Covington can enjoy this historic and beautiful city."
"The budget road shows were based on false information," said Jimmy Adams, president of the International Association of Professional Firefighters Local 38, in reference to the presentations Klein and Due conducted all over town to express the need for employee health care concessions. "We knew where large amounts of money were going and we were made to be scapegoats."
Former fire chief and attorney Buddy Wheatley asked Klein if information had been withheld during contract negotiations with the firefighters union in recent years. Klein said all information requested was presented. 
Commissioner Frank argued that the amount Due is accused of stealing took place over so many years that "it would not have moved the needle" in the city's budget when the bottom nearly fell out in 2011.
Edelen also said the city acted swiftly to tackle the immediate issues surrounding Due's alleged theft. "One thing I want to say is I don't think the City permitted any grass to grow on this," the auditor said. "I would describe the city leaders as frankly shell-shocked and with a real sense of personal betrayal."
"A number of people told me personally that they just thought if you looked at every employee in city government, they would think Mr. Due would be the last one who would do a crime like this. It speaks to the depth of his deception."
Edelen also said that because of the lax oversight of the finance department, Covington is lucky that more money wasn't stolen.
Mayor Sherry Carran highlighted some of the steps taken to fix those faults, including the hiring of a new finance director, an assistant finance director, an internal auditor, and a new technology-oriented employee in the finance department.
She said she is grateful for the auditor's report as it will serve future leadership at City Hall. "This administration is not always going to be here," the mayor said. "There will be a change in the commission and management and staff. Now this auditor's report will be a guide for future administrations as far as best practices."
"I'm pretty confident that the procedures we're following now will prevent this from happening again," said Commissioner Michelle Williams. "I'm still shocked about it all."
Story & photos by Michael Monks, editor & publisher of The River City News