Sheriff's Deputy, Former Teacher & Covington Officer, Returns to Schools
Fri, 02/21/2014 - 07:54
RCN Newsdesk
Kevin Sumner spent four years at Covington Independent Public Schools as a teacher and then sixteen years as a Covington Police Officer.
After retiring from the police department in 2013, he joined the Kenton County Sheriff's Office in December as a deputy and will now use his career skills in education and law enforcement together.
Sumner is the sheriff's department's school resource officer for Covington's elementary schools.
"It's good to have a positive interaction with the kids and to be a good role model and to undo any negative stereotypes of law enforcement that some of the kids may have," Sumner said Thursday at John G. Carlisle Elementary School.
His experience as a teacher sets him apart from other school resource officers because he has a better understanding of classroom management and other issues facing educators during the day.
"It gives me the opportunity when I'm in the schools to have a better idea of where I fit in without being a distraction," Sumner said.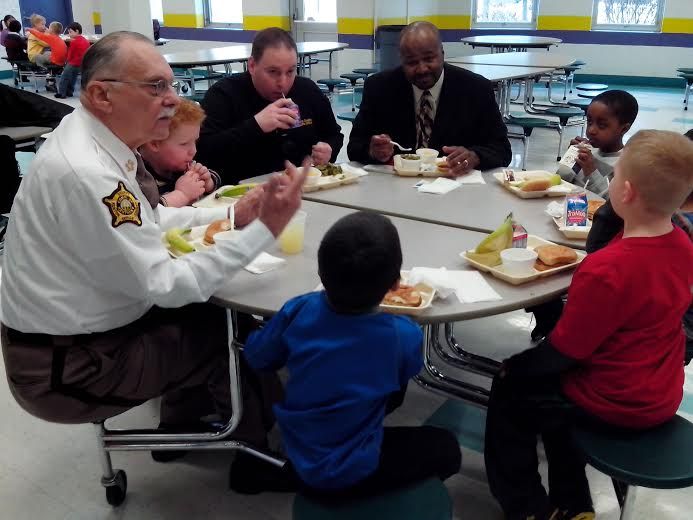 He will spend one day a week at each of the district's elementary schools.
John G. principal Joy Collins said that so far Sumner has spent time answering questions from children about his profession. He was a stop at a recent career fair the school hosted for its kids. "We want him to be a good role model and to connect with kids about law enforcement," Collins said.
"We believe Sumner's interactions with our students as a role model will go a long way in establishing 
positive relationships with police officers,'' Superintendent Alvin Garrison said.
Garrison joined Sumner and Kenton Co. Sheriff Chuck Korzenborn for lunch at the school on Thursday.
The Kenton County Sheriff's Office provides school resource officers to the school district where officers have been placed in the middle and high schools for years. In January, the district added an officer at the elementary level.
In addition to spending one day a week at each school and serving as a role model, Sumner will help the schools maintain a safe environment, work with teachers on lessons showing how specific subjects are needed to be a police officer (he recently used an example of car accident reconstruction and the math it requires), review emergency plans, and eat lunch with students.
Story & photos by Michael Monks, editor & publisher of The River City News