Man Accused of Shooting at Covington Police During 20-Hour Standoff Speaks from Jail
Wed, 02/26/2014 - 07:03
RCN Newsdesk
Days before Christmas, Michael Vaughan was holed up in his Michigan Avenue home for twenty hours, surrounded by SWAT officers from Covington and other local cities.
Officers originally responded to the Latonia street after receiving word that Vaughan, 43, had threatened to harm himself.
When the military veteran spotted the officers, police say he fired upon them prompting the standoff that spanned a Saturday and Sunday and involved three of Vaughan's children for most of that time.
When it was all over, Vaughan took a bullet to the shoulder and was removed from the home just as smoke started to billow from it. Police say he set the house on fire. They also say it possibly wasn't the first house he set on fire as they have named him as the top suspect in a January 2013 fire that left his former father-in-law dead.
Vaughan has not been charged in that case but is currently in the Kenton County Detention Center held on a $250,000 and facing an attempted murder for allegedly firing upon police.
He and his attorney Chris Roach invited the media to speak with him at the jail on Tuesday morning after Vaughan penned a six-page missive detailing what he insists was the military's misdiagnosis of post-traumatic stress disorder that he claims to be suffering from after a violent tour of duty in Afghanistan.
"I will also discuss how the KY National Guard refused me medical and mental health evaluations and treatment, how the KY National Guard's actions aggravated my mental health conditions, and how the KY National Guard lied to US Senator Rand Paul and a federal court," Vaughan promised in the piece he distributed to reporters through his attorney. He claims to have written it himself from behind bars.
But as he claims combat injuries and a resulting mental health deficiencies related to the battle, the National Guard has previously gone on the record dismissing his claims.
Those claims include being wounded in a 2008 skirmish in Afghanistan when he and other soldiers were, as he tells it, attacked by a hundred Taliban fighters. He was later treated back in the States, he documents, for injuries suffered to an ear and an eye.
Vaughan said Tuesday that he has spent four years trying to get an evaluation for PTSD and a mild traumatic brain injury.
In 2009, he was investigated for sexually harassing a female to whom he had sent threatening e-mails and with whom he had a sexual relationship while still married, according to court records. In 2010, Vaughan's security clearance was revoked and his federal recognition was withdrawn. A federal court upheld that decision in January 2013 when it dismissed Vaughan's lawsuit against the Kentucky National Guard.
Vaughan claims that the woman made false allegations against him because he refused to leave his children and that because he had "evidence that a superior officer was mishandling classified information", the National Guard used the opportunity to end his military career.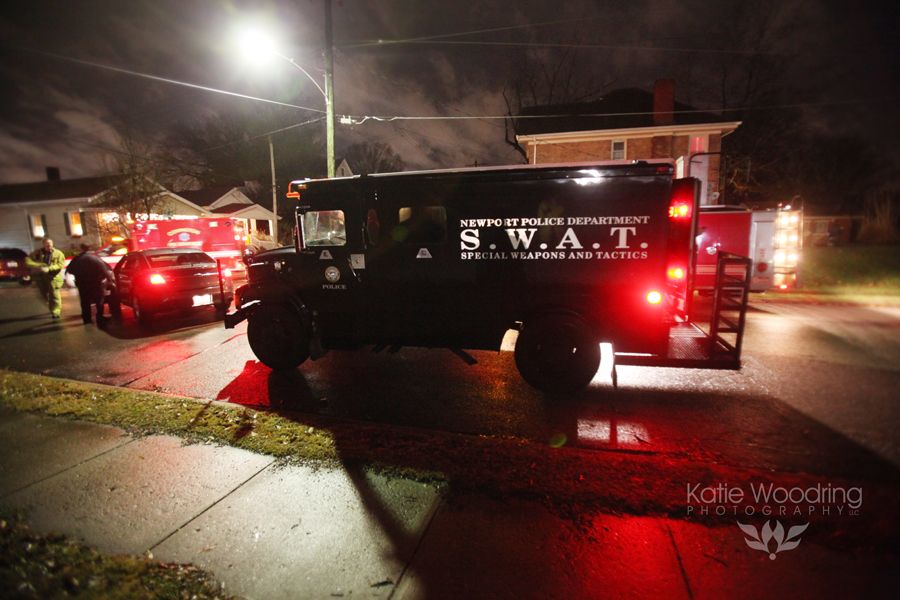 He said that if he had gotten the help he requested he wouldn't be in the Kenton County Detention Center where he sat down with The River City News on Tuesday.
"I was in the process of going to start PTSD therapy with a civilian (doctor)," Vaughan said, adding that the appointment was set for a couple days after Christmas. He was taken into custody three days before that holiday.
Vaughan had posted on Facebook on December 21 that he had nothing left to live for, a reference to trouble in his relationship with a girlfriend. In the hours that followed, Vaughan offered nearly continuous updates on the social media site for several hours as police surrounded his home. He now says that his girlfriend was not the cause and was "a victim more than anything".
"She was not the problem. She was trying her best to help me," he said.
By the time he agreed to release his children (ages 15, 11, and 5) from the home, he had reached a deal with police that he would be allowed to make a phone call. The call went to his girlfriend, Vaughan said. 
Since that day, he has had no contact with his children.
"I said goodbye to them," he said. He expected to be killed or to kill himself after their release, he said.
For most of the twenty-hour standoff, his kids were with him in the basement on Michigan Avenue. "The kids slept through it. ninety-percent of the time they were sleeping in the basement," he said. "My daughter was holding my hand."
Why he waited so long to release them was related to his 15-year old son's autism, he said. "My concern was, I couldn't let him go out at night and see all those police," he said. The children were let go from the house early in the morning of the standoff's second day, "as soon as it was daylight".
If given the opportunity to speak to his children, Vaughan said he would tell them, "Daddy's trying to get help".
Long before any police showed up in Latonia, Vaughan's mental struggles were evident, he said. Paranoia drove him to screw shut multiple doors at the home.
Though he was actively engaged online with the public during the standoff, even accepting new friend requests after shots had been fired at the scene, Vaughan said he just "went into automatic mode".
"I wanted to protect my kids," he said. "It just exploded," Vaughan said of the attention his social media and phone were getting.
The PTSD he claims to suffer from did not affect his focus, he said. "If I gave someone a rufie, they're conscious of what's going on. Doesn't mean they'll remember."
Meanwhile, he maintains that he never shot at police. 
"I'm not saying I'm innocent. I'm not making any statement at all," he said. "What I'm saying is, I want to keep this from happening to others."