Covington Endorses Fairness Bill as New Group Seeks to Spread Equality in NKY
Wed, 03/05/2014 - 09:11
RCN Newsdesk
The Covington City Commission unanimously passed a resolution on Tuesday night endorsing the passage of House Bill 171, a piece of legislation before the General Assembly that aims to protect gays from discrimination in housing, employment, and accommodations.
Mayor Sherry Carran will testify in support of the bill before the House Judiciary Committee in Frankfort on Wednesday, the first time the bill will receive a hearing in fifteen years of attempts.
Covington adopted a human rights ordinance in 2003. "It's made a significant difference in the city," Carran said. "I believe it has made our community more welcoming and it's really made us a very appealing community for large businesses to locate here."
The mayor said that large businesses often have human rights on their agenda while scouting locations. "The value of being respectful to all folks is very important, so this has been a very important move for the city and I believe it will be a very importance move for the state," she said.
Local chapter of state fairness organization forms
A group of activists hope to see more Northern Kentucky cities adopt legislation similar to Covington's.
NKY Fairness, a new effort from the people behind Northern Kentucky Pride, will host a launch party and informational meeting on Friday at Rosie's Tavern in Mainstrasse Village.
The group will operate as a partner organization of the statewide Fairness Campaign which has successfully pushed to double the number of Kentucky cities with such ordinances. That list now includes Covington, Louisville, Lexington, Frankfort, Moreheard, and Vicco.
"We were thinking about what makes Northern Kentucky great and it is because we have a lot of allies and we have a fairness ordinance in Covington so we saw that as an opportunity to expand beyond Covington and so some positive work in Northern Kentucky as a whole," said organizer Bonnie Meyer. "That led to conversations about additional fairness ordinances in the river cities. We saw this last year with Vicco and Frankfort passing ordinances and most recently Morehead, and it just goes to show them that Northern Kentucky being as progressive as we are, we have a ways to go and we want to concentrate efforts on that."
Meyer is director of LGBTQ (Lesbian, Gay, Bisexual, Transgender, and Queer) Programs and Services at Northern Kentucky University in Highland Heights, another city that may be pushed to pass such an ordinance, she said.
"Here at NKU my students are protected when they live on campus, but the minute they move off campus they are not," Meyer said.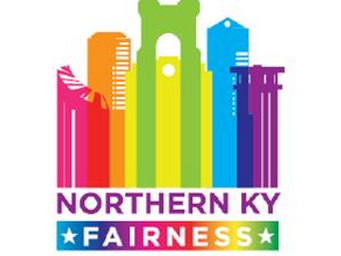 NKY Fairness, after collaborating with The Fairness Campaign and the Kentucky chapter of the American Civil Liberties Union, decided to expand its mission beyond the annual pride festival which will now serve as its large yearly event instead of being its primary focus.
"Pride Fest is now a fundraiser for Fairness and will be our largest event of the year," Meyer said. "We don't want this to be the only event that we do." She said the new organization will create events throughout the year to raise awareness and funds for fairness initiatives.
NKY Fairness will also be looking to get individuals involved from other Northern Kentucky cities outside of Covington. "We're getting stakeholders from other river cities involved. We've talked to Bellevue individuals because we know we have some allies in Bellevue," Meyer said. 
She added that she thinks it's surprising that no other nearby cities have passed fairness ordinances since Covington did more than ten years ago.
"For us, it's about getting this conversation started and getting state support involved in those conversations and then opening it up to the entire Northern Kentucky community," she said.
If you go: NKY Fairness Launch Party & NKY Pride Fundraiser, Friday, March 7 from 6 - 9 p.m. at Rosie's Tavern, 643 Bakewell Street in Covington
Written by Michael Monks, editor & publisher of The River City News