Story & Photos: Cov Cath Beats Holmes, Wins 9th Region Crown
Tue, 03/11/2014 - 06:02
RCN Newsdesk
In a tense and physical championship game, Covington Catholic (29-2) took home the Ninth Region Tournament trophy after out-slugging Holmes, 56-51, before a near-capacity crowd at the Bank of Kentucky Center on Monday night.
Outside shooting came at a premium with both teams struggling mightily as they combined for a measly 6 from 48 from beyond the arc; at one point in the third quarter, Holmes had gone 0-13. A lot of this came from the ice-cold shooting touch displayed by the otherwise prolific scorer, Holmes' guard James "Beetle" Bolden, but most of the credit goes toward the 3-2 zone played brilliantly by the Colonels.
Cov Cath head coach Scott Ruthsatz confirmed that the zone was designed to limit the effectiveness of the Holmes' guard play, specifically their superstar.
"We wanted to contain Bolden moving toward the basket," Ruthsatz explained.
The plan seemed to work perfectly as both Bolden and backcourt mate, sophomore Markel McClendon, heaved miss after miss from the outside. Bolden himself ended with 16 misses from three-point land while McClendon went 0-6.
The Bulldog senior big men were the only true bright spot on the evening for Holmes offensively as forward Marcus Hill and center Quinton Chames combined for 29 points and made many timely baskets to keep hope alive. Hill often found open opportunities around the free-throw line where he had the choice to either shoot an open shot or lob it to fellow high-flyer, Chames. The pair were able to do this consistently, but Ruthsatz acknowledged that it was a natural byproduct of his zone.
"We were okay with it," he said of the open looks for the opposing big men. "We didn't rotate quite as well as we wanted and we didn't want it to be that easy, but we were okay with it."
It worked from the start, as Holmes found it difficult to hang around early without their star living up to his high standards. Bolden finished the first half 1-8 and never looked comfortable throughout. He finished with 15 points, on 6-25 shooting. At halftime, the Bulldogs were lucky to only be down, 28-20.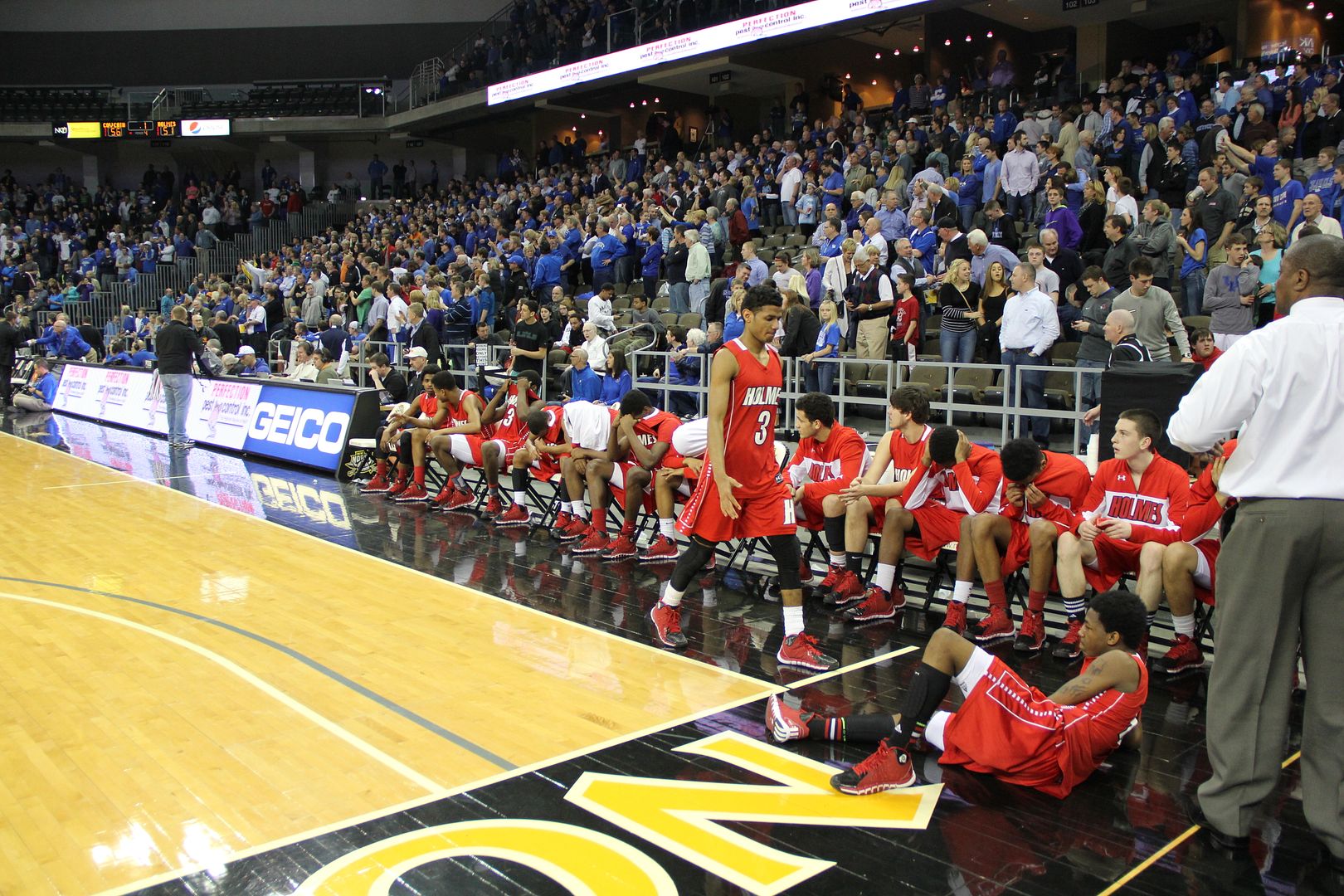 Offensively for Cov Cath, it was their senior leader, point guard Nick Ruthsatz, that led the charge. Ruthsatz was sparkling from the start with crisp, excellent passes for wide open baskets, three-pointers and a showing of ridiculous english off the backboard on layups. He stuffed the stat sheet with a game-high 24 points, five rebounds, five assists and two steals. His court presence, awareness and general hustle highlighted a championship effort.
"Nick's a warrior," coach Ruthsatz said about his son and point-guard. "He wasn't gonna let this one get away."
Holmes (28-5) did put the game in question, though, with a 17-8 third quarter, giving them the lead after Bolden beautifully scooped one in with his left hand on a break. After a back-and-forth start to the fourth-quarter, the Colonels found themselves up four points and with the ball after a costly Holmes turnover. From there, Cov Cath was able to make eight of ten free-throws and withstand a very late-blooming Bolden who managed to breathe one last gasp into his team with five points in the last minute. Once Nick Ruthsatz knocked down his last two free-throws, though, the Rupp Arena chants began among the spirited Colonel student-section, and the region was theirs.
Covington Catholic will take on Clay County in the first-round of the 2014 Whitaker Bank/KHSAA Boys Sweet Sixteen Basketball Tournament on Thursday, March 20, at 8pm at Rupp Arena. 
Story by Bryan Burke, RCN contributor
Photos by Brian Frey, RCN contributor