Man Who Led Carnegie During Leaner Times Returns as Director of "Harvey"
Tue, 03/18/2014 - 07:34
RCN Newsdesk
During his decade of producing shoestring theatre in a proud but dilapidated auditorium, 
impresario
Buz
Davis could only dream of the day he might return to find that hall had received a multi-
million dollar renovation, and that he was once again at the fore of creating captivating theatre there. That 
dream comes true this spring.
Davis returns to The Carnegie in Covington as director of the 2013-14 season's final show, Harvey, the Pulitzer-prize winning comedy made famous on the big screen in a picture that starred Jimmy Stewart. For The Carnegie production, some of Greater Cincinnati's finest talent will be on stage. It runs from April 11 - 27.
Director Davis pilots the production in a hall much transformed since his tenure as 
theatre director there in the
1990s
. The balcony was condemned and piled deep with decades of refuse. A 
basketball would be thrown into the lighting grid prior to performances to scare off the bats. There was no 
air conditioning. Davis fondly recalls performing in a late summer show called "Sweat," which included the 
distribution of frozen washcloths at intermission.
Yet for all its flaws, more often than not audiences left the old theatre with a sense of wonder at what had 
been accomplished. Homemade improvements were devised, including a fly system for bringing scenery, 
lighting instruments and people on and off stage. The same actors performing one night would be selling 
concessions or running lights the next. The space was an early venue for Fahrenheit
Theatre
Company 
(which later became Cincinnati Shakespeare Company). It welcomed national acts like
Emmylou
Harris and 
housed the area's first regular series for staged readings and performance art, according to Davis.
"Devoid of niceties and rife with artists of all stripes, we produced magical theatre here, with no budgets, no 
HVAC, no carpets, old seats, donated and found curtains and supplies and volunteers from every walk of 
life," Davis said. "It was rarely comfortable, but always filled with engaging, entertaining, provocative stuff: 
hosting a handful of young
theatre
companies, local high schools, regional and national music acts and 
international organizations and producing a few things ourselves. This grand old lady of a room was packed 
and humming!"
Twenty-five years and a $2.5 million renovation later, the theatre is still special, a beautifully restored and 
technically superior performance space that retains many of its quintessential quirks.
"Now, the challenges are different," Davis said. "The holes are gone and it's very comfortable here. It is a pleasure to come home to the Carnegie and direct Harvey."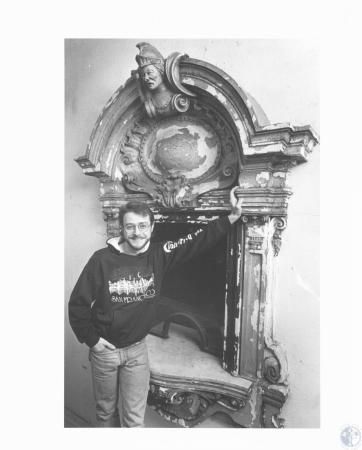 Buz Davis at the Carnegie box office in the early 1990s
(via Kenton Co. Public Library)
About the show and the cast
Amid its four-year, 1,800-performance Broadway run, Mary Chase's Harvey took the 
1945 Pulitzer Prize for Drama. But as with so many stage productions, it was the film adaptation that would 
truly catapult it into the national consciousness. The 1950 film of the same title starred Jimmy 
Stewart as Elwood P. Dowd, earning him an Oscar nomination and his co-star, Josephine Hull, an Oscar 
win for her role as Elwood's sister,
Veta
Louise Simmons. Stewart would reprise his role on stage in the 
1970 Broadway revival.
The recent 2012 Broadway run featured Emmy Award winner Jim Parsons (CBS's 
The Big Bang Theory) as Elwood.
A company of Cincinnati favorites will inhabit these starlit roles in The Carnegie's production, led by 
stage and screen actor Nathan
Neorr
as Elwood. Cast in films with stars including Nicolette Sheridan 
and in several national television commercials,
Neorr
returns to The Carnegie in a total reversal of his 
nefarious role as Herr Zeller in The Carnegie's January staging of The Sound of Music.
The role of 
Veta Louise Simmons will be played by award-winning
theatre
artist Regina Pugh, longtime favorite with 
Ensemble
Theatre
Cincinnati and a nearly twenty-year veteran of Cincinnati Playhouse in the Park's annual 
production of A Christmas Carol. Michael Bath makes his Carnegie
Theatre
Series debut in the role 
of sanitarium director Dr. William R.
Chumley
. Perhaps the area's most demanded character actor, Bath's 
resume includes award-winning credits at Ensemble
Theatre
Cincinnati, Know
Theatre
and as a company 
member with The Clifton Players, where he works frequently with HARVEY director
Buz
Davis.
Rising talents and Clifton's Untethered Theatre Company members Carter Bratton and Leah Strasser make 
their Carnegie debuts as young Dr. Lyman Sanderson and Nurse Kelly, who are horrified after mistakenly 
subjecting
Veta
to intensive mental therapy. Mike Hall returns to The Carnegie as the oafish orderly, 
Duane Wilson, along with Tom Manning (Judge Omar Gaffney) and Lisa
DeRoberts
(Myrtle Mae Simmons). 
Christina Jeans (Miss Johnson), Abby Rowold (Betty Chumley) and Martha Slater (Mrs. Ethel Chauvenet) 
each make their Carnegie debuts.
Photo: The Carnegie