Dysfunction of Kenton County Government Motivates Candidates
Tue, 03/25/2014 - 11:15
RCN Newsdesk
The next Kenton County Fiscal Court will be elected in the May primary because all of the candidates are Republicans.
But there is no harmony in the current government of one-party rule.
A clear dividing line that exists between incumbent Judge-Executive Steve Arlinghaus and his challenger, current Kenton Co. Commissioner Kris Knochelmann, also possesses an apparent presence on the campaign trail.
Often, Arlinghaus has the support of Kenton Co. Commissioner Jon Draud while Knochelmann is joined in many 2-2 votes by Kenton Co. Commissioner Beth Sewell. Each of the four current office-holders faces a challenge in the May 20 primary and two candidates are also seeking to fill the seat that will be vacated by Knochelmann as he pursues the county's highest office.
All eight candidates spoke during a forum hosted by the Kenton County Republican Women's Club on Monday night at the Edgewood Senior Center.
"The race we have right here boils down to two things," Arlinghaus, of Villa Hills, told the large crowd, "proven leadership and successes that you can talk about as a leader."
"When I was given this opportunity three years ago to serve you, I took it very seriously and what I encountered was some very scary things."
Arlinghaus detailed how, after winning election in 2010, a transitional meeting with the previous administration led by then-Judge Executive Ralph Drees revealed to him what he described as a $2.5 million deficit spending budget.
But there was more, he said.
"What they didn't tell me was, I was inheriting a jail spending $80,000 a month in overtime, or $1 million a year. They didn't tell me I was inheriting a golf course losing over half a million dollars. Obviously, I was a little taken aback because I didn't believe those numbers and I thought how in the world could those numbers be real."
"If I continued on the plan of following what the previous administration was doing," Arlinghaus continued, "I would have had to continue to raise taxes each year as your judge-executive. I didn't like that business model."
Arlinghaus attached the budget woes to Knochelmann, a county commissioner during the Drees administration. 
"My opponent was part of an administration that raised your property taxes the maximum allowed by law in 2007, 2008, 2009. I would venture to say he didn't raise your taxes in 2010 because it was an election year," Arlinghaus claimed. "We cannot continue to solve problems just by raising taxes."
The Judge-Executive also acknowledged Draud as "one solid supporter in my camp".
"With Jon's help we took that potential $1 million loss at the jail and turned it into a net savings of $550,000. We changed the general manager at the golf course. We still lost money this year but came within $12,000 of breaking even." He claimed that Knochelmann opposed a management change at the golf course.
"I look at the taxpayers first and what can we do to reduce the cost of government," Arlinghaus said.
He said that a number of management roles that did not exist when he was previously a county commissioner were eliminated and that millions of dollars were saved through the merger of the county and City of Covington emergency dispatch centers.
But how to fund the merged dispatch center has remained a consistent piece of the dividing line. Arlinghaus and Draud supported funding the merger through a surcharge placed on Duke Energy bills. Knochelmann and Sewell disagreed, predicting a potential costly lawsuit. The center is funded through taxes on property instead.
Knochelmann used the possibility of a lawsuit brought by Duke and the current state audit underway at the CVG Airport Board whose voting members are appointed by Arlinghaus and which has been scrutinized for spending on food, alcohol, and travel, and recently saw three members resign, as ammunition of his own.
"In my administration we're not going to have lawsuits, investigations by state auditors, three treasurers in three years and we're not going to be traveling around the country," Knochelmann said.
The race comes down to leadership, Knochelmann, of Crescent Springs, said, adding that the campaign would be "a tough one". He also challenged Arlinghaus's assertion about the budget deficit and his role in creating it.
"There is tossed around information about financials," said Knochelmann, who also pointed out his accounting degree from Xavier University. "When you have individuals who don't know how to look at numbers, facts are difficult."
Knochelmann claimed that at the end of his first term at the fiscal court in 2010, Kenton County was at its strongest financial posiiton in its history.
And, "We will finished at the end of this (fiscal year) with less in reserves than we did in 2010".
"I would encourage you to spend time and look at and talk about the facts and get past the hyperbole," Knochelmann said.
Similar arguments emerged in the race between incumbent Sewell and challenger Dan Bell, the mayor of Taylor Mill. They are running for Kenton County Commission - District 1.
"I brought nine Kenton County mayors to the fiscal court meeting asking them to put the fee on electric meters to pay for dispatch and that was voted down," Bell said. "If nine Kenton County mayors come to the Kenton County Fiscal Court and I'm on it, if it's legal we're going to do it."
"This is a critical time and we need a strong unified voice," Bell said. "In the ten years I've worked in city government I learned the progress we desire cannot be attained unless there is a strong voice for the people and a shared vision. Kenton County needs a commissioner with a passion for a better government and a commitment to progress."
He said the county needs a new spirit and a new drive. "I can supply that."
Photo: Dan Bell & Beth Sewell
Bell discussed the Taylor Mill Road widening project and noted that his efforts at working with legislators and lobbying in Frankfort helped expedite the project.
The road project, managed by the state because it owns the road, was not going to be completed until 2016 or 2017, Bell said. Much of the project is nearing completion now. "We could sit and do nothing or be proactive and do what we could," the mayor said. "Now we have a ten and a half million dollar building going up with more going up in the next year or so."
"That wasn't easy to do that," Bell said. "We had to go to Frankfort many times."
"During my public service, the people of Taylor Mill, we created a vision for them," the mayor said. "It requires someone willing to go lobby, to make consensus."
Bell noted his runner-up award for Elected Official of the Year, handed out by the Kentucky League of Cities during its annual convention in Covington last year. "In reality, it was given to all the (Taylor Mill) commissioners because we worked together to create the vision and that's what I intend to do if I'm a Kenton Co. Commissioner."
"I don't believe we have the cooperation going on to make that happen today and I think I can be a part of that and I'm seeking to be a part of that."
"Making a change at this time is unnecessary," Commissioner Sewell, of Covington, said. She described herself and her husband, Jeff, as civically minded and engaged people. "We're not just folks who show up for a few months out of the year because we want to get elected to office but because we're engaged."
Sewell described her three pillars of leadership as representative government, financial stewardship, and transparency, and then took aim at Arlinghaus and Bell.
"My opponent has allowed property tax increases," she said, claiming that Taylor Mill has the highest property tax in all of Kenton County. As for Arlinghaus's claims of solving a budget deficit, "We inherited a deficit from the previous administration. We've taken a beating over the last few years. (But) we changed our spending habits long before this administration came to be."
Meanwhile, "My opponent has been a struggle with his citizens, with a landowner over property rights," she said, referencing a property owner's desire to develop a UDF near the newly created Pride Parkway.
Bell pointed out after the forum that while there were difficulties for the property owner, the issue was resolved amicably. He also said that Taylor Mill's property taxes only appear to be the highest because they include fire and sanitation services.
As for the dispatch center funding, Sewell contends that Duke Energy would have sued the county had the fee been placed on energy bills. "My opponent would have supported this as a hidden tax and had it settled in our courts instead of through the legislative actions that I took," Sewell said. 
"The future of Kenton County is luminous but not without challenges," she continued. She called for more transparency, and a need to pay for the increasing cost of incarceration and road repair.
Sewell also said that the county has $26 million in its reserves, more than enough to start better addressing those issues and the heroin crisis and lack of treatment beds in the region. 
"The next team you elect needs to work together," Sewell said. "For those of you still considering, please consider my record and vote for the true conservative."
Meantime, incumbent Draud faces a challenge from political newcomer Amy Heeger who owns a farm in Piner. They both agreed to keep their particular campaign civil.
"I'm thankful that Mr. Draud is allowing this to be a respectable and kind race and we can go about this and tell people who we are," Heeger said. "I want to be able to make a difference and to be a voice is huge." She told the crowd that her mind may be a little foggy during the presentation because her family very recently had to admit her grandmother to a nursing facility because she suffers from Alzheimer's.
"To be able to make a difference and to be a voice is huge and I take that responsibility after this week (of making decisions) that are the hardest decisions I've ever had to make. I'm confident that I will be about to help my county, better my county. If I ever had a doubt,  I don't now."
Heeger, of Piner, said that her grandmother served on the Kenton County Board of Education for fifty-five years. "Our tires run true in Kenton County," she said of her family.
Draud, a former state legislator, superintendent of Ludlow Schools, and Commissioner of Education, said he ran the first time four years ago because after recovering from an illness, he essentially didn't have anything else to do, according to his wife, he joked.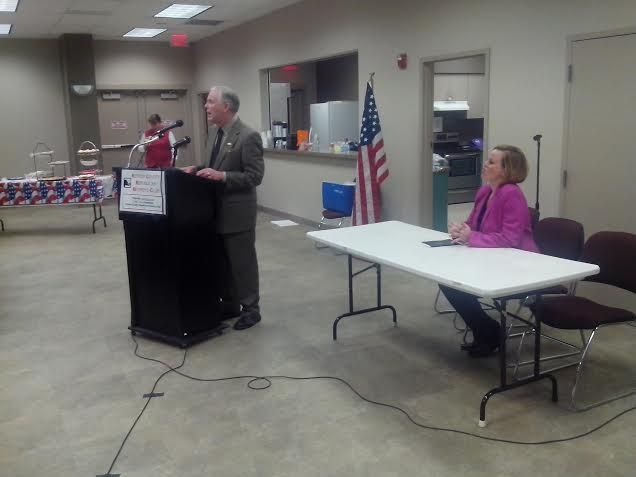 Photo: Jon Draud & Amy Heegan
This time is different for Draud, of Edgewood, however.
"I hadn't planned on returning but this time I'm running because I'm really needed," he said. "I think those of you who know me know I'm nt much of a politician. My main background is education. I do things my way and don't worry about the consequences."
He attributes the current dysfunction among members of the fiscal court to the 2010 race for Judge-Executive where Arlinghaus defeated then-Deputy Judge-Executive Scott Kimmich. "You had a bitter race for the judgeship and (Kimmich and his supporters) were good friends of mine but I felt whoever was elected, they deserved to implement their program," Draud said. "I try to be a peacemaker, thought I had good skills to get people to come together."
He said he has tried to get the "warring parties" at the current Fiscal Court to come together. "Those of you who follow our commission know there's been a lot of friction. I tried to give Steve an opportunity to implement his program and the other two commissioners were not willing to do that. They tried to undermine everything from the beginning and I'm sorry that happened."
"I don't have any personal animosity toward anybody. I just want a productive commission."
Draud and Heeger face each other for the District 2 seat.
The District 3 is an open race since Knochelmann is running for Judge-Executive. Ft. Wright Mayor Joe Nienaber faces businessman Joe Koester, owner of Herzog Jewelers in Ft. Mitchell.
While Koester said that he has helped Republicans get elected for the past three decades, he is making his first run for office.
He is a founding member of the St. Elizabeth Foundation, served on the Kenton County Republican Executive Committee for more than twenty years, was on the board at the Northern Kentucky Chamber of Commerce, chaired the Covington Catholic High School Foundation board, was appointed by former Judge-Executive Dick Murgatroyd to the board of the Northern Kentucky Water District where he spent five years as chairman, and was appointed by former Governor Eernie Fletcher to a state insurance board.
Koester is also a past president of a Kentucky retail jewelers association, spent ten years on a retail jewelers organization's board, and said he helped bring four conventions to Northern Kentucky.
"These are the experiences that will help me be an effective county commissioner," Koester said.
He also said that while a regional approach to combating the heroin epidemic is necessary, Koester believes that Kenton County should lead the way because it is the leader in the eight-county area development district. (The Northern Kentucky Area Development District is coordinating a regional heroin task force. While Arlinghaus and Draud want to let that process take shape, Knochelmann and Sewell have called for immediate action from Kenton County.)
Koester called for a former Drug Enforcement Agency officer or former FBI agent to serve as a local czar in the fight against heroin. "We have to eradicate heroin immediately," he said.
He also wants to see an improved county website, support for small business growth (including more tax incremental financing districts), better rural highways, and to protect the Fifth Street exist in the development of the Brent Spence Bridge corridor project.
Mayor Nienaber, owner of Granite World in Covington, said that he is seeking a county office, "because I want my parents to be able to go into their twilight and know they have me to have their back" and to ensure that his daughters know they have a future in a safe community.
Nienaber also wants to take aim at the heroin epidemic. "One prong missing on this heroin deal is, if you don't normalize people, people like me who hire people on heroin, if you can't have your record expunged, the cycle continues," the mayor said. "It's a huge psychological problem."
"I'm willing to do it and I've done it."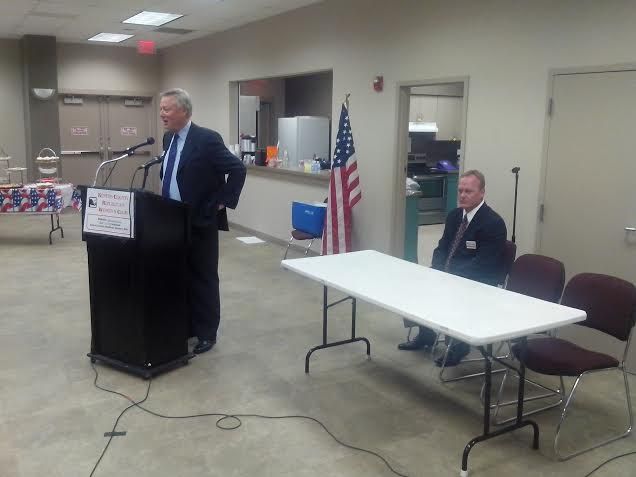 Photo: Joe Koester (standing) & Joe Nienaber
Nien
aber
has also grown his business and steadied his city's finances in a troubled economy. "I happened to buy (Granite World) at the worst time in the economy and also happened to become mayor," he said. The company has doubled its sales and Ft. Wright erased a $1.6 million budget deficit. "This July, (Ft. Wright) will be debt-free for the first time in twenty-six years."
Nienaber, a city council member for four years and mayor for six, said all capital improvements planned for his city will be paid for in cash.
He said his city has been able to make that accomplishment because of the respectful relationship the elected body has. "We do the work of the people and unfortunately across this county we read too often that there's not (more respectful relationships)," he said. 
"I promise the people of Kenton County I will bring my conservative values to that post and bring my record," he said, adding that he would do everything he can to make the sacrifice his family has made (his missing sport events or family dinners) over the past ten years worthwhile.
Editor's Note: A previous version of this article spelled Heeger's name incorrectly as "Heegan". It has been corrected and RCN regrets the error.
Written by Michael Monks, editor & publisher of The River City News