McConnell Challenger Turns Kenton Co. Event into Awkward Karaoke Night
Tue, 03/25/2014 - 17:55
RCN Newsdesk
The song We're Not Gonna Take It nearly reached the top 20 of the Billboard Hot 100 in 1984, the year Mitch McConnell was first elected to the United States Senate.
The song, made famous by the band Twisted Sister, and McConnell were intertwined again on Monday night at an unlikely spot: the Kenton County Republican Women's Club, thanks to a lesser-known McConnell challenger.
The club hosted a candidates forum at the Edgewood Senior Center which featured short speeches by those running for Kenton Co. Judge-Executive & the County Commission, county attorney, circuit court judge, sheriff, constable, and magistrate.
And United States Senate.
Technically there are five candidates running for the GOP nomination, including McConnell who is seeking his sixth six-year term in Washington. Mostly, media coverage has centered a McConnell race against Democrat and Kentucky Secretary of State Alison Lundergan Grimes in November, but Louisville businessman Matt Bevin has launched a noteworthy campaign from McConnell's right, complete with support from various "tea party" groups.
Bevin attended Monday night's event. McConnell didn't, but sent a letter that was read by former State Senator Dick Roeding who found walking difficult, and was forced to use a walker and the arm of Sheriff Chuck Korzenborn.
"I had a fight with black ice," Roeding said. "I tore my quads, on my right knee away from the bone and the tendon and I've been three, four weeks on this walker and another four weeks (to go) on it, but I have a lovely wife of fifty-five years and it's getting better."
Roeding called McConnell a friend of his and a friend of Northern Kentucky. McConnell's letter included the familiar themes of "Obama", "Harry Reid", "Obamacare", "liberals", and the relatively new addition to McConnell's narrative: his relationship with fellow Kentucky Senator Rand Paul.
"The good news is, despite our disappointment (in President Obama's reelection) we didn't give up the fight. Every day fueled by your support, Senator Paul and I, along with our Republican delegation in the House bring everything we have to turn back the liberal agenda."
"The American people are now convinced that Republicans should go ahead and be in charge of the United States Senate," McConnell said through Roeding.
"Regaining a majority in the Senate will allow us to start making the changes we need to start bringing our country back from debt and the growth of government. Rand and I have accomplished many things in this area," McConnell's letter continued.
McConnell's letter said that if the Patient Protection and Affordable Care Act, or Obamacare, is to be stricken from the books, a Republican majority is necessary in the Senate.
The reason the Senate Minority Leader has any challengers at all is because of Democrats, McConnell's letter claimed. "Democrats will do anything to win. Their last hope to stay in power is to divide us. Don't let them do it. A united Republican Party cannot be beat in Kentucky or anywhere else."
Roeding then spoke his own opinion. "Don't fall for the Democrat strategy to divide the Republican party. They have the power of the liberal press. Mitch never gets any good press. They don't allow it," Roeding said.
"We're going to take control of the Senate and Mitch will be president of the Senate," Roeding said, an error possibly connected to his days in Frankfort where the State Senate's leader is known as president. The president of the US Senate is the Vice President of the United States. McConnell, reelected with a Republican majority, would be Majority Leader.
Photo: Matt Bevin speaks as Dick Roeding is helped to a seat by Sheriff Korzenborn
Bevin, the wealthy Louisville businessman who wants to unseat McConnell before any potential battle with Grimes, said, "What's at stake in this nation does matter."
"If I were to ask you how you feel about where we are now, if you feel we're in a better place that we were a generation ago," Bevin asked. "This isn't a game. I'm not running for eighth grade popularity contest. You won't see me slandering or saying negative things about others in this race. You deserve to have issues discussed."
Though Bevin is originally from New Hampshire, he grew up in a small town with a large family. "We grew everything we ate on our own land. A three bedroom house for eight of us," he said. "We were raised to understand the value of hard work and strong Christian values."
Now he and his wife have nine children of their own, four adopted from Africa. "We went to a parish picnic up here in Northern Kentucky a couple months ago and never felt like such a slacker with only nine children," he joked. 
He is president of his family's bell manufacturing company and brought Monday's event's organizers a bell to use when it was time to cut him off. "I understand job creation," he said. "I'm the only one in this race raising a family in this environment, the only one that has served the nation in uniform, the only one that created a job that wasn't paid for by you."
But after Bevin and Roeding, and after all the local candidates, one final speaker took to the podium and hardly spoke at all.
Instead, she sang.
For four incredibly awkward minutes.
According to a January article in the Lexington Herald-Leader, Shawna Sterling, of Bethel, is a pastor and was a 2008 supporter of and organizer for Obama's first presidential campaign.
She walked to the podium from the back of the room, placed her laptop on it, put one microphone to her mouth and and another to the laptop's speakers, and started to play the familiar opening of Twisted Sister's We're Not Gonna Take It.
"We're not gonna take it/No, we ain't gonna take it/We're not gonna take it anymore," Sterling sang before unexpectedly continuing into the first verse.
And then the second verse.
And then nine repeated choruses.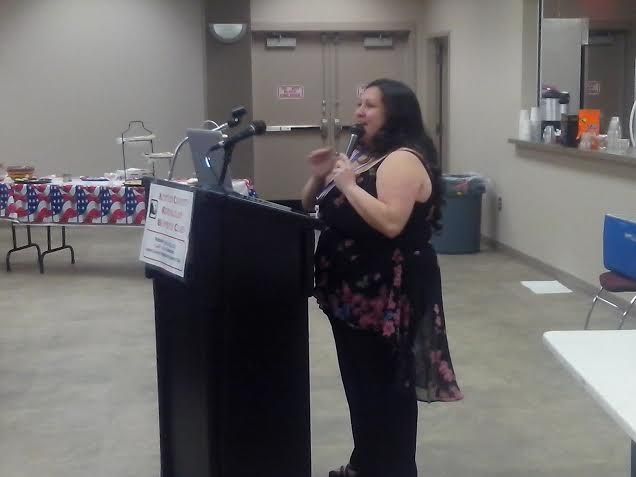 Photo: Shawna Sterling
Throughout the performance she heckled McConnell, calling him a "chicken" for not showing up Monday, and tapped Bevin with a few jabs, too, in anticipation of a scheduled debate on KET. 
"I'm sick of Mitch," Sterling said into the mic during musical breaks of her song. "Matt, I'll see you. I'll leave you alone tonight. I'll be your Huckleberry, Matt."
"He's not afraid," someone from the crowd shouted back at Sterling.
It was a rare moment of audience participation during the otherwise bizarre display. As Sterling continued to wail the lyrics to the 30-year old rock radio mainstay, the crowd full of active Republicans and current elected leaders stared back at her stone-faced, or in disbelief, or struggling to withhold laughter.
When Sterling, mid-song, asked if the audience was going to sing with her, a stern solitary "no" was shouted back.
Following the performance, the event ended, and while she may be among the least known of the United States Senate candidates in Kentucky, Shawna Sterling, whose previously biggest bragging right was surpassing McConnell in YouTube subscribers (according to her website) was the most talked-about in Kenton County at least for one evening.
Written by Michael Monks, editor & publisher of The River City News