Candidates for Kenton County Office Make Their Case at Republican Forum
Mon, 03/31/2014 - 10:04
RCN Newsdesk
The candidates for Kenton County Circuit Court Judge, County Attorney, and Sheriff spoke to the Kenton County Republican Women's Club last week.
The candidates for Kenton County Judge-Executive and the three seats at the Fiscal Court (County Commission) also spoke, and were covered here last week.
US Senate candidates challenging Senator Mitch McConnell on the Republican side were also guests with one ending the evening on a bizarre note.
Kenton County Sheriff
Sheriff Chuck Korzenborn is seeking another 4-year term in office and is challenged in the Republican primary by southern Kenton County resident Seymour Fisk.
Fisk, from Erlanger originally, now lives in Piner which "is about as big as this room" he told the crowd at the Edgewood Senior Center.
A 1978 graduate of Lloyd High School, Fisk worked at his father's fueling station going up and now owns a landscaping company. 
"With my thirty-one years of business experience, I can bring to the table what it takes to run the office efficiently and expedite the services the sheriff brings to the public," Fisk said.
He supports a merger of the Sheriff's Office and the Kenton County Police Department. "I see no reason why it can't happen but it involves the Judge-Executive and numerous other people so I can't really talk about what it's going to take to do that because I'm not really informed about it," Fisk said. "As soon as I get in the position I'll know more about it."
Also, "I want to improve the drug thing. It is a bad thing. It's everybody everywhere dealing with this. We got to get a handle on this somehow," Fisk said.
He also wants to improve procedures and educational programs to support sheriff deputies and update the office's website and improve its social media presence.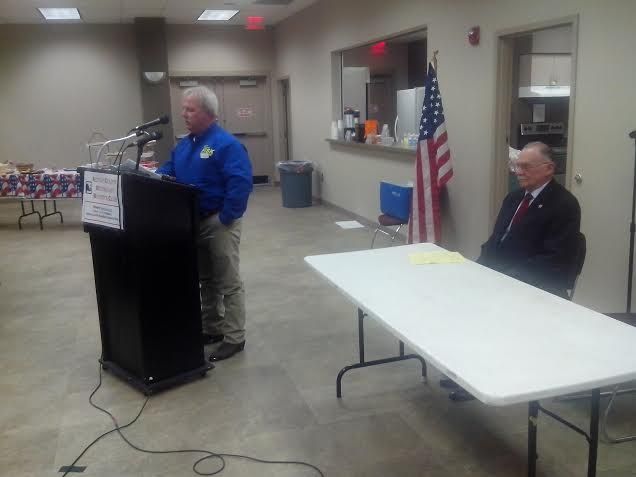 Photo: Fisk (standing) & Korzenborn
Sheriff Korzenborn said that he has already improved efficiency since being elected the first time in 1998 when local Republican courted him to run after he retired from business.
"I happened to be foreman of the Grand Jury at that time and I would go in the courts to see if anything was going on and found it in disarray," Korzenborn said. "There was hardly any control of the department and what they were doing."
"They were collecting taxes like they did a hundred years ago," he said. "Half the department was doing nothing but unzipping envelopes."
The sheriff claims that he has saved the county $50,000 in seasonal employment expenses by implementing a lockbox program at a local bank and contracting with a third-party mailing agency to handle taxes and correspondences. "What used to take a week of a clerk's time now takes ten minutes," he said.
Other changes include training of the deputies. "I found out when I took over the office that half the bailiffs had never fired their weapons," he said. 
In 1958, he turned down an appointment to the FBI but after his election, the federal crime bureau contacted him again to set up a unit to combat drugs in Covington, he said.
"We hit it hard for a year and we split an award with the jail and Covington Police. They give the award once a year, one per state. We were the first Northern Kentucky unit to get it," Korzenborn said.
His relationship with the federal government earned him a spot at the FBI Academy at Quantico in Virginia. "I got my FBI qualifications forty-five years late."
He also attended the Sheriff's Institute in Colorado after the 9/11 terrorist attacks and was one of six sheriffs from Kentucky to graduate from that system. Korzenborn has also had his deputies sworn in as US Marshals.
County Attorney
Three candidates are seeking to succeed Garry Edmondson as Kenton County Attorney: Shariff Abdrabbo, Donald Nageleisen, and Stacy Tapke.
Abdrabbo, of Taylor Mill, worked in the Kenton County Commonwealth's Attorney Office from 2007 to 2010. He clerked for a federal judge and now has a private practive representing fellow military veterans.
"I know I have an unusual name. Both my parents are from two other countries and I was born here in the good ol' U.S. of A. And yes, I do have my birth certificate if any of you are curious," Abdrabbo said to applause from the audience after his reference to President Barack Obama's birth certificate.
Abdrabbo is from New Jersey originally. "However, I did marry well because my wife is from Louisville." He left active duty military service in 2002 and earned a law degree from Chase at Northern Kentucky University. "Northern Kentucky has been the one place I have lived the longest," he said.
Abdrabbo shared a story about his mother wanted to return to her native Chile but after Pinochet rose to power her family urged her to stay in America. "She made a huge sacrifice and gave up (her native country) so I could have a better life in the U.S. of A.," he said. "I believe that with every fiber of my being, which is why I went to the Coast Guard Academy and why I served as an officer for this country. It is with a heart of service that I come to you and ask for your vote."
Nageleisen appears on the May ballot for the third time after running unsuccessfully in 2006 and 2010. "Why would I do this again? I must really want the job," Nageleisen said. 
The Kenton County native lives in Independence and started out as an assistant attorney in the County Attorney's office. "I did all parts of the job. That makes me the most qualified," he said.
He called Abdrabbo and Tapke "good young attorneys" but, "If we combine their experience and added six years you'd get my experience, unfortunately," Nageleisen said.
His law career began as a prosecutor but he has been a defense attorney for the past twenty-two years.
He has handled rape, murder, civil rights, and DUI cases, among others. He also says that he is the attorney "that brought the Grant County Jail to their knees".
"Before we were done, seven people went to federal prison and we were able to recoup in excess of $3 million for those people," he said of the cases in which inmates claimed to have been abused at the jail a decade ago.
Tapke currently works in the County Attorney office. She hails from Columbus, Indiana where her brother still operates the family farm.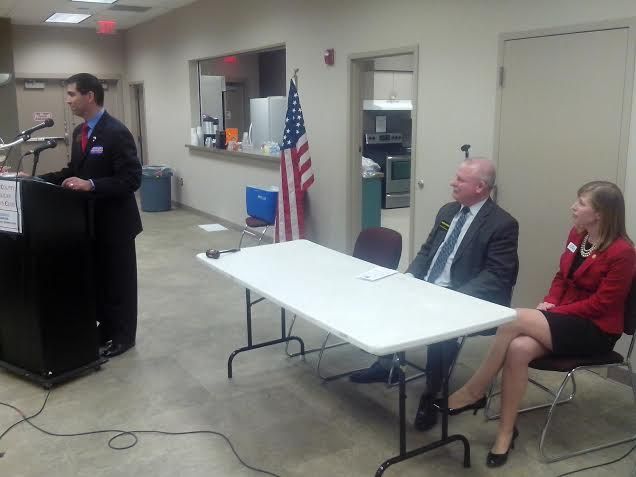 Photo: Abdrabbo (standing), Nageleisen, and Tapke
It was there that she learned about "hard work, the importance of family, and instilling in me a desire to give back to our community," she said.
After graduating from Purdue in 2000 she worked as a child support case worker in Kenton County and finished law school in 2004. She is now an assistant county attorney prosecuting misdemeanor offenses in District Court. She lives in Edgewood.
"I believe I am uniquely qualified for this position," she said. "This is a serious job and we need someone who takes it seriously and understands all the roles of the County Attorney."
"I'm running for Kenton County Attorney because I love my job and I get to help people every single day, make deadbeat parents pay child support, offer legal advice to elected officials, help families with children who have disabilities get guardianship, protect the elderly, and we assist loved ones suffering from drug addictions.
"Every single day we have an impact on someone's life."
Circuit Court Judge
The crowded field to replace the retiring Judge Martin Sheehan at the Kenton County Circuit Court includes Jason Hiltz, Kathy Lape, Kate Molloy, Jim Redwine, and Robert Winter.
It is a non-partisan election.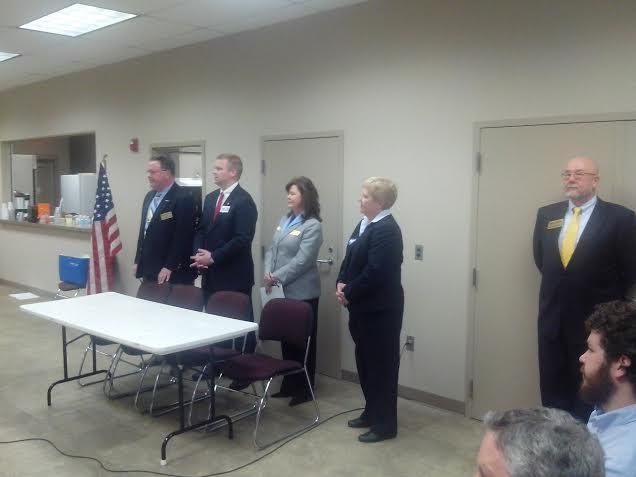 Photo: (L to R) Winter, Hiltz, Lape, Molloy, and Redwine
Jason Hiltz is a Kenton County native and a Republican, he said.
"As we've been campaigning, I'm knocking on a lot of doors, talking to a lot of people, and a lot of those people don't know what a circuit judge is," he said. "I say fortunately, because that means they haven't appeared before one."
Hiltz describes the role of a circuit judge as similar to an emergency room doctor. "Important, but one you hope you never have contact with."
"But if you do, you hope that that person has the experience, training, and values to make the important decisions that will affect you profoundly because of something bad that happened to you," he said.
He has served as an assistant Commonwealth's Attorney prosecuting cases in the circuit courts. "Experience in a circuit court judge is important," he said. "I've been in circuit court my entire career."
He has worked in murder cases, courtrooms with large and small dockets, and has spend time working on the regional heroin issue, he said. "I have assisted law enforcement, prosecuted drug traffickers and organized crime," he said.
"The circuit court is where the rubber meets the road on our heroin problem. These people charged with crimes because of heroin addiction, they're all going to go to circuit court."
Candidate Kathy Lape has experience as a judge, having been appointed a District Court judge in 2008. "For the last twenty-three years I have built a vast range of leadership experience, including working as a judge," she said.
Lape has also been a staff attorney for two common pleas judges and worked in civil and criminal law.
Currently in private practice, Lape argues criminal, bankruptcy, and probate cases. "My experience is in both civil and criminal cases and for a circuit court judge this is crucial," she said.
"When you participate in the court system there is an expectation that you will be treated fairly. I understand this. I have been a judge," Lape said.
"I learned what hard work it is to be a judge, to be the impartial referee. Judicial independence means a judge decides cases impartially and fairly."
"I believe judges must base their decisions on the facts before them and the law," Lape said. She said she is free of ideology and would never legislate from the bench.
"Most importantly, I am the only candidate in this race that has judicial experience."
Kate Molloy is a lifelong Kenton County resident who graduated from Holy Cross High School and the Chase College of Law at NKU. She has been in private practice for thirty years and has served four years as a staff attorney at the Court of Appeals which reviews cases from the Circuit Court.
"Circuit Court in Kentucky is the primary trial court in our system and I think it's important to note that out of all the candidates here, I've been licensed the longest and practiced the mist cases. I say that quite proudly," Molloy said.
"Because of my appellate experience, I have been familiar with common mistakes made in circuit court and I feel like that gives me unique experience for this job," she said. She said her single mother who raised five children taught her to be an independent thinker, fair to all, and impartial to all.
"I think those are appropriate qualities for the circuit court bench."
Jim Redwine is currently an assistant Commonwealth's Attorney in Kenton County. He comes from a long line of lawyers. His great-grandfather was a Commonwealth's Attorney in Elliott County where Redwine spent the first sixteen years of his life. His grandfather was the county attorney there.
He eventually moved with his family to Lexington where he finished high school and graduated from the University of Kentucky. In 1981 he moved to Park Hills and has lived in Northern Kentucky ever since. Redwine is a graduate of the Chase College of Law at NKU where he met his wife.
"I have been an attorney for over thirty years and spent all that time as a trial lawyer," Redwine said. "That is important because, as some of the other candidates have pointed out, circuit court is a trial court and that has been my experience."
Redwine said he has prosecuted thousands of felony crimes since become an assistant Commonwealth's Attorney in 1999 after five years in the County Attorney office. He said he has been endorsed by the police in the race and earlier this year was recognized as Outstanding Assistant Commonwealth's Attorney by the state organization.
"I tell you all this for a reason," he said. "I want you to understand I have seen the courtroom from every perspective. I have the knowledge, experience, and temperament, to be the kind of circuit judge you want on the bench."
Robert Winter has wanted to be a judge ever since he was an undergraduate. "This is a lifetime opportunity for me to serve my community," he said. He graduated college with a degree in accounting and went on to earn a Master's of Business Administration (MBA) in finance.
"I am the only candidate that has an MBA. That makes me uniquely qualified to understand business principles," Winter said. He graduated fourth in his class from law school after completing his studies in two years, an achievement he points out because it usually takes three.
After law school Winter clerked for federal judge William Bertelsman.
"Being a federal law clerk to a busy trial judge is a unique opportunity. Those positions are coveted and you get to see the inner workings of a busy trial court," he said.
Currently in private practice, Winter concentrates on civil litigation. He spent time as the city attorney in Park Hills where he also became familiar with municipal and county law.
One of his proudest achievements is being rated "preeminent", what he said was the highest rating in legal ethics.
"I have a lifetime of experience to bring to the table," Winter said. "I'll be fair and impartial and I bring no hidden agenda."
He said he is the only military veteran in the race. 
Two other candidates, one for magistrate and one for constable also spoke.
"When I tell people I'm running for constable, they ask me what is it that they do?," said Gregory O'Gorman, a deputy jailer in Campbell County. Knock on doors and serve people (subpoenas) is a simple way O'Gorman describes the job. "The truth of the matter is, constable means much more. They are peace officers with broad power of arrest and to serve court processes. They can enforce traffic code and criminal code."
"(Constable) possesses the same qualifications as sheriff. That doesn't mean I'm going out and pulling over speeders, kicking in doors, because fortunately in Kenton County we have great police officers in the area that can handle the case load."
O'Gorman faces Richard Bohl in the primary. Bohl did not attend the forum.
Mary Lou Blount seeks reelection as Magistrate, District 2. 
"When I decided to run for this office, I went down to the County Clerk's office and asked for a job description and I read it and made a copy of it and the first thing it said was, this job has no compensation," Blount said. "Second thing was, magistrates in this county would perform marriages. I thought, I could do that. Third, at the discretion of the sheriff I could serve subpoenas."
Blount, a county resident for forty years, said that she has enjoyed her time in the office. "I know the area from my day job so when I go out to perform services, I know where I'm going. People call me and I go to them. I don't have an office in the courthouse. I cost you nothing but I enjoy doing it."
Blount faces Timothy Saylor in the Republican primary on May 20. Saylor did not attend the forum.
Story & photos by Michael Monks, editor & publisher of The River City News