App Developed at NKU Aids Evaluation of Creek Water Quality
Wed, 04/02/2014 - 06:52
RCN Newsdesk
NKU biology students and Villa Madonna High School students conducted a stream evaluation at Three Mile Creek near the NKU campus March 25.
To evaluate the stream, samples of macroinvertebrates, water and fish were collected. The group then input the data collected into a Water Quality App developed at NKU.
The app includes stream study data collection and information to understand the data that was collected in sections for site profiles, chemical and bacterial sampling, and macroinvertebrates (digital field guide and Pollution Tolerance Index calculator).
Any data entered into the app can be uploaded from the field to River on the Web, emailed or printed. The app is also being used by citizen scientist groups that are concerned about their watersheds.
NKU faculty members Dr. Richard D. Durtsche and Dr. Miriam Kannan led the group. NKU's Scripps Howard Center for Civic Engagement coordinated the event.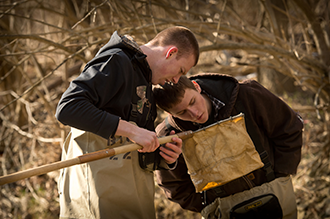 From NKU
Photos by Tim Sofranko