Plans for New Bellevue Arby's Stalled After Zoning Meeting
Fri, 04/11/2014 - 07:46
RCN Newsdesk
The operators of the Arby's at 34 Donnermeyer Drive in Bellevue want to tear down their outdated structure and build a new one but their plans don't gel with the city's form-based code, adopted three years ago.
At a two hour meeting of the city's board of adjustments, the only agreement reached was that plans for the Arby's would be modified and brought back to the board in about thirty days.
The form-based code was adopted in Bellevue in 2010 as an effort to maintain its historic charm and spread that look throughout the rest of the town. Arby's sits in an area of the city that has been dominated by more suburban-style developments, such as a shopping center.
Tuesday's meeting was the first true test of the code since its enactment and the first opportunity to change the appearance of that area. The Form-Based Codes Institute defines the zoning as:  
Form-based codes address the relationship between building facades and the public realm, the form and mass of buildings in relation to one another, and the scale and types of streets and blocks. The regulations and standards in form-based codes are presented in both words and clearly drawn diagrams and other visuals. They are keyed to a regulating plan that designates the appropriate form and scale (and therefore, character) of development, rather than only distinctions in land-use types.
Restaurant Management Incorporated, which operates the Arby's as part of sixty-five fast food franchises it owns across Greater Cincinnati and Chattanooga, Tennessee, asked to continue to offer drive-thru service and to be allowed to have a thirty-five foot side-yard setback. Drive-thrus are not permitted in form-based code, but can be allowed on a conditional use basis. The city sets the maximum side yard setback at eight feet. Arby's wants more room to add a second lane adjacent to its drive-thru for customer who may wish to bolt from line.
Bellevue's assistant city administrator, Main Street manager, and historic preservation officer Jody Robinson argued that the new Arby's offers an opportunity to set a new tone in the neighborhood. She thanked Arby's for being long-time "wonderful corporate citizens", but added after a presentation by Arby's showing what its new structure would like, "Over time we worked to find out what is the vision for the city and what makes Bellevue great and some of that is the traditional layout that we have, so in appreciation of 
these examples, none are in historic communities and are along highways and have been embedded in our neighborhood."
Robinson said the effort of form-based code is about "creating place".
"In order to stimulate economic development we have to create place or we'll be in a strip center and evidence across the country shows they are losing popularity and moving into disrepair," Robinson said. She added that this part of Bellevue, where the Arby's has operated for decades, is like no other part of Bellevue.
Board of Adjustments member Jeff Sharp said the city has to have places with drive-thrus like McDonald's. "We want it to fit," Sharp said. "We want what the vision is with form-based. I'd like to see nothing better than that area completely revitalized like Downtown."
Bellevue's zoning administrator, John Yung, asked the board to permit the drive-thru on a conditional basis but asked to deny the thirty-five foot side-yard setback, asking instead for twelve.
The board voted 2-1 against Yung's recommendations with Sharp and Ralph Meyer in the majority and Ryan Salzman voting for. Afterwards, it was determined that the Arby's developers should reevaluate their plans and bring them back to the next meeting.
"I guess my concern with this plan was to have people who want to stay," Salzman said," people who come buy groceries, have a look around and say, this is really cool what they're doing around here. I hope y'all can appreciate why this is causing a lot of angst for your business. It's causing a lot of angst in this community as well. There's a lot of concern about what's going to attract people to this community to live."
Yung also suggested that the Arby's reduce its parking spaces, eliminate all but one curb cut to create a better pedestrian experience, and to design its front facade to be where its western side wall is currently.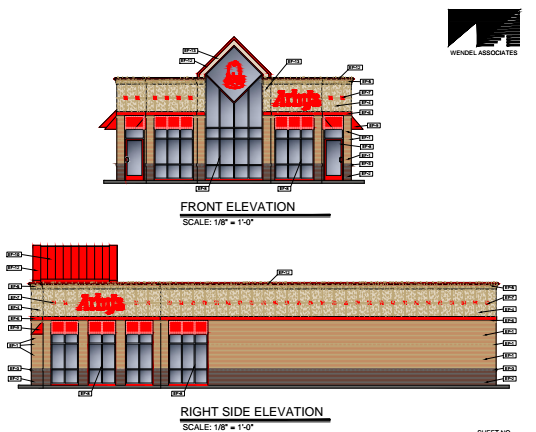 Rendering of proposed new Arby's in Bellevue
Salzman agreed, arguing that the city is unique and should not have an Arby's that looks like the ones from highway exits. "We're building something that would also be on the high way as I go up (Interstate) 71 and 75," Salzman said of the proposed design. "It's the same one, we're just putting it in our neighborhood. What I'm hearing here is that there is no wiggle room on the planning side. Someone in Atlanta told you how it's going to be built."
"I know it sounds like we're trying to be special but we are."
Grant Troja, president of Restaurant Management, Inc. said that with the new Arby's in Bellevue, there would be some differences, including fewer curb cuts and more trees and landscaping.
"We don't do that in other places," Troja said. "A lot of the design of the building has been examined for efficiencies. We're not deviating from that. Where the dining rooms are, where the restrooms are, it works. As far as laying it out sideways, how drive-thrus flow is very important. Making real tough turns, it becomes a problem."
Salzman said that Restaurant Management also has an opportunity to set a new standard within its own chain.
"If corporate knows they'll be squeezed out of more and more communities, what is unique could be the norm very soon," Salzman said. "I'd love for you all to cut your teeth on a new design in our community."
"These are the types of very tough decisions we'll have to make with regards to this region and this part of the city," Yung said. "This code had over two hundred participants in its creation, the most of any plan the city has ever seen. So what is decided here really sets the tone as to whether or not we're serious about this part of the city becoming more pedestrian-friendly or if we're just going to accept what's currently out there."
"I think we want to try to stay within form-based code as much as possible to make this work," Sharp said. "I don't want Arby's to leave Bellevue but I want to go forward with our form-based code down there, also. We want to change this part of Bellevue and tonight you showed me one site plan and now I need you to show me another site plan that fits the form-based code so I can make a decision and say, that's really not going to work on that site. I didn't see enough evidence to prove to me you can't make it work. We want to make that place work in an area that we want to revitalize in our city."
Written by Michael Monks, editor & publisher of The River City News