City Slickers: Agriculture Goes Urban
Sat, 04/19/2014 - 10:46
RCN Newsdesk
As Covington and the NKY River Cities see an increase in farm-to-table, community gardens, farmers markets, and urban agriculture, let's take a look at what's happening with the movement elsewhere in Kentucky courtesy of our friends at KY Forward.
Rebecca Self sees a disconnect between urban and rural.
"Food seems the perfect conduit to connect people," the founder of FoodChain said.
So when she visited examples of urban agriculture in Boston, Chicago, Milwaukee,= and San Francisco, it was more than just a fact-finding mission. She was looking for those connections. In Milwaukee she visited Growing Power, a national nonprofit organization and land trust that provides safe, affordable and healthy foods for communities. For more than two decades, Growing Power has been considered a national leader in the Good Food Movement, a grassroots effort for local, organic, humanely raised, family farm identified food.
The Plant in Chicago is a closed-loop food production system in a repurposed meatpacking facility where the inputs and outputs from one system are used in the other. It promotes sustainable economic development through education and research.
Observers of urban agriculture trends say Kentucky urbanites are seeking the authenticity in their food purchases that city-dwellers in other parts of the country do.
"Part of this means connections with the source of our food, the farms and the farmers," said Lee Meyer, UK extension professor for sustainable agriculture. "I think urban agriculture helps make these connections. Urban agriculture does supply real food, food that consumers watch from seed to table."
FoodChain: A Resource
It's no accident that Self's FoodChain has a lot in common with The Plant. Like the Chicago company, FoodChain is a nonprofit with a mission to reconnect people with their food through education and demonstrating new, sustainable methods of food production. FoodChain is located in the old Rainbow Bread factory building at 501 West Sixth St. in Lexington.
Self's company is Kentucky's first indoor, commercially-scaled aquaponics system with six, 250-gallon fresh water tanks containing live tilapia that are fed by the spent grain from the brewery that occupies the majority of the building. Co-owned by Rebecca's husband, Ben Self, West Sixth Brewery is a critical underpinning to the closed-loop system. Herbs and lettuce grow in long rows of planter boxes lit by artificial lights and irrigated by filtered water from the tilapia tanks. All of this takes place under the watchful eye of farm manager Mims Russell, sustainable agriculture. Working at FoodChain through an independent study course in sustainable agriculture led to his being hired full-time as manager after he graduated from University of Kentucky.
You can grow food in an urban setting, said Mims Russell, shown here harvesting herbs at FoodChain. (Photo by Stephen Patton)
"This is really an economic model. People involved with FoodChain want to show you can grow food in an urban environment and make an impact with a restaurant," said Russell. "We want to show this to other food entrepreneurs to replicate."
The restaurant Russell refers to is Smithtown Seafood, also located on site, where Chef Ouita Michel's cook staff prepares fish, lettuce and herbs fresh from the "farm."
"Urbanization is a trend that doesn't seem to be turning around," said Russell. "I think it is really important to produce food where the people are. You are never going to supplant the rural producers, but if we can supplement what they produce, it's helpful. What we lose in scale, we make up in our extended growing season."
Russell says FoodChain would eventually like to expand with raised bed gardens on the roof and mushrooms in the basement. Plans also include a kitchen incubator and a certified commercial kitchen with multiple stations, so other food entrepreneurs can produce a product.
Self says FoodChain is really owned by the masses, being a nonprofit, and her wish is that lots of people see their hopes and dreams realized in FoodChain's work.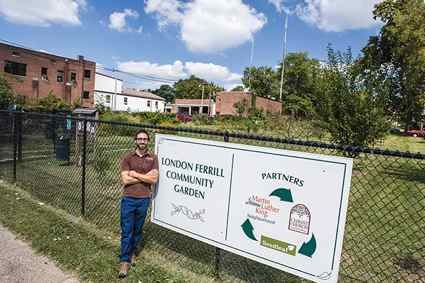 Ryan Koch, executive director of Seedleaf, a nonprofit urban agriculture program, visits the Community Garden on East Third Street in Lexington. (Photo by Stephen Patton)
Easier to get alcohol and processed food than anything fresh, local or healthy? Ryan Koch, through his not-for-profit organization Seedleaf, is determined to change that situation in the food deserts in Lexington.
Seedleaf: filling the gaps
What started as a vegetable garden on a small plot of land in 2007 is now a mission committed to nourishing communities through growing, cooking, sharing, and recycling food. Today, Seedleaf in Lexington has grown from that one garden to ten. The biggest is the London Ferrill Community Garden on 3rd St. in Lexington.
There are 40 individual 6-foot-by-8-foot plots at the site that anyone can lease for $5 dollars. In addition, there are four large community plots that Seedleaf volunteers maintain. It is also one of three urban orchards maintained by Seedleaf, containing a variety of fruit trees and berry bushes.
"We are trying to create these free u-pick spaces to address the nutritional injustices on the north side of Lexington, where it is a lot easier to get alcohol and processed food than anything fresh, or local, or very healthy," said Ryan Koch, founder and executive director of Seedleaf.
UK College of Agriculture, Food and Environment students and graduates volunteer with Seedleaf. Some have done internships, and students have devoted a Saturday to work in the gardens as part of a class project . 
"We value working with community partners like Seedleaf to strengthen community food systems," said Janet Mullins, UK extension specialist in food and nutrition. "In addition to their work in Fayette County, they provide education through school programs and by participating in extension training programs, and helping people increase access to nutritious foods."
Koch said Seedleaf started out of concern for people and what they were eating, and it tries to make more good food available. On land Seedleaf borrows, he said enough food is produced to sell shares in a community supported agriculture program.
"The real growth edge for us is to be good stewards of the seven pieces of land we own—six the city gave us, and one Habitat for Humanity deeded to us," Koch said. "This will allow us to do some more community and market gardening."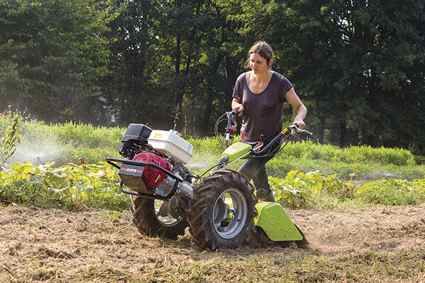 Valerie Magnuson works in The People's Garden in Louisville's West End. (Photo by Stephen Patton)
Louisville grows too
Urban agriculture has also taken root in the commonwealth's largest city 80 miles to Lexington's west. Since its founding in 2009, Louisville Grows has collaborated with the city to create 14 community gardens. According to executive director Valerie Magnuson, the nonprofit organization works to grow a just and sustainable community through urban agriculture, urban forestry, and environmental education.
"I think it is essential for people's well-being to connect with the land and be involved with their food system in urban environments," said Magnuson.
Louisville Grows manages The People's Garden, a five-acre plot in the Shawnee-Portland neighborhood of Louisville's West End, and the Shippingport Memorial Garden in Portland. A portion of both gardens, plus two more plots, will be part of an urban growers cooperative that Louisville Grows is developing to increase its scale of production. Six growers have signed up already to participate. Fresh vegetables grown at The People's Garden site were sold at the Pic Pac grocery store this past year for the first time. Magnuson said the green beans sold out as fast as they could harvest them.
This spring when volunteers from Louisville Grows start putting new plants in their gardens, they will do so from their very own greenhouses. Last year, the mayor's office donated two greenhouses through their LifeZone project. Each greenhouse is 3,000 square feet and was dismantled and moved to The People's Garden site from Indiana. Some of the transplants grown in the greenhouses are going to be sold in the local Habitat for Humanity ReStore.
"Urban agriculture has really taken off," said Wayne Long, Jefferson County agent for agriculture. "We want to make sure that we are poised to help in any way, and I think we are doing a pretty good job with that."
Long said the extension service, which works closely with metro government to manage 11 community gardens, is looking for publicly owned land in Louisville to turn into a demonstration farm with the focus on education and research.
"We think there is a strong need for a demonstration farm," said Long. "We are hearing from a lot of constituents and stakeholders who want the education component of a demonstration farm to show how you can grow things in an urban setting."
Amanda Fuller breaks ground in a vacant lot in the Portland neighborhood of Louisville. Purchased for $50 from the Land Bank Authority of Louisville, Fuller and partner Peter Thiong plan to develop a working farm that will add to the health of the urban ecosystem. (Photo by Stephen Patton)
Revitalizing the urban ecosystem
Business partners Amanda Fuller and Peter Thiong have an approach that could become a model for the future of urban agriculture in Louisville. Together they purchased a vacant lot in the Portland neighborhood from The Land Bank Authority of Louisville, the agency that holds foreclosed vacant property and makes it available to citizens for redevelopment. Fuller and Thiong plan to produce vegetables, fruits, nuts, beans, herbs, and honey for sale locally.
"Every public meeting I have sat in, somebody would say, we have all of these vacant lots, why can't we grow food on some of them?" said Amanda Fuller. "Why not? It's because nobody is buying them and growing food on them."
The lot that Fuller and Thiong purchased for the low, low price of $50 is one-third of an acre. Fuller, with a master's degree in restoration ecology, hopes this will become a model for what to do with vacant property through the Land Bank.
"We need to think about our whole city as an ecosystem that needs its functions put back in place," said Fuller. "We need to think about the trees breathing and cleaning our air and filtering our water and infiltration in the soil. The things we want to do here are all part of that."
Maybe through the work of Fuller and the others we can begin to make that connection between urban and rural that many believe is missing today.
Jeff Franklin is a senior agriculture communications specialist at the University of Kentucky and writer for the University of Kentucky College of Agriculture's The mAGazine, where this story first appeared. It is reprinted with permission.
Top photo: Rebecca Self has built a closed-loop urban agricultural production system at FoodChain in Lexington. It's her hope that others will be inspired by what they see happening there. (Photo by Stephen Patton)