Covington Police Department One of Three in US Selected for Federal Program
Mon, 04/21/2014 - 18:12
RCN Newsdesk
The Covington Police Department with the assistant of the Center for Great Neighborhoods was awarded a highly competitive grant to design a project that would help law enforcement officers build partnerships with community leaders as they respond to crime problems in vacant and nuisance properties.
Covington was one of three departments across the country to receive funding for the Community Development and Policing Project from the US Department of Justice, the Office of Community Oriented Policing Services, and Local Initiatives Support Corporation (LISC) community safety initiative.
Rachel Hastings and Shannon Ratterman of the Center for Great Neighborhoods worked closely with Covington Police Officer Brian Steffen in creating the grant application.
"We're very proud of achieving this," Jones said. "We'll serve as an advisor, like a test site for the rest of the United States. We'll develop training here and hopefully we'll be impacting the rest of the United States."
The head of LISC's safety arm made a visit to Covington and analyzed how the Center works with the city's police department. "(He) was blown away at how progressive the approach to community police is here in Covington," Hastings said. "He works with a lot of communities that don't get it."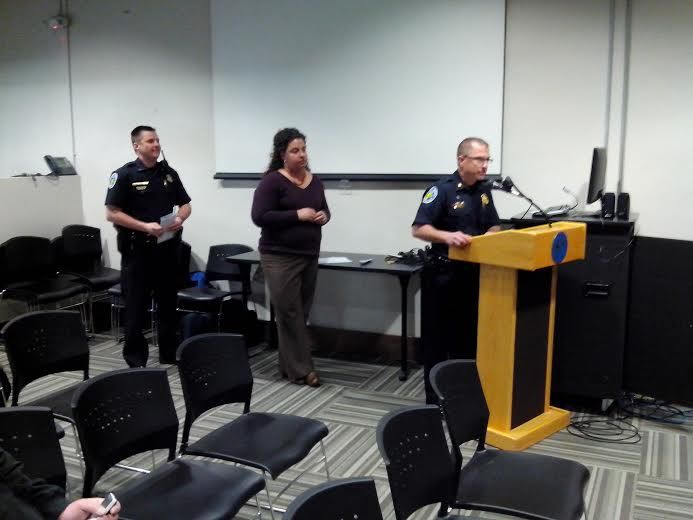 Spike Jones at podium as Rachel Hastings and Brian Steffen listen/RCN
"I think this really puts Covington on the map in that we are creating our own special curriculum. It will influence the entire Covington community and city organizations and staff," Hastings continued. "This is a great opportunity for us. It's something that will get us a lot of leverage in the future."
The grant is not a monetary award but rather one of training that Covington could then take to other communities. "We have a very progressive leadership at the Covington Police Department that understands how to work with residents, developers, and other agencies," Hasting said.
"It's easy to take what we develop here to transition on a state level so we are mentoring other agencies on the Covington model," Jones said.
Fifteen sergeants and five lieutenants in the department will receive the training and then they will train the leaders of the street-level staff, Jones said. "This will also ensure that as some sergeants and lieutenants move up into higher ranks, the principles learned will become guiding policies from the successive leadership of the CPD," Jones said. 
Center for Great Neighborhoods staff and members of the City of Covington economic development department will also participate in the training to ensure that relationships and common language are developed.
"The biggest part of this is the cooperation between the police department and the Center for Great Neighborhoods," Steffen said. "We really want to work on alternative ideas. It's a great opportunity for us to train our mid-level managers and supervisors and to keep this kind of training going through the city once we're gone."
"We can't wait to get started."
Written by Michael Monks, editor & publisher of The River City News