Bellevue Schools Name New Superintendent
Wed, 04/23/2014 - 20:43
RCN Newsdesk
Bellevue Independent Schools will have a new leader next school year.
The Board of Education unanimously approved a contract for Robb Smith who is currently the Director of Secondary Education at Bullitt County Schools, south of Louisville.
The contract is for four years, through June 30, 2018 and will compensate Smith at $115,000 per year. The Board will also compensate the new superintendent no more than $2,500 for his family's move from Crestwood in Oldham County to Northern Kentucky.
Smith, who was not present Wednesday, will replace retiring superintendent Wayne Starnes. "We have a quality candidate who is energized to lead the district to the next level," Starnes said of his replacement.
Forty-one people applied for the superintendent position but Smith won the schools' top job with his experience in administration at Bullitt County and as a principal in Oldham County. He has also been a math teacher, student services coordinator, and athletic director at North Oldham Middle School where he served as principal for seven years.
Smith taught math in Kenton County Schools before heading to Oldham County. He has been in his current position at Bullitt County Schools since 2012. According to a news release from 2012 announcing his hiring in Bullitt County, Smith is married and has two children.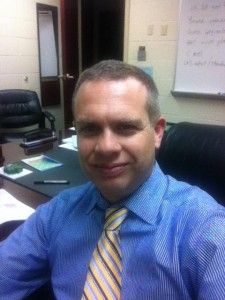 Robb Smith/via Bullitt County Schools
Written by Michael Monks, editor & publisher of The River City News
Photo: Bellevue Board of Education building/RCN