Growing Number of Senior Citizens Pursue Education at NKU
Thu, 04/24/2014 - 07:22
RCN Newsdesk
Bonnie Kennelly belongs to an exclusive student group on the NKU campus. To be a member, you have to be a Kentucky resident who's 65 years or older with an insatiable desire to learn.
Anyone who fits that profile can take courses without having to pay application fees or tuition. That's an opportunity that appeals to a  growing number of senior citizens like Kennelly, 73, of Cold Spring.
"It's a fact that the years are piling on," she said, "but I am not going to be defined by what I can't do."
There are 58 students enrolled at NKU through the Donovan Scholars program, according to Melanie Grindle, an associate director in the Office of Admissions. The group includes former educators and lawyers along with people who have never been to college before. Many of them are taking courses for sheer pleasure while others are working toward a second or third degree.

Grindle helps the ones who are newcomers to college get enrolled, register for classes, buy books and acquire a campus parking pass. She also provides advice and words of encouragement during the semester.

"To see a Donovan Scholar grow as a student and realize they can do this, and that it's never too late to take a course or even earn a degree, is something amazing to be a part of," Grindle said.

The one problem Grindle helps many Donovan Scholars come to terms with is the age difference between them and the traditional students taking the same course.

"I explain to them that while they might be the oldest student in the room they are still an NKU student here to learn just like everyone else," Grindle said.

"I also remind them of the impact they'll have on our traditional students by way of their life experience. I had a student a few years ago take a history course on the Vietnam era and he was actually in the Vietnam War. The impact he had on students in that course was invaluable."
Here is a closer look at three of the students enrolled at NKU through the Donovan Scholars program:
"Bonnie, you can do anything you want to do..."
Bonnie Kennelly (Photo by Terry Boehmker/NKU)
Bonnie Kennelly started taking classes at NKU through the Donovan Scholars program one year after her husband, Tim, passed away.
The 73-year-old woman has studied two languages and taken courses in writing, art and history since then. She plans to enroll in a media literacy class for the 2014 fall semester.
Kennelly knows her late husband would be proud of everything she's done in the college classroom.
"He was the one that in the 33 years we were married would always say, 'Bonnie, you can do anything you want to do,'" she said. "He always encouraged me, so I think I'm doing exactly what Tim would want me to do."
Kennelly has even gone on a study abroad trip to France with a group of students who are much younger than her. It's all been part of an adventure in education that she says changed the way she looks at life.
"I have been able to bond with the kids (in my classes)," she said. "I think that the biggest thing I've gotten out of this whole thing is everybody says there's a generation gap, and there's not really."
Kennelly did not go to college after she graduated from Newport High School in 1958. She went to work, met her husband and they moved to North Dakota after they were married.
After her husband passed away, she came back to this area to be with her family. That's when a niece told her about a woman she knew who was taking tuition-free classes at NKU through the Donovan Scholars program for Kentucky residents 65 years or older.
Kennelly called the NKU Office of Admissions to find out more about the program and then started her college career by registering for a course in creative writing.
"It was in coming (to college) that I really began to blossom into somebody who is very, very happy," she said.
Veronica Mitchell has had "wonderful experiences" at NKU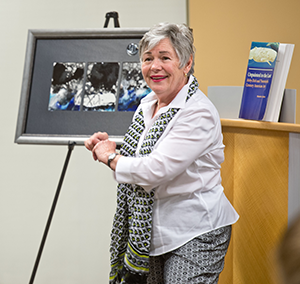 Veronica Mitchell (Photo by Tim Sofranko/NKU)
When she was 24 years old, Veronica Mitchell taught English composition courses as an adjunct professor at Northern Kentucky State College, a small campus nestled on top of a hill overlooking Covington.
Mitchell is now 71, and that little college has grown into Northern Kentucky University, a sprawling campus located in Highland Heights where she's able to take tuition-free classes through the Donovan Scholars program.
"It's great to be able to continue your education in an environment like NKU," she said. "I think my teachers have been remarkable. I'm a teacher, so when I sit there and take a class I'm really measuring myself against these wonderful instructors."
Mitchell, who still works as a part-time English teacher at Covington Catholic High School, gave a presentation during the NKU Celebration of Student Research and Creativity last week on a piece of art she created for a college course about Moby-Dick and the Arts.
After writing a report on one of the artworks in the book, Unpainted to the Last: Moby-Dick and 20th Century American Art, she recreated one of the paintings of the great white whale herself on ceramic tile.
"I've been Moby-fied because it was such a great experience," Mitchell said of the unique class project. "But, I have to say, I've had wonderful experiences ever since I've been here."
Mitchell said she's actually learning on two levels by taking courses through the Donovan Scholars program. She often takes note of the practices her professors at NKU use and tries to apply them in the high school classes she teaches.
"I came just for personal enrichment and I'm getting so much more," she said. "I just think it's terrific."
"Gus" Bear is always open to new opportunities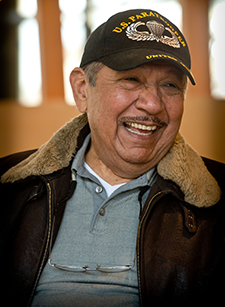 Gus Bear (Photo by Tim Sofranko/NKU)
Agustin "Gus" Bear has spent his life being open to new opportunities, so going to college at the age of 74 is no big deal to him.
"Not really, he said. "When I hear about something like this, I just go for it."
Bear, a native of Mexico, is taking his fifth criminal justice course at NKU this semester through the Donovan Scholars program. He got interested in that field of study while serving as a Spanish interpreter for the local court system.
"My first intent in coming to the U.S. was to go to college, but I discovered the price of it and back then I couldn't afford it," he said.
When Bear's wife told him about the Donovan Scholars program a few years ago, she must have known it would appeal to him because he seldom says no to new things.
In his younger days, Bear was a bull-fighting matador in Mexico. He immigrated to the United States in 1962 to get a college education, but he couldn't afford the tuition and volunteered for the service instead.
While he was in the Army, Bear said he signed up for the 101st Airborne to become a paratrooper because "it sounded like something different." He made more than 100 parachute jumps while serving as a clerk and medic in a brigade that had a brief tour of duty in Vietnam.
After the service, Bear and his wife moved to northern Kentucky. He was hired by the U.S. Postal Service and spent 41 years on the job before retiring.
Now he finally has the time to pursue the college education that he put off for so many years, even though he's decades older than his classmates.
"There's no problem," he said of the age difference. "They speak to me and I speak to them. It's fine."
Written by Terry Boehmker for Northern Kentucky University